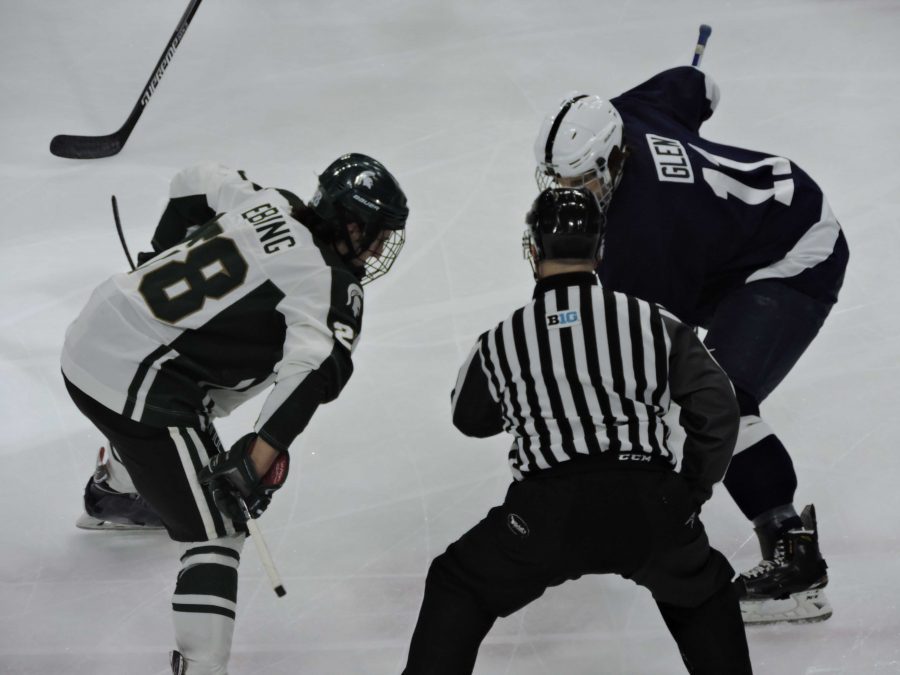 After falling to the Penn State last night, Michigan State looks to salvage a split on the road against the No. 4 Nittany Lions this evening.
Place: Pegula Ice Arena, University Park, Pa.
Date and Time: Saturday, Jan. 14 at 7:00 pm
TV & Radio: Big Ten Network, Spartan Sports Network
The Rundown
This is a matchup of two different teams in two very different places. Everything has come together for the Nittany Lions in their fifth year as a Division I collegiate hockey program. They rank first in the PairWise, second in both team offense and defense, and boast the best penalty kill unit in the country. Statistically speaking, they are the team to beat in the Big Ten.
Michigan State, on the other hand, is in the midst of an eight-game losing streak and remain winless in five conference games. Perhaps the biggest area of weakness for MSU is the special teams. The Spartan power play has been wildly inconsistent, though Mason Appleton is tied for ninth in the country power-play goals six, and the penalty kill has dropped to dead-last in the country at 68 percent. Defense was also an issue last weekend against Wisconsin, as the Badgers put up 10 goals on the Spartans. Clearly, MSU needs some sort of spark in order to start a second half rally. There may not be a better opportunity than a win on the road against one of the country's best teams.
Friday night's game was close after two periods. The Spartans benefited from getting the first goal of the contest and managed to stay within striking distance for most of the game. Issues arose in the third period as the Nittany Lion offense got going and surged ahead with two unanswered goals. It also didn't help that the Spartans were outshot 46-26.
Players to Watch
Keep an eye on freshman Denis Smirnov and sophomore Andrew Sturtz for Penn State.  These two underclassmen have been dynamic for a Nittany Lion offense that has been potent all season long. Sturtz leads Penn State in goals with 14, though Smirnov leads his team in total points with 28.
For Michigan State, Mason Appleton has been one of the most consistent players on the ice this season. Appleton's 18 points (eight goals, 10 assists) lead the team. If the Spartans have any hope of earning their first conference victory this weekend, No. 27 will have to have a strong performance.
Prediction
Penn State has only lost one home game this year, against St. Lawrence in the first weekend of the season. The Nittany Lions have since become one of the main stories of the season. Their offense, defense and special teams are just on another level right now. Unless that changes, it'll be tough for MSU to win in Pegula.
Penn State will complete the sweep of Michigan State this weekend, and the Spartan losing streak will extend to nine games.