Artist Profile | Justin Vernon
The Wisconsin native and frontman of indie folk band Bon Iver, Justin Vernon is a multi – instrumentalist, singer, songwriter and producer. He was also apart of bands Volcano Choir, The Shouting Matches and Gayngs.
He plays various instruments including piano, keyboards, banjo, vocals and others. Vernon is a member of multiple projects with featured artists Kanye West, Jay Z, Francis and The Lights, and more. He's collaborated with albums My Beautiful Dark Twisted Fantasy and Watch the Throne. He's also produced Land of Talks Some Are Lakes and Kathleen Edwards Voyageur.  Who all has he collaborated with? Stereogum gives us this neat family tree: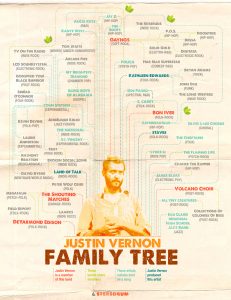 How did Bon Iver begin? For Emma, Forever Ago was written in a cabin and self-released in 2007. It was re-released in 2008 through Jagjaguwar.
In 2012 Vernon won two Grammy's for Best New Artist and Best Alternative Album for his Bon Iver project.
Vernon temporarily left Bon Iver in 2012. His reason? "Winding it down. I look at it like a faucet. I have to turn it off and walk away from it because so much of how that music comes together is subconscious or discovering. There's so much attention on the band, it can be distracting at times. I really feel the need to walk away from it while I still care about it. And then if I come back to it – if at all – I'll feel better about it and be renewed or something to do that."
This year, Bon Iver is back after Justin Vernon announced the Eaux Claires music festival and his return with Bon Iver for 22, A Million, out now.