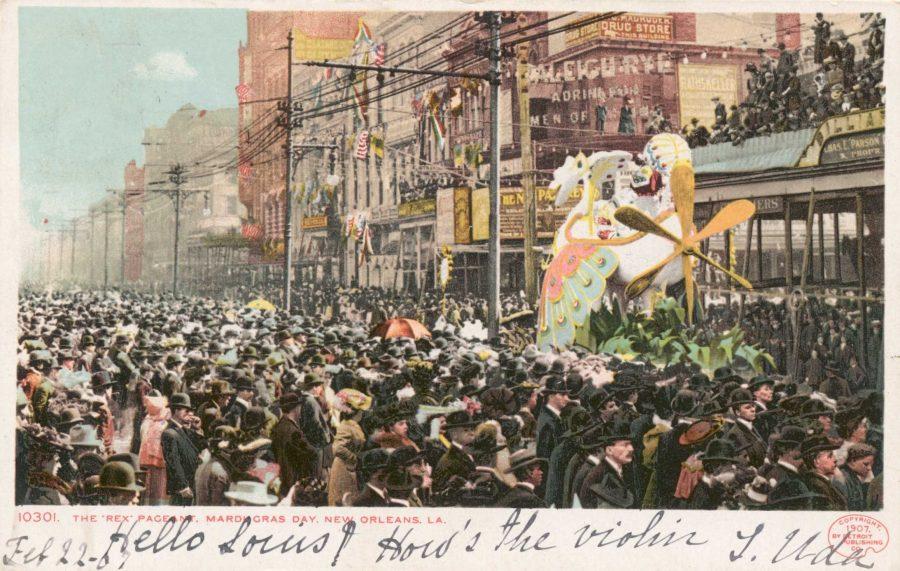 " Detroit Publishing Company Collection, Photography Collection, Miriam and Ira D. Wallach Division of Art, Prints and Photographs, The New York Public Library, Astor, Lenox and Tilden Foundation "
Tonight on The Progressive Torch and Twang…
We celebrate Fat Tuesday at 9 p.m. with fantastic collaborations between The Preservation Hall Jazz Band and names like Tom Waits, Richie Havens, and Shovels & Rope! New music waltzes in at 10 p.m. from The Lumineers, Grant-Lee Phillips, and more.
You can follow the show on Twitter for show updates, requests, and to see our Fat Tuesday gluttony go out of control.
It all starts at 8 p.m., only on The Progressive Torch and Twang!
[su_accordion][su_spoiler title="Click for Playlist" style="simple"]
"Tootie Ma Was A Big Fine Thing" – Preservation Hall Jazz Band with Tom Waits
"Hurtin' (On The Bottle)" – Margo Price
"Sober Enough" – Kenna Mae
"Llano Estacado" – Carrie Rodriguez + The Sacred hearts
"The King Of All The Birds" – Aoife O'Donovan
"Texas" – Tami Neilson
"Hard To Please" – The Black Lillies
"Devil In Me" – Anderson East
"I Need Never Get Old" – Nathaniel Rateliff & The Night Sweats
"Just As Strange" – Tedeschi Trucks Band
"Ol' Cannon Ball" – Luther Dickinson
"There Isn't One Way" – Patty Griffin
"All Your Favorite Bands" – Dawes
"Guitars, Cadillacs" – Dwight Yoakam
Torch Recommends: Happy Fat Tuesday!
"Baby, Won't You Please Come Home" – Preservation Hall Jazz Band with Amy LaVere
"Corinne Died On The Battlefield" – Preservation Hall Jazz Band with Tom Waits
"Trouble In Mind" – Preservation Hall Jazz Band with Richie Havens
"Old Rugged Cross" – Preservation Hall Jazz Band with Brandi Carlile
"Louisiana Fairytale" – Preservation Hall Jazz Band with Yim Yames
"Perfect Day" – Shovels & Rope with Preservation Hall Jazz Band
"Won't Be Long" – Infamous Stringdusters with Sarah Jarosz
"Queen Of Hearts / Royal Tea" – Sierra Hull
"I'm Moving On" – Dylan LeBlanc
"Traveler's Paradise" – The Cactus Blossoms
"A Truer Heart" – The James Hunter Six
"Running Down The Road" – Chris Isaak
"Getting Ready To Get Down" – Josh Ritter
"Sit Here & Cry" – Aubrie Sellers
New Music
"Ophelia" – The Lumineers
"Cry Cry" – Grant-Lee Phillips
"Sway Me" – Sarah Morris
"Doors Of Heaven" – Lucinda Williams
"Sitting Here Without You" – Sturgill Simpson
"Snake Eyes" – The Wood Brothers
"Turn It Up" – Samantha Fish
"Life's A Bell" – Langhorne Slim & The Law
"Queen Jane Approximately [Take 5]" – Bob Dylan
"Children Of Children" – Jason Isbell
"Memories" – Larry Keel
"You Make My Heart Beat Too Fast" – Wynonna & The Big Noise with Cactus Moser
"Qualities" – Olivia Mainville & The Aquatic Troupe
"Bullets" – Wild Child
"The Rest" – Alex Bleeker & The Freaks
"Magic Hour" – Aoife O'Donovan
"Hear Me" – Tedeschi Trucks Band
"Desperate & Depressed" – Margo Price
"I Got Love" – Reed Turner
"Free Your Mind (While You Still Got Time)" – James Hunter Six
"Let It Roll" – Luther Dickinson
"Take Me Home, Country Roads" – Brandi Carlile with Emmylou Harris
"1922" – Phil Cook
"It Does Not Bother Me" – Spirit Family Reunion
"Tuscaloosa 1962" – Donnie Fritts
"Black River" – Sierra Hull
"I"ll Fly Away" – Preservation Hall Jazz Band with Del McCoury Band and The Blind Boys of Alabama
[/su_spoiler][/su_accordion]