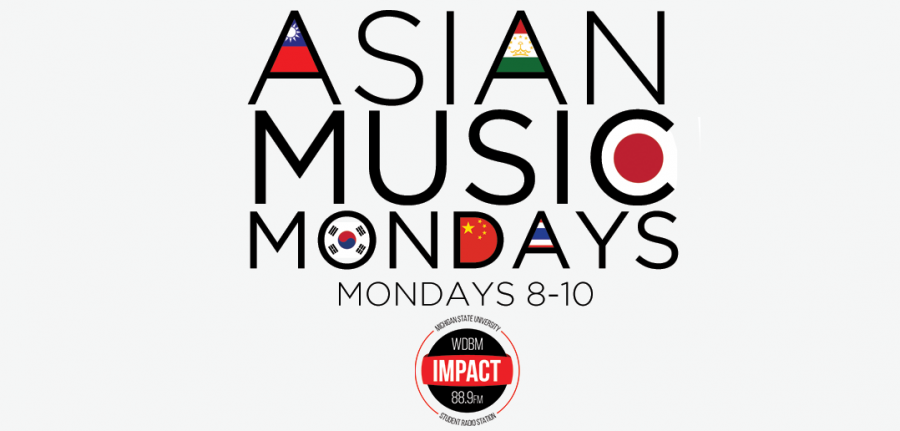 This week on Asian Music Monday…
Your host Lu and Lulu bring you Freshman Remix; a brand new playlist to welcome newcomers to MSU. This week introduces Asian House, Techno and EDM music.
This week is also the first show since last summer that all three of your hosts have returned for Impact Asian Music Monday. Your host Jess will be all over social media for those requests and comments on Twitter, Facebook and Impact's website!
Facebook | Twitter
[su_accordion][su_spoiler title="Click for Playlist" style="simple"]
Super Junior – "Mr Simple" (Korea,2011)

Charanjit Singh – "Raga Bhairav" (India 1982)

Satoshi Fumi – "Sweet Sensation" (Japan 2010)

Serebro Серебро – "MI MI MI" (Russia, 2013)

The Pillows – "Beautiful Morning with You" (Japan, 1999)

Stefanie Sun 孙燕姿 – "The first day / 第一天" (Singapore, 2005)

Dan Buri – "Sunset" (Thailand 2014)

Otsuka Ai 大塚愛 – "Peach" (Japan, 2007)

Mayday 五月天  – "Jump /离开地球表面" (Taiwan, 2007)

f(x) – "Electric Shock" (Korea, 2012)

Stanley Huang 黄立行 – "Sound Wave / 音浪" (Taiwan, 2003)

Girls Generation – "Lion Heart" (Korea, 2015)

Jolin Tsai 蔡依林 – "Magic + 36 Tricks of Love + Signature Move~Classic Dance Live Ver.~/ 看我72变+爱情36计+招牌动作~经典舞曲Live版~" (Taiwan, 2006)
Eddie Hu – "Love or Die" (Taiwan 2013)
F.I.R – "Our Love / 我们的爱" (Taiwan, 2004)
Jay Chou / 周杰伦 – "Sunshine Nerd / 阳光宅男" (Taiwan, 2007)
Kina Grannis – "In Your Arms" (USA, 2011)
TWINS – "After School / 明爱暗恋补习社" (Hong Kong, 2001)
AOA – "Like a Cat / 사뿐사뿐" (Korea, 2014)
Shuji to Akira / 修二と彰 – "Young Friends / 青春アミーゴ" (Japan, 2005)
Priscilla Ahn – "Dream"
t.A.T.u – "Not Wanna Get Us / Нас не догонят"
Omer Adam עומר אדם feat. Arisa – ""Tel Aviv / תל אביב" (Israel, 2013)
Shanie / 高姗 – "School phobia / 开学恐惧症" (China, 2013)
Angela Zhang張韶涵 – "Pandora / 潘朵拉" (Taiwan, 2006)
[/su_spoiler][/su_accordion]