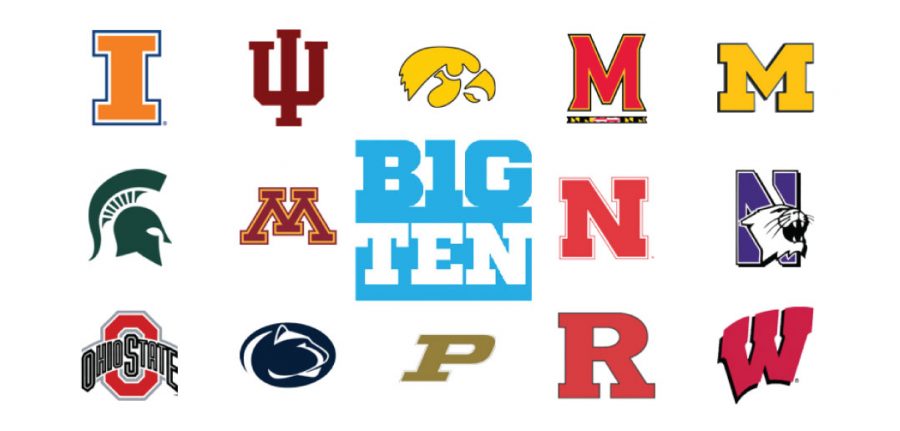 Champions | Michigan State
Division Record: 6-0
Conference Record: 7-1
Overall Record: 11-1
It is all going to come down to the matchup in Columbus in November. If MSU can upset the Buckeyes on the road, they will likely win the Big Ten and make it to the elusive College Football Playoff (CFP). Unfortunately, the road to Ohio State is by no means a cakewalk. MSU must play at Nebraska, Rutgers and Michigan. Maryland and Penn State will by no means be pushovers in East Lansing either. However, the game on everybody's calendar is at home against Oregon. By beating Oregon early in the season, it'll give quarterback Connor Cook and the MSU defense all the confidence in they need to continue competing at an elite level. Coming off a miraculous comeback in the Cotton Bowl vs. Baylor last year, and returning the key factor to the team in Cook, this is the year the Spartans do it.
It's just too improbable for MSU to go undefeated in 2015. The Spartans won't survive their treturous road schedule. But if all is right in the world, MSU will lose to Nebraska in Lincoln, which is a non-divisional opponent. The loss will hurt, but only enough to fire up MSU to upset OSU in Columbus two weeks later. And if MSU can finish strong against Penn State, the table is set for a rematch between Nebraska and Michigan State in Indianapolis on December 5.
Games to watch
vs. Oregon | September 12
@ Nebraska | November 7
@ Ohio State | November 21
vs. Penn State | November 28
[su_divider top="no" divider_color="#e54e53″ size="5″ margin="5″]
No. 2 | Ohio State
Division Record: 5-1
Conference Record: 7-1
Overall Record: 11-2
Here's where my predisposed Michigan State bias ruins my predictions. If the Buckeyes get upset by the Spartans late in the season it would completely change the trajectory of the season. However, since I am a crazy person, I have already predicted a loss in the opening game of the season against Virginia Tech for the Buckeyes. Before the Buckeyes set-in-stone who the starting quarterback and likely Heisman candidate will be, and before Columbus can come down from the high of winning a National Championship in 2014, the Buckeyes dreams may be crushed. A loss to MSU would be the deciding factor for OSU not repeating as Big Ten Champions and CFP contenders.
However, most people realize that only a crazy human being would pick Virginia Tech over Ohio State. With that being said, if the Ohio State finishes 11-1 with its only loss being to an undefeated Michigan State, that would create the best opportunity for two Big Ten East teams to make it to the CFP (Also, count on the Detroit Lions winning a Super Bowl within the next two years).
Games to watch
@ Virginia Tech | September 7
vs. Michigan State | November 21
@ Michigan | November 28
[su_divider top="no" divider_color="#e54e53″ size="5″ margin="5″]
No. 3 | Maryland
Division Record: 4-2
Conference Record: 4-4
Overall Record: 7-5
I have Maryland as my surprise team coming out of the Big Ten East. Maryland's fast-paced offense will be joined by an improved defense from the 2014 season, so watch out for the Terps to turn some heads. College Park is a very difficult town to play in for opponents, so I like Maryland winning most of its home games.
Games to watch
vs. Penn State | October 24
vs. Wisconsin | November 7
@ Rutgers | November 28
[su_divider top="no" divider_color="#e54e53″ size="5″ margin="5″]
No. 4 | Penn State
Division Record: 3-3
Conference Record: 5-3
Overall Record: 8-4
The Nittany Lions are hoping to contend in the Big Ten this year and have been on the rise. I expect PSU to be in a lot of close games this season, and how they finishes those games will determine whether Penn State becomes a household name in the Big Ten again in 2015.
Games to watch
@Ohio State | October 17
vs Michigan | November 21
@ Michigan State | November 28
[su_divider top="no" divider_color="#e54e53″ size="5″ margin="5″]
No. 5 | Michigan
Division Record: 2-4
Conference Record: 2-6
Overall Record: 6-6
Rome wasn't built in a day. And Jim Harbaugh won't bring the Wolverines back to a college football powerhouse in one season. I wouldn't get used to Michigan finishing in the bottom half of the division, that's for sure. But for now, Harbaugh and his squad are still outmatched.
Games to watch
@ Utah | September 3
vs. Northwestern | October 10
@ Ohio State | November 28
[su_divider top="no" divider_color="#e54e53″ size="5″ margin="5″]
No. 6 | Indiana
Division Record: 1-5
Conference Record: 1-7
Overall Record: 3-9
Don't look for much improvement from the Hoosiers' season last year. It's almost unfair for them to play in the East Division. Surely they won't have their top three quarterbacks sidelined to injury, however, unless Zander Diamont turns into a reincarnation of Antwaan Randle El, it's looking like big trouble all year long.
Games to watch
@ Purdue | November 28
[su_divider top="no" divider_color="#e54e53″ size="5″ margin="5″]
No. 7 | Rutgers
Division Record: 0-6
Conference Record: 0-8
Overall Record: 3-9
In its first season in the Big Ten, Rutgers turned some heads. One big surprise was a victory over Michigan. The Scarlet Knights also handled regional rival Maryland in College Park. Unfortunately this year, Rutgers has the absolute worst possible schedule. Sorry Rutgers. I am predicting some early wins at home outside of the Big Ten for the Scarlet Knights. Other than that, Rutgers can only hope to play spoiler late in the season.
Games to watch
vs. Kansas | September 26
vs. Nebraska | November 14
@ Maryland | November 28
[su_divider text="Back to top" divider_color="#e54e53″ size="5″ margin="5″]
[su_table]
INDIANA
MARYLAND
MICHIGAN
MSU
OSU
PSU
RUTGERS
SIU (W)
RICH (W)
@ Utah (L)
@ WMU (W)
@ VT (L)
@ TEM (L)
NS (W)
FIU (L)
BGSU (W)
ORE St. (W)
ORE (W)
HAW (W)
BUF (W)
WSU (W)
W. KEN (W)
USF (W)
UNLV (W)
@ AF (W)
N. ILL (W)
RUT (W)
@ PSU (L)
@ WF (L)
@WVU (W)
BYU (W)
CMU (W)
WMU (W)
SDSU (W)
KAN (W)
OSU (L)
UM (W)
@ MD (L)
PUR (W)
@ IU (W)
Army (W)
BYE
@ PSU (L)
@ OSU (L)
NW (W)
@ RUT (W)
MD (W)
IU (W)
MSU (L)
RUT (W)
BYE
MSU (L)
@ UM (W)
PSU (W)
@ OSU (L)
@ IU (L)
@ MSU (L)
PSU (W)
BYE
IND (W)
@ RUT (W)
@ MD (L)
OSU (L)
BYE
@ Iowa (L)
@ MIN (L)
BYE
BYE
ILL (W)
@ WIS (L)
Iowa (L)
WIS (L)
RUT (W)
@ NEB (L)
MIN (W)
@ NW (W)
@ UM (L)
UM (L)
@ MSU (L)
@ IU (W)
MD (W)
@ ILL (W)
BYE
NEB (L)
@ MD (L)
IU (W)
@ PSU (L)
@ OSU (W)
MSU (L)
UM (W)
@ Army (W)
@ PUR (L)
@ RUT (W)
@ OSU (L)
PSU (W)
@UM (W)
@ MSU (L)
MD (L)
[/su_table]
Full Big Ten Schedules Breakdown: West Division