Yes, you heard right! Impact 89FM is giving away tickets to Electric Forest Festival in Rothbury, Michigan June 26-29th! Find out the THREE different ways that you can win after the jump!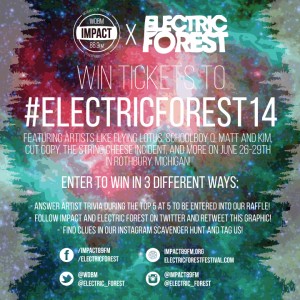 The Impact is giving away tickets to Electric Forest, and we're giving you three different ways to win!
Tune into the Top 5 at 5 Monday through Friday for Electric Forest artist trivia! Answer the trivia question correctly and be entered into a raffle to win tickets!
Feelin' a little more adventurous? We're doing an on-campus Instagram scavenger hunt! Keep your eyes peeled on our Twitter feed for hints on where you can find the clues! Take a picture of the clue and tag us on Instagram @impact89fm #ElectricForest14
Or, follow @WDBM and @Electric_Forest on Twitter to find out other ways that you can win!
_____________
*Contest Rules:
3/31/14-4/11/14
One ticket per winner.
Individual may only win once.
Trivia and online winners will be selected at random.
Instagram winners will be selected in the order that participants complete the scavenger hunt.
Winners will be announced by Monday, April 14th.