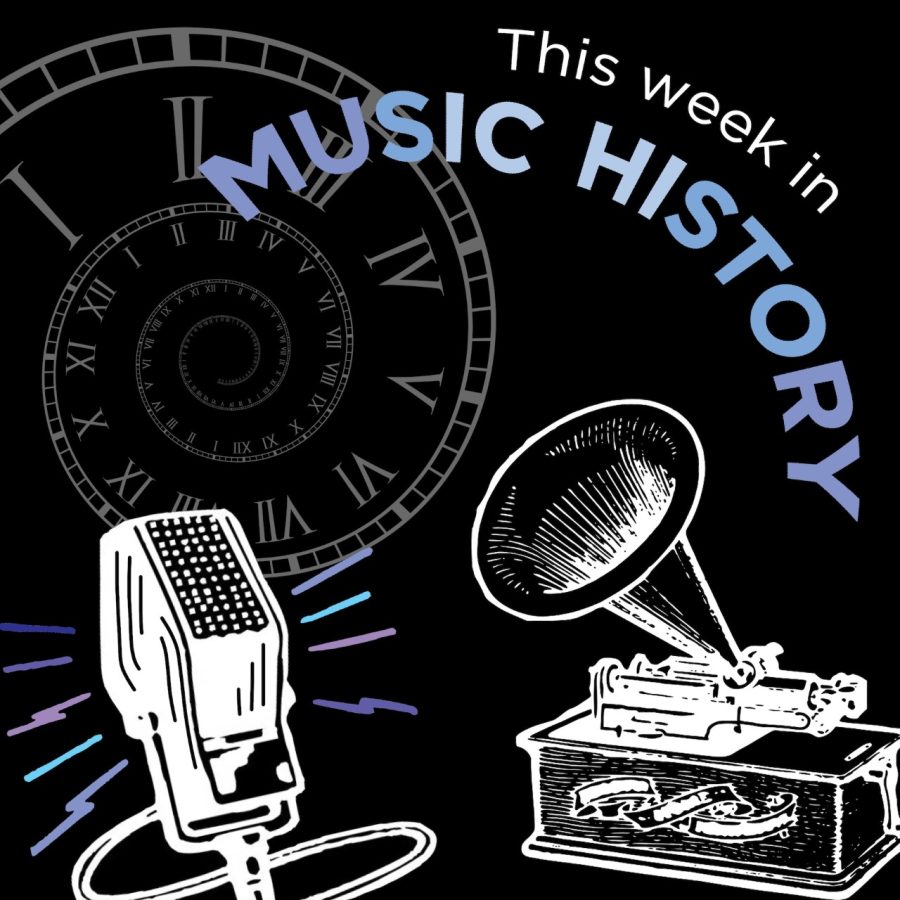 This week in music history, country music lost a legend. In 2003, singer Johnny Cash passed away at the age of 71. The "Ring of Fire" singer succumbed to complications of diabetes at the end of a decades-long career, according to the New York Times report on his death. Cash became one of the foremost voices in country music since the '50s, with his first hits at the famous Sun Records studio in Memphis to his last song, a gut-wrenching cover of "Hurt." 
The Country Music Hall of Fame describes his youth as one marked by hardship. Growing up as a farmer in Depression-era Arkansas, Cash listened to the previous generation of country superstars perform on the Grand Ole Opry radio show. He served in the Air Force for a few years, and then married his first wife. 
After his first marriage ended, he lapsed into a serious drug addiction, which he credits June Carter to helping him survive. The two married in 1968 and became a powerhouse couple in country music, recording several duets. One of the most famous moments of his career was his recording of "Folsom Prison Blues" in front of audiences of inmates, including at San Quenton prison. History.com describes how the performance struck a chord with a young inmate named Merle Haggard, inspiring his own prolific country music career. 
At the end of nearly a half century of music, Johnny Cash had one more song to sing. His last single was "Hurt," a Nine Inch Nails cover that is already heartbreaking enough (Genius lyrics wonders if it's about drugs, self-harm, or both), but with the context of the music video being filmed just a few months before his and his wife's death, with the footage of elderly Cash sitting among the ruins of his life mixed with young Cash, it turns the song and video into quite a harrowing experience. At the Johnny Cash Museum in Nashville, which I had the opportunity to visit this summer, the back corner of the museum and the end of the journey through his life and career is simply a loop of the "Hurt" music video. Around the corner is a collection of records and stage costumes and trinkets from the Carter/Cash household, and on the other side of the wall is the bustling and neon streets of downtown Nashville, but here you stand and stare, look at the sickly old man on the screen surrounded by the artifacts of his life and the knowledge that it's going to end. My initial reaction was that it was a little gimmicky, but after a moment, It's almost haunting. Though it's been 19 years this week since his death, Johnny Cash put a remarkable stamp on country music — all music — that will not soon be forgotten. 
~Madison Reinhold
Thirty-one years ago this week, the titans of grunge, Nirvana, were kicked out of their own single release party. The "Smells Like Teen Spirit" release party was scheduled for the ominous Friday, September 13, 1991. Things went smoothly for two plays of an album, but then the open bar ran out. At this point the band was standing at the DJ booth, drunkenly requesting other songs. This strikes me as a rather baller move when listening to one's own album. Around this time, fueled by some auxiliary large bottles of Jack Daniel's, the band tore every poster off the wall and bassist Krist Novoselic threw a tamale at singer Kurt Cobain. This initiated a fairly substantial food fight, with industry executives caught in the crossfire. 
The trio were rounded up and taken to the curb where they promptly vomited onto the street, and gleefully realized they had been kicked out of their own release party; a rather punk rock end to the night. Nevermind was an insane success, so maybe the guests were charmed by the band's antics. I find it very sweet that they were kicked out as a band; a unit. All in all this story feels like a very appropriate start to the Nevermind era.
~Claudia Braesch
Way back in 1985, British singer-songwriter Kate Bush released her fifth studio album, Hounds of Love. This album included one of her biggest hits, "Running Up That Hill (A Deal With God)." Hounds of Love was Bush's breakout onto the American charts, with "Running Up That Hill" entering the Top 40.
Her popularity saw a resurgence in recent months due to the popular Netflix show Stranger Things. In one of the most iconic scenes of season four, character Max Mayfield is rescued from the evil Vecna by listening to "Running Up That Hill." The song repeats throughout the series, serving as Mayfield's theme. Thanks to the show and social media, notably TikTok, the song topped the Billboard 200 Global chart for 16 weeks. 
At the time of its release, the album received overwhelmingly positive reviews from critics and fans alike. To this day, Hounds of Love is still lauded as one of the best albums of all time according to publications like Rolling Stone and Pitchfork, earning a rare 10/10 rating from Pitchfork. Bush is heralded as an icon and inspiration in pop music, with artists such as Stevie Nicks, Fiona Apple, Tupac Shakur and Charli XCX all expressing admiration for her work. In the 37 years since its release, this piece of music history has been enjoyed by generations of fans old and new.
~Norene Bassin