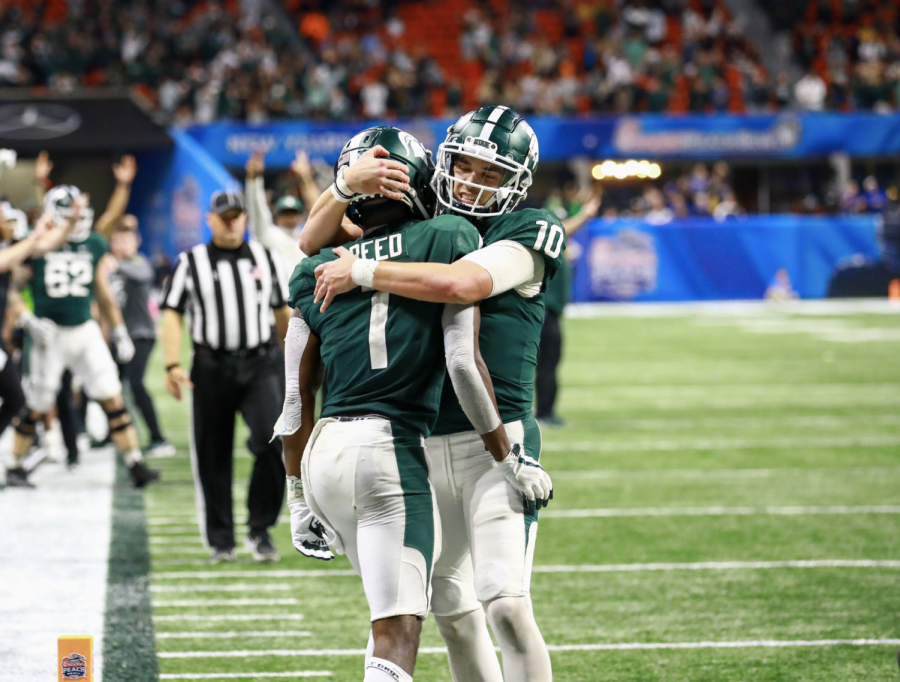 EAST LANSING, Mich- Michigan State is set to bring back several big pieces to multiple teams for the 2022-23 fall and winter seasons. Here are 10 players returning for their sophomore or junior years to watch next season:
1.) QB Payton Thorne, Redshirt Junior, Football
Thorne was nothing short of spectacular in his first season as the Spartans' starting quarterback where he led MSU to an 11-2 record and broke Kirk Cousins' single-season passing touchdown record with 27. Returning with him is his No. 1 target Jayden Reed, who caught 10 of his 27 touchdown passes in addition to 1,026 receiving yards. Thorne will return as a redshirt junior, in hopes to lead MSU to another New Year's Six Bowl.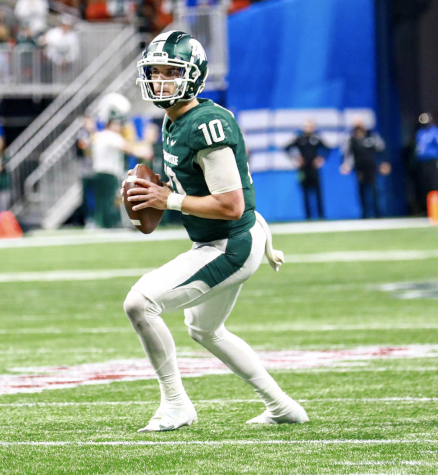 2.) G Max Christie, Sophomore, Men's Basketball
Christie had a very solid freshman year for the Spartans. Coming out of high school as a five-star recruit, and the No. 3 ranked shooting guard in the country, he averaged 9.3 points per game, which ranked second on the team and was named to the All-Big Ten Freshman Team. He also won Big Ten Freshman of the Week honors on five separate occasions. There is a small chance Christie declares for the 2022 NBA draft, but if he did decide to return, he may very well become the main offensive weapon for the Spartans going into next season.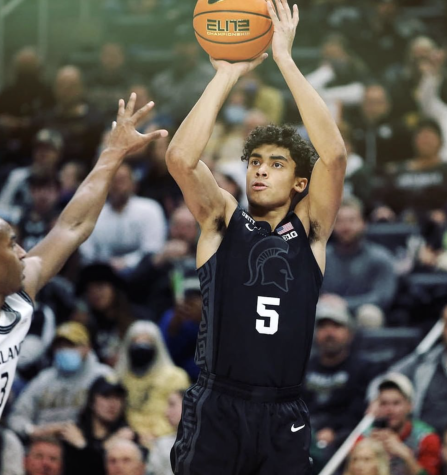 3.) DB Darius Snow, Junior, Football
Snow came into Michigan State with high standards. His uncle, Percy Snow, has his No. 48 retired and was a two-time All-American Linebacker. His father Eric Snow ranks in the top-five in all-time assists at MSU with 599. After two years, his impact is already being felt. He had 87 total tackles as a sophomore, ranking third on the team behind safety Xavier Henderson and linebacker Cal Haladay. He cemented himself as a premier open-field tackler and is able to play multiple positions. Snow has now put himself on the list of impact players to watch when facing MSU in the years to come and should be expected to play almost every defensive snap.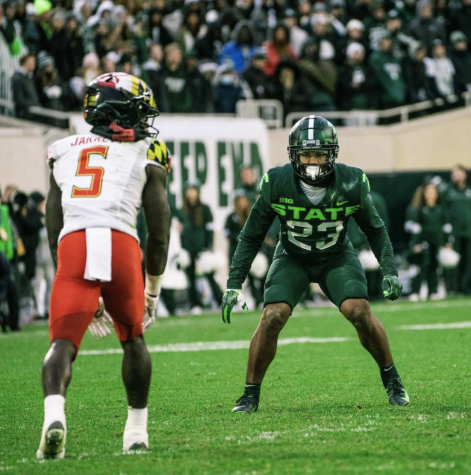 4.) Jaden Akins, Sophomore, Men's Basketball.
Akins was quite impressive in his freshman season despite playing in a limited capacity. The four-star combo guard out of Farmington averaged 14.4 minutes a game, and shot nearly 40% from the field as well as 38% from deep. Akins averaged 3.6 points a game, but was dominant on the defensive side of the ball as an on-ball perimeter defender, notching 22 steals and nine blocks in 36 games played. He will return as a key part of the Spartan defense as the team may lose two sensational defensive players in senior forwards Gabe Brown and Marcus Bingham Jr.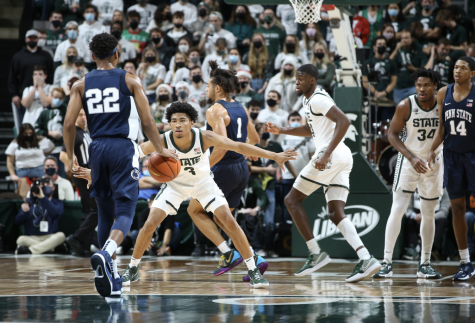 5.) F Matilda Ekh, Sophomore, Women's Basketball.
Ekh was a consistent perimeter scoring threat for the Spartans in her freshman year. She averaged 11.8 points a game, which ranked third on the team behind guards Nia Clouden and Alyza Winston (who transferred to Mississippi State in December). Ekh also shot an impressive 42.7% from the field and scored 20 or more points in five separate conference games. She recorded points in all games of the 2021-22 season where the Spartans went 15-15 and also scored in double figures on 19 separate occasions. Ekh will return for her sophomore season in hopes to lead the Spartans back to the NCAA Tournament in 2022-23.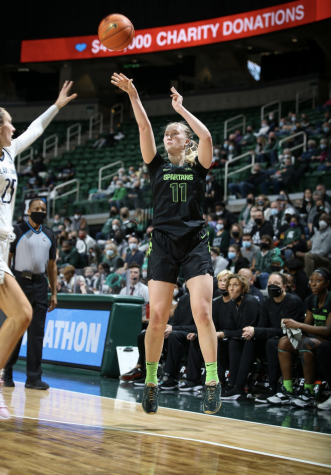 6.) G AJ Hoggard, Junior, Men's Basketball.
The sophomore guard took a huge jump from his freshman year, averaging 6.6 points and 4.9 assists a game in 36 games (and eight starts). He especially excelled at rebounding his position well, getting to the rim and finishing through contact against larger players. Hoggard also performed exceptionally well on the defensive side of the ball with 25 steals and 17 blocks in 2021-22. Hoggard compliments fellow guard Tyson Walker well, who is more of a perimeter scorer, and will be able to do it again next year for the 2022-23 season.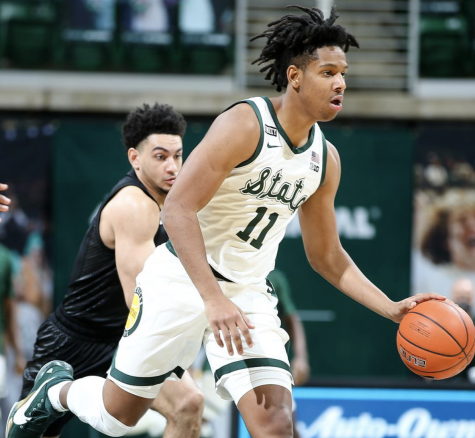 7.) WR/G Keon Coleman, Sophomore, Men's Basketball & Football.
Coleman's freshman year stats cannot explain how freakish of an athlete he is. He played in 10 games for the football team and five games for the basketball team. For coach Mel Tucker, he will look to fill the shoes of Jalen Nailor at wide receiver. Coleman had seven receptions for 50 yards and a touchdown as a freshman, and also scored five total points on the season, including a 3-pointer against Iowa on Feb. 22. With Coleman's receptions expected to go way up, his future with the basketball team is uncertain. However, he brings energy to the fans and players every time he touches the court. Expect Coleman to be a difference-maker on the field and don't be surprised if he also shines on the court during his time in East Lansing.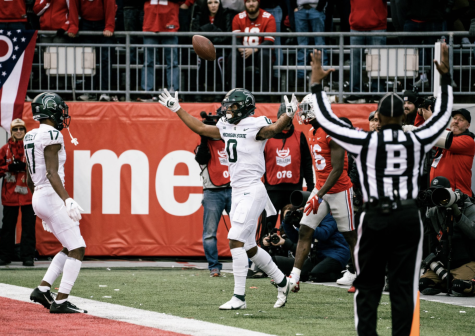 8.) LB Cal Haladay, Redshirt Sophomore, Football.
Haladay gave Michigan State a much-needed steady presence at linebacker. In his first season, he led MSU in tackles (96) and was named a freshman All-American by multiple media outlets. He started 12 of the 13 games played and registered two interceptions returned for touchdowns, including his game-clinching interception with 25 seconds left in the Spartans' 31-21 Peach Bowl victory over Pittsburgh. In addition, he also had five tackles for loss and two forced fumbles on the season. Haladay will return as a redshirt sophomore in a loaded room of linebackers that includes incoming transfers Jacoby Windmon (UNLV) and Aaron Brule (Mississippi State), returning starter Quavaris Crouch and returning 2021 four-star recruit Ma'a Gaoteote.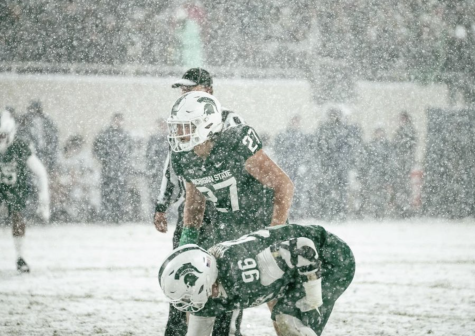 9.) F Jesse Tucker, Sophomore, Ice Hockey.
Tucker played in 36 games for the Spartans, where he lead the team with 24 points, 22 of them being assists. Prior to MSU, Tucker played in the USHL for the Green Bay Gamblers, where he had 33 assists in 48 games. Tucker will return for the Spartans as a key building block and a lone bright spot for a rebuilding team that went 12-23-1 in 2021-22 and lost 15 of its final 16 games.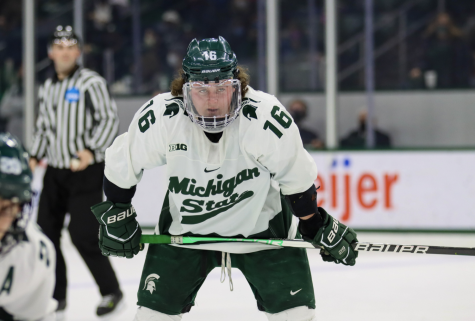 10.) D Zivana Labovic, Junior, Women's Soccer.
Labovic had a productive sophomore year, finishing with 10 points, which ranked second on the team. She was highly recruited coming out of Marian Catholic in Chicago Heights, Illinois and helped lead the Spartans' to a 10-4-3 record in the 2021-22 season as well as a winning Big Ten record. Labovic will return for her junior year where she will anchor the MSU backline and possibly have another 1,000+ minute season.