Klein: Three takeaways from MSU's much-needed 64-46 win over Northwestern
Marin Klein, Women's Basketball Beat Reporter
January 16, 2022
EAST LANSING, Mich—Led by 19 Nia Clouden points and 18 Matilda Ekh points, the Michigan State women's basketball team registered a 65-46 home win over Northwestern to improve to 9-8 on the season. MSU had just come off two narrow Big Ten losses against Ohio State and Purdue this past week. What changed for the Spartans? And what areas does MSU still need to address? Both those questions, and more, are answered below:
As the season goes on, the team is starting to develop a defensive identity.
At the start of this season, MSU was struggling defensively, but as conference play continues to progress, the team is showing large improvements on that side of the floor. Many of MSU's losses (Florida Gulf Coast, Ohio State, Notre Dame) were decided in large part due to sloppy perimeter defense and defensive rebounding, as well as foul trouble and injuries. There are signs that could be changing.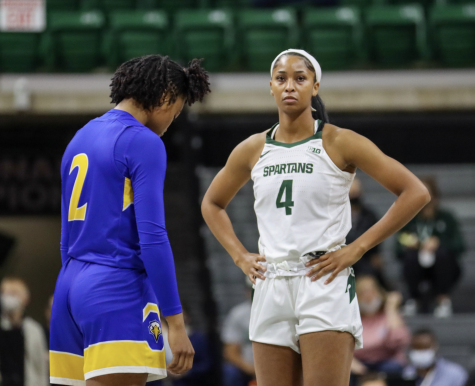 Against Northwestern, the Spartans had 28 defensive rebounds, 11 steals, and two blocks. MSU's victory against the Wildcats was strongly aided by the team's sensational post and wing defense. The ability to close out on elite scorer Veronica Burton aided MSU to only allow Northwestern to shoot 31% from the floor and 30% from deep, even after starting 5-for-10. Burton herself was only 3-for-9 with nine points.
With a road contest with No. 6 Indiana looming, the Spartans will need to continue their recent trend of forcing turnovers, crashing the glass and effectively passing off screens.
MSU needs a third scorer and more consistency on offense
In the first quarter, MSU shot 33% from the floor and 28% from 3-point range because of foul trouble and silly turnovers. That won't cut it going forwards.
The Spartans eventually started scoring with more regularity (they shot nearly 50% from the floor in the second half), but only scoring 27 first-half points on 34% shooting allowed a Northwestern team that couldn't hit the broad side of the barn for the entire first half  to remain in the game way too long.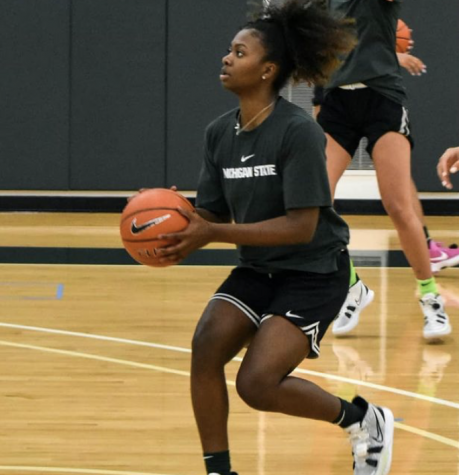 The Spartans have lost Tory Ozment and Julia Ayrault and Alyza Winston to the portal. Currently, junior forward Moira Joiner is still coming back from a concussion. Whether it's Alisia Smith or Taiyier Parks, who has scored in double figures in three straight games, MSU needs someone who can consistently take the pressure off of Ekh and Clouden. Those two combined for 37 points, and MSU still only scored 65 points.
Simply put, MSU's scoring attack needs to begin to be more staggered and less top-heavy as Clouden and Ekh are continually asked to do perhaps a bit much.
Deedee Hagemann needs to get back on track
On the downside for MSU, freshman guard Deedee Hagemann had another rough game with only six points on 1-for-4 shooting. She also had eight turnovers and has struggled mightily from the floor recently. Against Ohio State on Jan. 12, Hagemann was only 2-for-11 from the floor and 1-for-7 from deep despite playing 35 minutes. She was 0-for-7 and managed only two points in last Sunday's 69-59 loss to Purdue.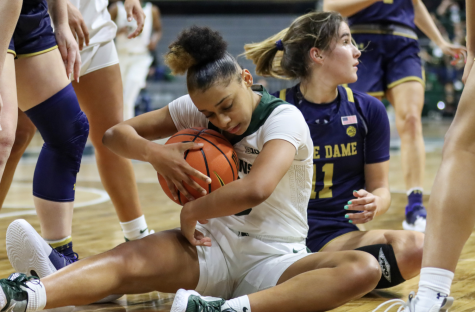 Combined, she is 3-for-22 from the floor in the past week. With Winston gone, Hagemann will get all the opportunity in the world to work herself out of her recent shooting skid, and with the Spartans' sheer lack of depth, head coach Suzy Merchant desperately needs her to.