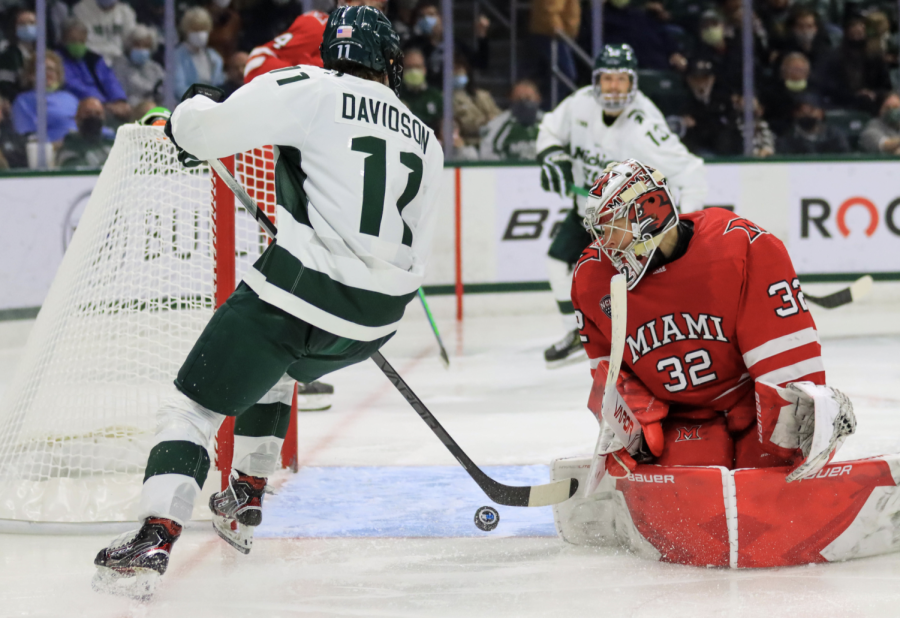 EAST LANSING — The Michigan State Spartans (3-2-1) open Big Ten play this weekend when they travel to Columbus, Ohio to take on the Ohio State Buckeyes (3-1-0). This weekend's series will be the first time these teams have played each other since late January. 
Michigan State is coming off a 0-1-1 weekend against UMass-Lowell in what was its first road trip of the season. The Spartans held the lead late in Game 1, but gave up the game-tying goal to Lowell's Brehdan Engum with under two minutes left to play. Neither team would score in the overtime period, resulting in a tie. Senior goaltender Drew DeRidder saved 37 shots in the contest, earning him the Big Ten's Second Star of the week award. In Game 2, the Spartans would give up their first power-play goal of the year, giving Lowell a 1-0 lead in the first period. The Spartans would take five penalties altogether and give up a shorthanded goal en route to a 4-0 loss in the weekend finale.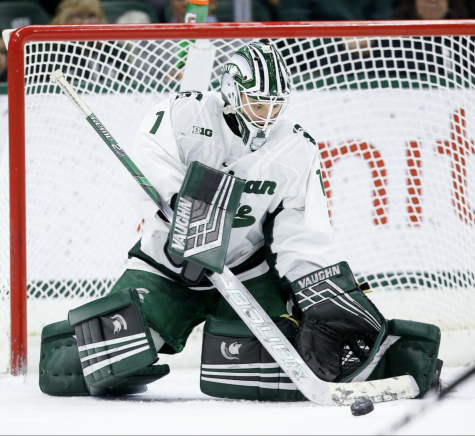 Ohio State comes into this weekend having not played a game since Oct. 16 in what was a 3-0 victory over the University of Connecticut in a two-game weekend series. In Game 1, Ohio State goaltender Ryan Snowden was pulled in the second period after letting in three goals. Freshman Jakub Dobes came in relief and saved all 23 UCONN shots he faced as the Buckeyes secured a 4-3 come-from-behind victory in overtime. In Game 2, Dobes would get the start and earned his first career shutout, stopping 32 shots as the Buckeyes won 3-0. 
Michigan State leads the all-time series 93-51-13, but Ohio State leads the series in games played in the Big Ten conference 20-9-3, including winning seven of the previous 10 meetings. The teams split last season's series, both going 2-2 and earning one victory on the road. The last time the two teams met in Columbus, Michigan State took Game 1 with a 3-2 overtime victory, but dropped Game 2, 4-2. 
The Spartans head into the weekend the better team on paper. Michigan State currently sits first in the Big Ten in goals allowed per game (1.50) and faceoff percentage (61.7%). In comparison, Ohio State is fourth in the Big Ten in goals allowed per game (2.00) and sixth in faceoff percentage (51.2%). The only statistics of note that are similar between the two teams are on special teams. Ohio State has a better power-play, converting at 24%, compared to the Spartans 17%. Michigan State, however, has a slightly more effective penalty-kill, killing 90.9% of its penalties, compared to Ohio State's 90.5%. 
Scoring has been a key feature of this Buckeye team this season. After their season-opening 2-1 loss against Bentley, the Buckeyes scored seven the following game and have scored three or more goals in each game since. Leading the way for Ohio State is Tate Singleton, who already has five points on the season, including three goals. Quinn Preston, who leads all Buckeyes in career points against the Spartans with 11, has three points so far this season. Freshman goalie Jakub Dobes has allowed only one goal this season and is 3-0-0 to start his career, also earning the Big Ten's Third Star of the week for his performance against UCONN. 
Michigan State will be looking to bounce back after getting shut out for the first time since a 4-0 loss against Wisoncsin in March 2021. In total, the Spartans were shut out six times last season, including a three-game stretch where they went 238 minutes and 25 seconds without a goal. The Spartans have already equaled last season's power-play goal marker with five goals in six games (MSU needed 27 games to get that number last season). MSU has 14 players who have at least a point this season and are led by fifth-year senior Mitchell Lewandowski, who has seven points this season.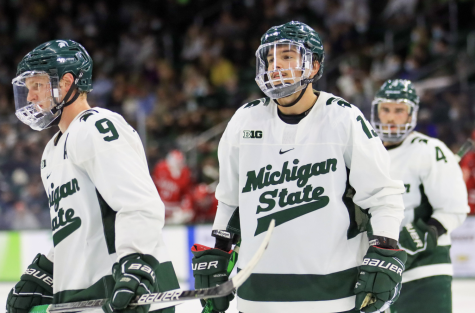 Ohio State will win if…
…they "put pucks on net." I know it's the oldest of hockey cliches, but it's almost bulletproof. Ohio State is last in the Big Ten in shots on goal per game (28), and that is a cake-walk for MSU goaltenders who are used to facing 30 or more shots on goal per game. If Ohio State can get more shots on net — and high quality ones at that — one of them is bound to find its way in. Michigan State's two losses this season have come when it has been outshot, and it was 4-15-1 in 2020-21 in the same statistic. If the Buckeyes want a victory or two, they are going to need to test MSU's goaltenders more than they have all season.
MSU wins if…
…they win the special teams battle. There are three facets to hockey: offense, defense and special teams. When you take an average of 10 penalty minutes per game, like MSU does, special teams become an increasing share of the metaphorical hockey pie. MSU is 3-0-1 when not allowing a power-play goal and is 2-0-1 when it scores on the power-play. If MSU wins the special teams battle, it should be in good shape to take one, if not both, games on the road this weekend. 
Puck drop on Friday is scheduled for 6:00 p.m., while Saturday's game is scheduled to begin at 2:00 p.m.