College of Natural Science reveals DEI vision
EAST LANSING – Yesterday, October 27, the College of Natural Science hosted a virtual webinar focused on investing Diversity, Equity, and Inclusion (DEI) for the success of the College. The webinar was moderated by Sara Ford and began with opening remarks from Dean Philip Duxbury. Other college-affiliated individuals introduced initially were DEI Coordinator Kendra Pyle and DEI Assistant JeSonja Lee. The main presentation was then given by Amber Benton, Assistant Dean of DEI for the College of Natural Sciences. 
Benton, who was hired by the College of Natural Science six months ago, set the tone quickly with the depth of her expertise. She has worked at two other colleges on campus (James Madison and Engineering) and is responsible for creating the MSU Social Justice Art Festival. Her academic work also includes different pilot studies in perceptions of STEM success for natural and computer science and she received her doctorate Ph.D. in Education at MSU. 
The presentation was followed up with Benton's definitions of DEI, broken down to each term. It's essential to recognize that diversity isn't a set of individual parameters; instead, it is an interconnected web of identities everyone has. Equity is also not the same as equality, as she explains. This was followed by a discussion of inclusion and the systems of inclusion that exist, as seen below.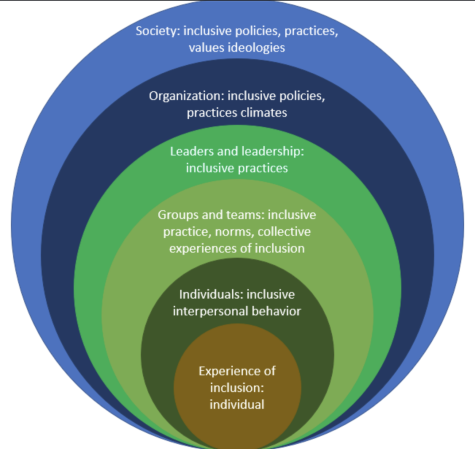 After reviewing these terms, the current DEI efforts in the college were presented. Some of the notable ones included regularly offering a Cultural Competency Workshop and the STEM Teaching Essentials workshop series provided within the college. However, observations based on these efforts show that there are currently limited resources for co-curricular engagement for internships or education abroad. In addition, the outreach efforts conducted within the college are also decentralized. 
Assistant Dean Benton followed up with several opportunities for growth for the College of Natural Science. These included adopting more inclusive language, practices, and behaviors like referring to students as scholars rather than underrepresented or marginalized. Other areas of growth included strategically recruiting both students and faculty from diverse backgrounds. This means not recruiting the star pupil but reaching out to people who would benefit from being a part of the community. This will develop a more profound sense of belonging for a diverse pool of students and faculty within the college. Ways that the college has addressed these areas of growth included the creation of a DEI communication (response) plan and the NatSci Center for Community, Inclusion, and Belonging. Other developments included the Amplify NatSci series and hosting listening sessions for students to provide feedback for the college. 
To maximize the full potential of the college, Benton has developed and identified seven words that describe the DEI vision of the College: 
Belonging – create a sense of belonging and engaged inclusivity

Recruit – engage in finding and attracting diverse colleagues and students

retain – retain underrepresented faculty, research associates, post-docs, specialists, and students

Invest – invest in student and employee professional growth while devoting time to achieve inclusion and equity goals

Cultivate – foster, develop, acquire, promote, and improve cultural competency and equity-mindedness skills

Responsibility – shift from requirement to expectation and demonstrating social responsibility for acting independently when DEI issues arise

Communion – sharing and/or exchanging intimate thoughts and feelings around DEI topics and issues through participating in dialogue
Each of these facets of the vision was presented with several action items that describe how the College of Natural Science plans to reach parity in each area. These action items are comprehensive, but the college will face challenges in its pursuits. These challenges include but are not limited to financial and human resources, the percentage of both undergraduate and graduate students in STEM fields, the pandemic and ultimately, fear. 
Following a summary of this work, a brief Q&A was held with the participants of the webinar. Some questions included how this vision compares to other colleges on campus and how DEI can be integrated into strength-based approaches to coaching and supporting students. Other colleges are still crafting their vision. While Benton is not an expert in coaching, she provided insight into how one would go about that from a DEI standpoint. She also pointed participants to resources, including Anti-Racism Daily. Benton and her NatSci Center for Community, Inclusion, and Belonging are doing incredible work in the College of Natural Science, demonstrating the College's commitment to the DEI space. The recording for this webinar will be uploaded virtually and will be updated in this article afterward.