Previewing Michigan State volleyball's road matchup with Maryland
EAST LANSING, Mich.— On Saturday afternoon, the Michigan State Spartans will seek revenge when it squares off against the Maryland Terrapins on Oct. 23 at 7 p.m. in College Park. MSU previously lost to Maryland in four sets at home on Oct. 16
The Spartans are coming off a much-needed five-set road victory over No. 7 Purdue on Wednesday evening. MSU (9-9, 2-7) broke a five-game losing skid and earned their second conference win of the season.  
In what was the 300th win for head coach Cathy George at MSU, the Spartans won the first, third and fifth sets over the Boilermakers.
Sophomore outside hitter Sarah Franklin was sensational on Wednesday against the Boilermakers as she tied a career-high with 25 kills, while outside hitter Cecilee Max-Brown broke out for a double-double and two career-highs with 17 kills and 18 digs.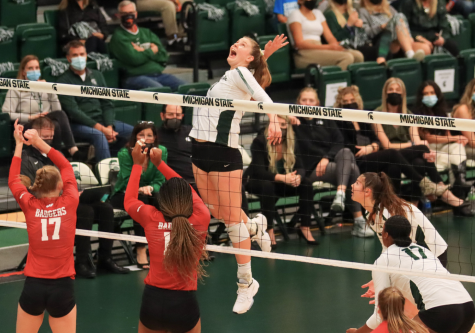 MSU also collected a season-high 67 kills, won the block battle 9-7 and delivered seven service aces while also holding Purdue to a .208 hitting percentage.
Maryland (16-5, 4-5) followed up its win over MSU with a three-set sweep victory over Rutgers.  
The two clubs met just last week and even with a strong first set win for MSU, the Terrapins swiftly took the next three sets (21-25, 16-25, 18-25) to secure the four-set victory over MSU.
Overall, the Spartans amassed 14 service errors and four blocking errors against the Terrapins last Saturday. Despite the loss, Sarah Franklin had a strong outing with 20 kills and 13 digs, the fifth time she has collected a double-double in 2021.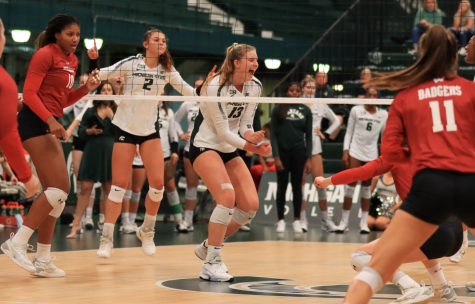 Max-Brown chipped in with 15 digs, previously a career-high before the win over Purdue, to go along with nine kills and two aces. Middle blocker Naya Gros also had a solid game with 10 kills to along with a game-high .381 hitting percentage
Sophomore outside hitter Sam Csire led the Terrapins to the four-set victory over MSU with 15 kills and 10 digs, a double-double. Setter Sydney Dowler also collected a double-double with 34 assists, 11 digs and three aces.
Csire is leading the team on the season with 291.5 points; outside hitter Paula Neciporuka is second on the team with 241 points. Csire is also leading the team with 3.99 points per set, 251 kills, 789 total attacks and 3.44 kills per set.
Another major weapon for Maryland is senior middle blocker Rainelle Jones;  she is third on the team with 210.5 points, 3.05 points per set and 142 kills. Neciporuka is second on the team with 241 points, 208 kills, 2.97 kills per set and 3.44 points per set.
With the Terrapins being one of only two opponents in the last week that MSU has faced, expect the Spartans to show major adjustments and fix the number of service errors and defensive breakdowns that were shown in their last meeting.