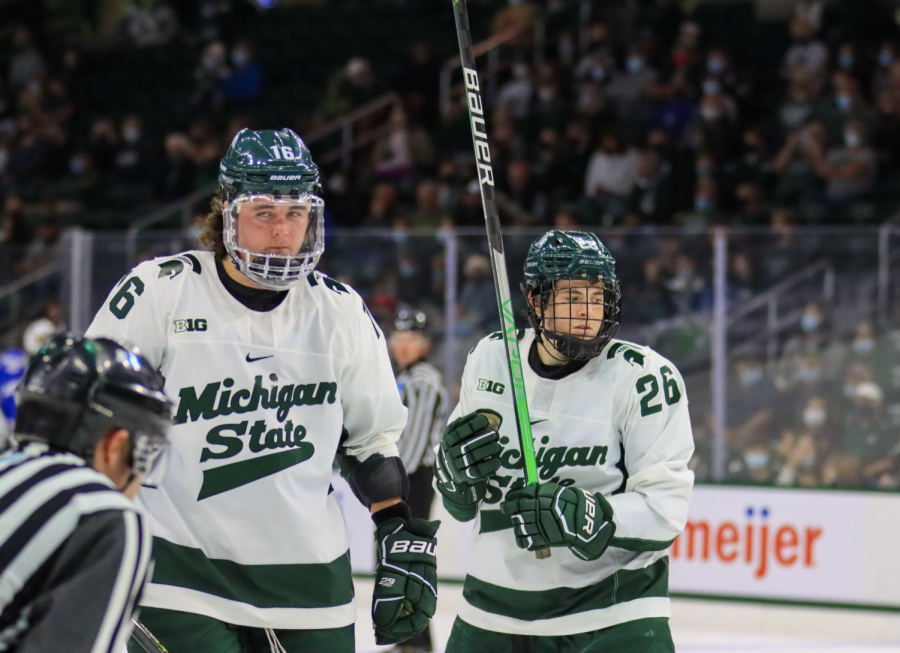 EAST LANSING — Michigan State had a close 3-1 victory against Miami of Ohio on Friday evening that included an empty-net goal by Jagger Joshua.
Here are the three biggest takeaways from the contest at Munn Ice Arena:
The Spartans second line was deadly
Michigan State's second line was responsible for two of the three goals scored on Friday night. Both even-strength goals came from sophomore Jeremy Davidson, who was set up beautifully both times by senior captain Dennis Cesana. 
Senior left winger Mitchell Lewandowski also had an assist on Davidson's first goal, and sophomore center Kristof Papp was flying all over the ice doing just about everything for Michigan State.
It was easy to tell that when this line was on the ice for the Spartans, it made the biggest difference with pushing the pace and getting scoring opportunities. Papp had five shots, and both Davidson and Lewandowski had four shots apiece.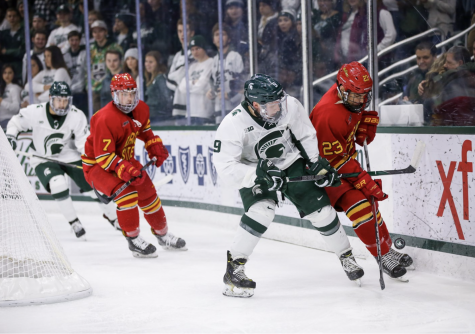 These three players just seemed to be clicking on all cylinders for MSU, and they're definitely the line to watch on Saturday as well.
Pierce Charleson deserves the starting role
Sophomore goaltender Pierce Charleson looked fantastic Friday against Miami, stopping 28 of 29 shots from the RedHawks. There were multiple opportunities that Charleson somehow turned away by sprawling out on the ice. 
Drew DeRidder has had plenty of accolades and has been a preseason All-Big Ten honorable mention, but Charleson has been the hot hand, only allowing two goals in the two games he started. The young keeper may have also taken over the starting role for the Spartans for good after DeRidder allowed three goals in his last start.
The Spartans had an overall clean game
MSU had a few penalties that needed to be cleaned up, but besides that, it seemed pretty flawless all the way around. A Christian Krygier interference minor wiped away a Papp goal that at the time would've given MSU the lead.
Griffin Loughran had a tripping minor, Jeremy Davidson had a cross checking and Cole Krygier was also called for interference. Even despite these penalties, MSU was able to kill off all four of them and did a great job limiting the Redhawks' opportunities to a minimum. 
Surprisingly, Miami won the faceoff battle 36-30, as the Spartans usually are one of the best teams in the country when it comes to faceoffs. MSU will look to clean up those small mistakes on Saturday in what will be another hard-fought game.
MSU will look to make it three in a row against Miami again on Saturday at 7 p.m.