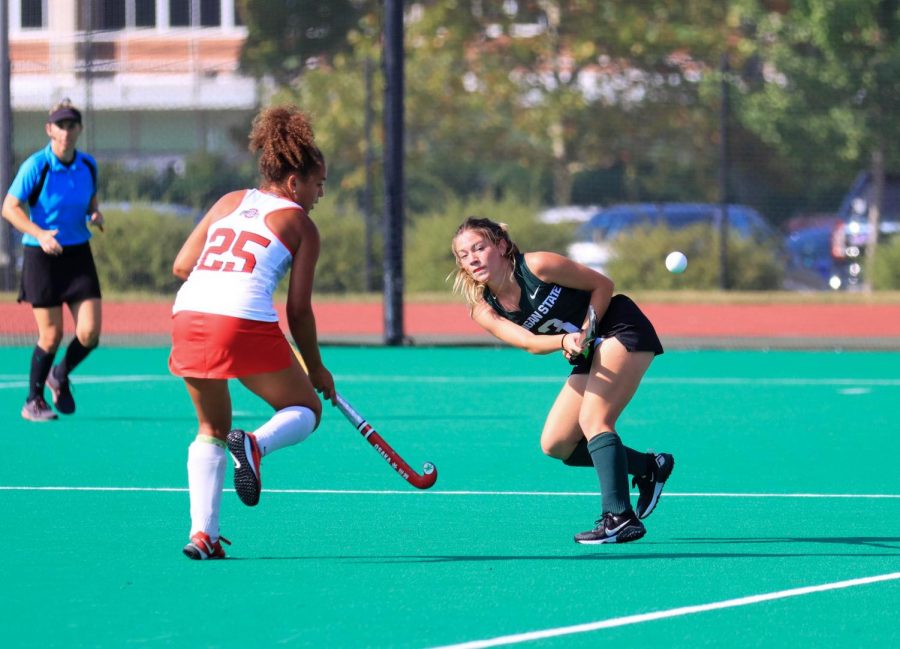 EAST LANSING — On Friday, No. 25 Michigan State took on No. 24 Ohio State in a game that was sure to be full of excitement. The Spartans, who came into the contest with a boastful 5-0 record, just came off a dominating 7-1 win over the Ball State Cardinals. The Spartans were also ranked nationally for the first time since Oct. 1, 2019, when they were ranked 24th. This was the first Big Ten matchup of the season for either team and thus an important one.
After a hard-fought game against a potent Ohio State offense, the Spartans fell by a score of 4-3 in their first loss of the season. Spartan goalie Monique "Moe" Jardell did her best by obtaining seven saves on the day, including a penalty shot save, but ultimately gave up four goals of the Buckeyes' 13 shots. 
"I think today we created a lot of our own problems," MSU coach Helen Knull said. "We've got to finish these situations that, in my opinion, should be goals."
Missed opportunities certainly seemed to be the theme of the game for the Spartans. Along with 15 total shots that only turned into three goals, Michigan State also had eight corner chances with just one goal coming from those. 
Michigan State struck first with a goal just two minutes into the game by senior midfielder Maddie McDonough with junior defender Nienke Bloemsaat assisting. The Spartan bench was exhilarated and spent most of the first quarter on their feet. 
However, the lead was short-lived as Ohio State midfielder Cameryn Foregash scored in the 13th minute. The exchange of goals did not end there as each team would get one more goal before half. Katie Pyle from Ohio State's bench scored in the 22nd minute followed by senior midfielder Cara Bonshak's fourth goal of the season in the 27th minute.
In terms of halftime adjustments, Knull was strictly business.
"Just really tactical adjustments for us," Knull said. "I thought we started the third quarter making some good adjustments."
The third quarter was a close one filled with many opportunities and only one coming to fruition as Ohio State forward Sarah Charley broke the tie with a goal in the 43rd minute. The Buckeyes kept it up with another goal by midfielder Hallie Brost only 58 seconds into the fourth quarter. Despite many back-and-forth chances for both teams, the Spartans were only able to get one goal back late in the fourth when freshman midfielder Ellie Rutherford scored her third goal of the season with two minutes left in the contest.
"It wasn't our best day, we had a hard time communicating at first," Bloemsaat noted. "We just have to work hard for each other and we did that today, but we just didn't get the outcome."
The Spartans will be looking to bounce back when they take on Central Michigan at home on Sept. 19 at 1 p.m. The Spartans have not lost to Central Michigan since 2007 and have never lost to the Chippewas under Knull.