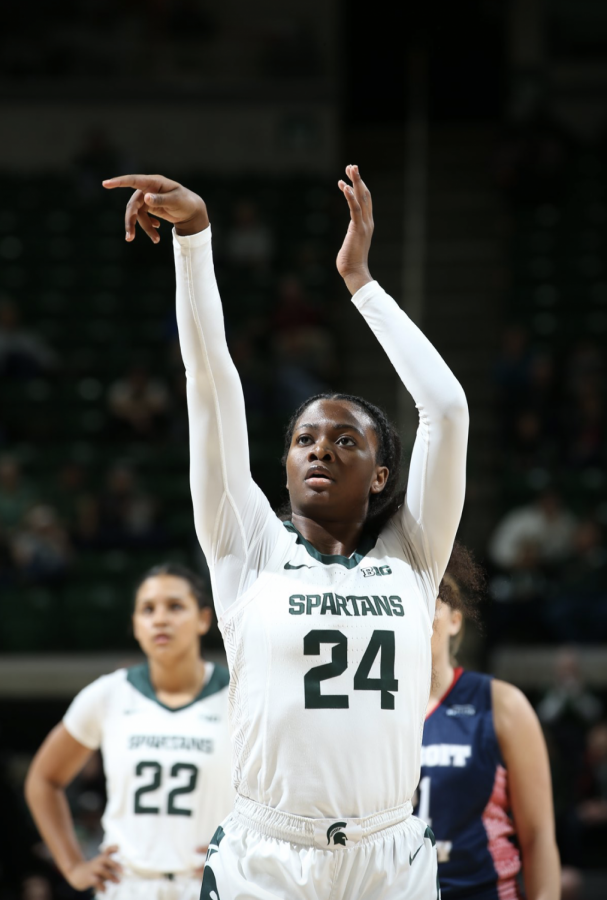 EAST LANSING— The 2021 Michigan State women's basketball schedule has been announced.
The Spartans are set to open up the season at home against Morehead State, a team they beat 93-48 on Dec. 15, 2019. They will then host Niagara on Nov. 14, Valparaiso on Nov. 16 and Bryant on Nov. 19 before traveling to New York to take on Fordham on Nov. 21.
The rest of MSU's schedule can be found below (away games are in bold and neutral site games are in italics):
Nov. 23: @St. Francis Brooklyn
Nov. 26: @Oakland
Nov. 28: vs. Marshall
Dec. 2: vs. Notre Dame
Dec. 5: @Iowa
Dec. 9: vs. Illinois
Dec. 20: @Florida Gulf Coast (West Palm Beach Invitational)
Dec. 21: @West Virginia         (West Palm Beach Invitational)
Dec. 30: vs. Nebraska
Dec. 31 vs. Nebraska
Jan. 3: @Northwestern
Jan. 9: vs. Purdue
Jan. 12: @Ohio State
Jan. 19: @Indiana
Jan. 23: vs. Minnesota
Jan. 27: @Penn State
Jan. 30: @Rutgers
Feb. 3: @Maryland
Feb. 10: vs. Michigan
Feb. 13 @Wisconsin
Feb. 24: @Michigan
Feb. 20: vs. Ohio State
The Spartans are coming off a 15-9 season that saw them earn a berth in the 2021 NCAA Tournament before falling to Iowa State 79-75 in the Round of 64. First-team All-Big Ten guard Nia Clouden, as well as guards Moira Joiner and Alyza Winston and forwards Julia Ayrault, Taiyier Parks, Tory Ozment and Alisa Smith are set to return for the 2021 season. Michigan State will square off against eight teams that made the NCAA tournament a season ago, including Indiana, Michigan, Northwestern, Maryland, Rutgers and Iowa.
In addition, MSU is welcoming in five newcomers, including five-star freshman Detroit guard Deedee Hagemann and Purdue graduate transfer Tamara Farquhar.  During her four seasons at Purdue, Farquhar started in 89 games and established herself as a ferocious rebounder and post defender. She averaged 6.5 points and 6.1 rebounds a game in 2020-21 while starting in all 23 games for the Boilermakers.
No start times have been announced for the scheduled 2021 games.