MSU forward Camryn Evans, defender Samantha White and goaltender Lauren Kozal receive preseason All-Big Ten honors
EAST LANSING— Michigan State senior forward Camryn Evans, along with defender Samantha White and goaltender Lauren Kozal, were named to the Big Ten Preseason Honors list on Monday afternoon. Overall, 42 different players were named to the list after being voted on by each of the 14 different coaches in the Big Ten.
Evans, who received the same honor last season, started in all 12 games during the 2020-21 season and received 856 minutes of action.  A three-year starter with 48 games of experience, she was tied for the team lead in 2019 with six assists while also notching 17 shots on goal. In addition, Evans was named a Big Ten All-Freshman selection in 2018 after scoring seven goals and notching 14 overall points. She also registered 34 overall shots and 17 shots on goal, both among the best totals on the team.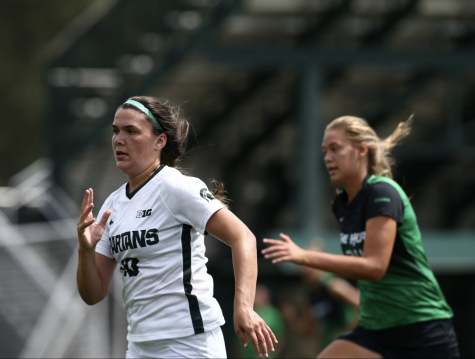 Kozal, a 31-game starter over the past two seasons, started in every game in 2020-21 and amassed 54 overall saves, including a 2-0 shutout win over Nebraska on Feb. 25. She had a season-high seven saves against Michigan on March 13 and Rutgers on April 8. In addition, Kozal managed to register a 1.85 goals against average statistic. In 2019, she netted five shutouts and 79 saves, including a career-high 11 saves against No. 16 Michigan on Oct. 19, 2019, while compiling a 1.52 goals against average mark on the season.
Like Evans and Kozal, White started in all 12 games last season and helped to anchor a strong MSU defensive backline that allowed two or fewer goals in nine games. A three-year starter with 49 games under her belt, White totaled over 1,000 minutes of play last season, including a 110-minute effort against Maryland on Feb. 20. As a freshman in 2018, she played in over 1,600 minutes, the second-highest mark on the entire team, while guiding a defensive unit that only allowed one goal through the first six games, including four straight shutouts.