Tucker nets another huge in-state recruiting victory
EAST LANSING—For the first time since 2018, Michigan State will be bringing at least three four-star recruits back to East Lansing.
Process Driven "Rentlesd" GO GREEN!!🟢⚪️#SpartanDawg #GoGreen #MangEvent @Coach_mtucker @ScottieHazelton @HarlonBarnett @CoachDGibson @thomaswilcher @CoachHawk_5 @CoachRonBurton @CoachEls_MSU @Ericthomasbtc pic.twitter.com/nuoSkS28Uh

— JadenMangham1 (@JadenMangham) August 8, 2021
Jaden Mangham, a standout athlete who currently plays for Birmingham Groves High School, became the Spartans' third 2022 in-state four-star commit on Sunday afternoon, as well as the 19th overall commit. He was projected as a West Virginia commit for an extended period of time before visiting MSU, along with several other members of the 2022 class, on July 31 as part of the first-ever "Spartan Dawg Con."
He was originally set to announce his commitment on Aug. 1, the day after his MSU visit, but subsequently postponed his announcement because of internet issues.
According to 247Sports, Mangham is the No. 7 overall recruit in Michigan and the No. 15 overall "athlete" within the 2022 recruiting class. This category is reserved for players who do not currently have an expected specified position at the collegiate level; right now, Mangham plays wide receiver, cornerback and safety for Birmingham Groves.
As such, both Spartan wide receivers coach Courtney Hawkins and secondary coach Harlon Barnett played an integral role in getting Mangham to commit to Michigan State.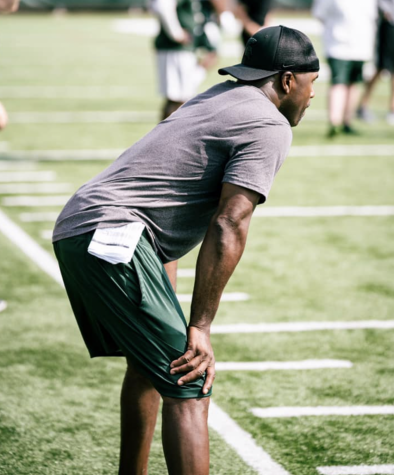 In addition to MSU and West Virginia, he held over 30 Division I offers from the likes of Alabama, Florida, Florida State, Michigan, Notre Dame, Penn State, Miami (FL), Oregon, Indiana, Iowa State, Virginia Tech, Tennessee, Kentucky, Maryland, Minnesota, Nebraska, Georgia Tech and Baylor.
247Sports' National Recruiting Analyst, Allen Trieu, categorized Mangham as a "tall, long prospect who can play cornerback, safety or wide receiver at the next level. He is also labeled as a grinder whose "athleticism allows him to matchup on bigger receivers on defense." Mangham's elite athleticism has translated over to success on the track, where he runs the 100 and 200-meter dash, the long jump and various relay events.
Mangham is a massive in-state win for MSU head coach Mel Tucker. After prying him from West Virginia, Tucker has now gotten three out of the top ten 2022 recruits in Michigan. The Spartans are also currently in the running for another four-star athlete in West Bloomfield prospect Dillon Tatum.
With Mangham's commitment, the Spartans' 2022 recruiting class is rated by 247Sports as the No. 15 best in the country and the No. 5 best in the Big Ten.