MSU hockey adds two new transfers for 2021-22 season
EAST LANSING— On Tuesday, the Michigan State men's hockey team announced the addition of two transfer forward acquisitions in Chris Berger and Griffin Loughran. Both players are joining an incoming class of freshman that includes forwards Jeremy Davidson, Tanner Kelly, Erik Middendorf and Jesse Tucker as well as defenseman David Gucciardi.
Berger, who spent nearly three years at Brown University, appeared in 65 games and recorded 11 goals to go along with 28 overall points. Due to the COVID-19 pandemic, Brown (and all other Ivy League schools) did not engage in competition in either the fall of 2020 or the spring of 2021.
Loughran, a Northern Michigan transfer, played in 88 games over a three-year span for the Wildcats. In those 88 games, he notched 35 goals and 37 assists, including a 23-goal campaign during the 2019-20 season that was tied for the second-best mark in the nation. In 2020-21, Loughran collected 16 points in 16 games.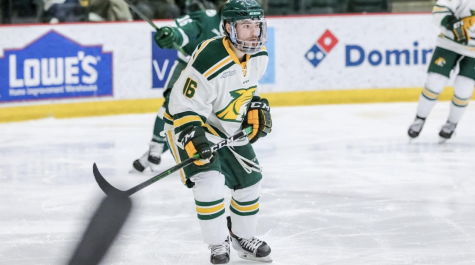 Berger and Loughran each have two years of eligibility remaining.
Both players will provide much-needed experience on the wings for a Spartan bunch that is currently set to see forwards Charlie Combs, Tommy Apap, Brody Stevens, Jake Smith, Tommy Miller, Austin Kamer and Gianluca Esteves graduate. Miller has since transferred to Northeastern; Stevens also entered the portal, but has yet to commit to another university.
Combs and Apap, meanwhile, have both signed professional deals with the ECHL's Witchita Thunder and Indy Fuel, respectively.
Smith, Kamer and Esteves do have the option of returning next season as part of the NCAA's blanket waiver eligibility that was granted to all student-athletes in fall, winter and spring sports. Senior forward Mitchell Lewandowski has already announced his intentions to use this option to return for the 2021-22 campaign.