Former Lansing Mayor Virg Bernero drops out of Lansing Mayoral Race, Kathie Dunbar plans to run for Mayor
LANSING— Former three-term Lansing Mayor Virg Bernero has dropped out of the 2021 Lansing mayoral race.  Bernero, who has been accused by several women of sexual harassment during his time as mayor, stated "my wife and family have forgiven me for mistakes of the past, but politics is less forgiving" in a Facebook post. He previously served as Lansing mayor from 2006-2018.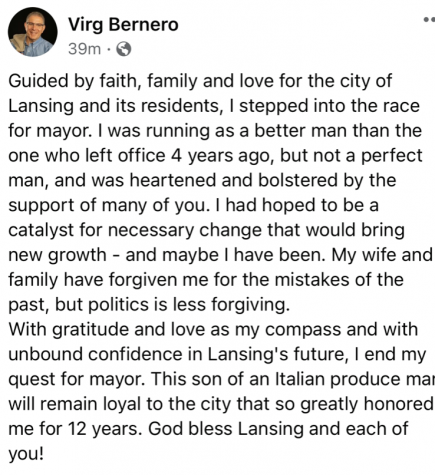 With Bernero out of the running, longtime city councilwoman Kathie Dunbar became the latest entry into the race. Dunbar, who has served on the Lansing City Council for 16 years, pledged to assist struggling small businesses and ensure an administration where "racism, police brutality and sexual harassment will not be tolerated, ignored or hidden" in a Facebook post. In addition, Dunbar promised that "if mistakes are made, they will be discussed openly, and we will work toward accountability together."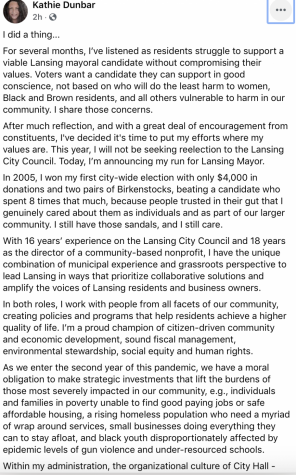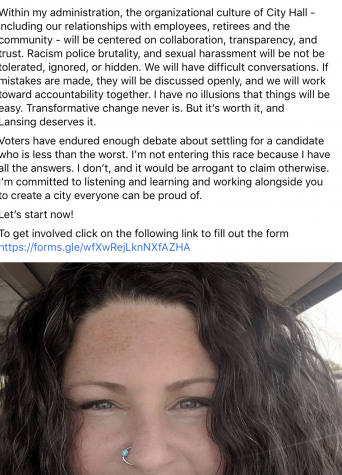 Dunbar also currently serves as the executive director of the South Lansing Community Development Association, a position that she has held for 18 years. The organization assists with various economic development initiatives in the South Lansing area.
Current mayor Andy Schor has received criticism from various groups for the current policing practices of the Lansing police department.
Dunbar is the third candidate to officially enter the race, along with Schor and councilwoman Patricia Spitzley, who joined the race on April 14. Candidates have until Tuesday, April 27 to enter the mayoral race, and the primary is set for August 3.