Previewing and predicting MSU's opening-round tilt with UCLA
The Michigan State Spartans will face a first in the Tom Izzo era when they play a First Four game against UCLA Bruins at 9:57 pm at Mackey Arena. The First Four, which debuted in 2011, serves as a series of play-in games for the NCAA Tournament.
The Spartans, who finished the season with an overall record of 15-12 to go along with a 9-11 record in Big Ten play, are coming off of a first-round 68-57 loss to the Maryland Terrapins in the Big Ten tournament. The Bruins, who are 17-9 with a 13-6 record in Pac-12 play, also lost their first game in their respective conference tournament, being defeated by eventual tournament champion Oregon State 83-79.
The losses in their respective tournaments are about where the similarities cease between these two teams.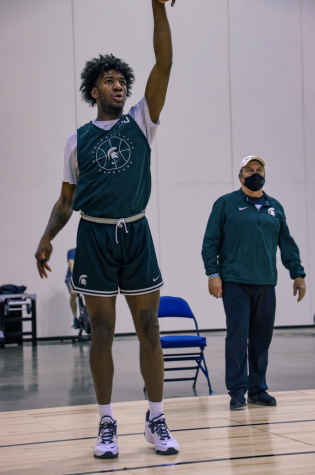 For MSU, it has been a rollercoaster of a year that included a nerve- wracking stretch that thrust the Spartans off the bubble and into the tournament for the 23rd year in a row. That stretch, of course, is the Spartans' last seven games which were played in the span of 15 days. With wins over Indiana twice, No. 5 Illinois, No. 4 Ohio State, and No. 2 Michigan, the Spartans were able to receive an at-large bid.
The Bruins, who have lost four games in a row heading into the Big Dance, enter the tournament under completely separate circumstances. UCLA's best stretch of play was a seven-game winning streak that began on New Year's Eve and ended on Jan. 21st.
Bruin senior guard Chris Smith, who started eight games earlier in the season, tore his ACL on Jan. 2. Prior to the season-ending injury, he was averaging 12.6 points a game and shooting 50% from beyond the arc.
The Bruins do not have any wins against ranked opponents this season, and their most impressive win came against USC, a 61-57 win on Jan. 21st. The Bruins also faced off against Ohio State on Dec. 19, losing 77-70.
While both teams have respectable supporting casts, UCLA has five players who average double-figures, including guard Johnny Juzang, who averages 14 points a game. Guard Jules Bernard is the Bruins' best deep shooter with a 41% 3-point shooting percentage. As a team, UCLA shoots 36% from 3-point range and 46% from the floor.
Former Cincinnati head coach Mick Cronin is in his second season as the Bruins' head man. Overall, Cronin has compiled a 36-21 overall record at UCLA, including a 25-12 conference record. Cronin got the job in 2019 after leading the Cincinnati Bearcats to nine consecutive NCAA tournament berths.
This is a very winnable game for the Spartans, who, despite getting knocked out early in the Big Ten tournament, have shown a propensity for getting up for primetime games. The Bruins don't have an elite scorer or facilitator, and with no momentum going into March, MSU wins by double-digits.
PREDICTION: MSU 75, UCLA 64