Previewing MSU's upcoming "pod" series against Illinois and Michigan
ANN ARBOR, MI – Another series awaits the Michigan State Spartans (4-4) this weekend. This series is a unique "pod" series in which MSU will play two different opponents over the weekend. 
The first two games come against the University of Illinois (4-4), followed by two more games against the Michigan Wolverines (7-1). All games will take place at the Wilpon Complex in Ann Arbor, Michigan. 
The Spartans got off to a three-game winning streak to start the year, but following a three-game losing streak and a loss to a walk-off HR, they have found themselves at 500 on the year and in the middle of the Big Ten standings. 
Trending the opposite way has been MSU's upcoming opponent Illinois. The Illini started their season with a three-game losing streak but fell one game short of a series sweep to keep themselves in the middle of the pack in the Big Ten.
To no surprise, Michigan has jumped out to an early-season lead in the Big Ten, after completing a four-game sweep against Purdue last weekend. Although the Wolverines' lineup looks different than the national runner-up from 2019, Michigan is looking to increase its gap in the Big Ten standings.
For the Spartans, OF Zaid Walker & OF Bryce Kelley have emerged as the offensive leaders, as both are leading the team with 12 hits this year. Kelley also leads the team in runs and walks and is only four stolen bases away from setting the all-time school record set by Anthony Cheky in (2012-2015) with 79 stolen bases. 
Among all Spartan pitchers with at least seven innings pitched, William Christophersen has surrendered the fewest earned runs, as he currently sits with a 1.29 ERA. Redshirt Junior & potential MLB draft pick Mason Erla is responsible for the most innings & strikeouts for a pitcher on the team this year, with 12 and 15 respectively.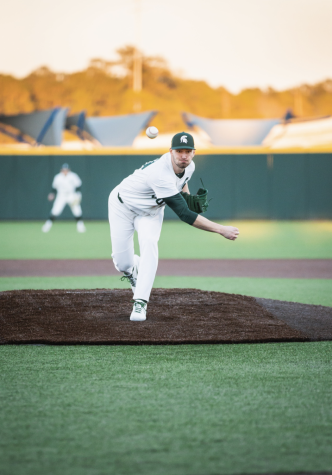 Illinois will be entering its series against MSU after wrapping up a quick two-game series against Michigan on Friday and Saturday. This likely means that MSU won't have to face Illinois ace Andrew Hoffman and can expect to see Cole Kirschsieper or another freshman in Riley Gowens on the mound.
Jackson Raper and Ryan Hampe have led the way for Illinois' offensive attack thus far, both totaling 16 bases through the first eight matchups. However, sophomore catcher Jacob Campbell had an impressive weekend, launching two home runs in the series & finishing 4-4 in the final game. 
Currently on a six-game winning streak, Michigan has built momentum by having six starters post an on-base percentage of over .400. This helped boost Michigan's comeback chances to complete the series sweep over Purdue after trialing 6-2 late in the final game.
In addition, the Wolverines' top three starting pitchers have combined to go 4-1 with an ERA of 2.03. Redshirt Junior & southpaw Ben Dragani has yet to allow a run in 8 and one-third innings of work. 
Similar to the Illinois pitchers, MSU will likely not have to face tall left-hander Steven Hajjar, who was named to the Golden Spikes Award Preseason watch list for this season. 
The Spartans will attempt to take advantage of their pod schedule by starting the series out with a victory against Illinois beginning at 4:00 p.m. on Saturday. After that comes a Sunday doubleheader against Illinois & Michigan, starting at noon. MSU will wrap the series up on Monday at 4:00 p.m. against Michigan.