Michigan State volleyball falls short in outstanding performance against No. 1 Wisconsin
EAST LANSING — It won't show up in the win column, but Michigan State's volleyball team was still in a good mood after Sunday's game against No. 1 Wisconsin (10-0).
"We're getting better," MSU coach Cathy George said. "There were some really good performances."
The Spartans (2-7) gave it their all, but fell in four sets, 25-10, 25-16, 21-25, 25-22. 
Michigan State and No. 11 Illinois are the only two teams to win a set against the Badgers this season. It's the first time the Spartans have won a set against a top-10 opponent since Oct. 27, 2019, against then-No. 7 Minnesota.
"It felt awesome, especially coming after yesterday where we were not really close," said sophomore outside hitter Cecilee Max-Brown.
Max-Brown was the leading offensive player for the Spartans, recording 12 kills, two aces and two blocks in her second start replacing Sarah Franklin, who remains out with a right arm injury. 
"I thought she bounced back well from last night," George said. "She missed the Maryland trip with us and hadn't been out with us. She was able to go up against one of the biggest blocks the country has to offer and did a nice job of managing that."
Max-Brown was the only bright spot in the blowout first set loss, recording three of Michigan State's five kills. The Badgers started the match taking advantage of poor attacking angles and leftover nerves from yesterday's match, recording four blocks and two aces to go with 12 points off of MSU errors.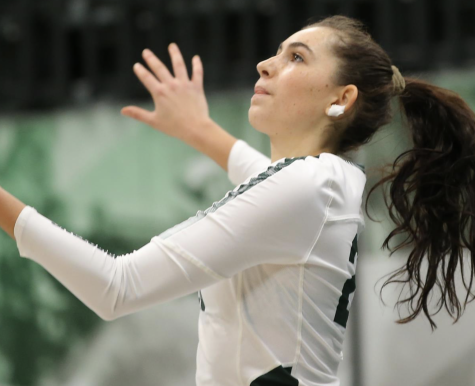 As the match continued, the Spartans gained strength. George tinkered with the rotation, replacing junior middle blocker Rebecka Poljan with sophomore Emma Monks. The Spartans' middle blockers stepped up after she came into the game, recording five blocks and seven kills across the final two sets.
"I was really proud of our team for fighting," George said. "I like that the team responded with a little more fight."
By the third set, both teams were going toe-to-toe. The Badgers' star middle blocker, senior Dana Rettke, was held to just two kills and one block in the set, which frustrated the Wisconsin attackers and helped the Spartans pull off the surprise set victory. 
But the Badgers' talent was just too much to overcome. Freshman outside hitter Jade Demps stepped up in the fourth set, recording eight of her 15 kills in the final set, including three in a row to put the visitors up 13-9. Michigan State battled back to tie the set at 20, but Demps put away three of the Badgers' last five kills to end the match.
"Yes, we took one set off the No. 1 seed in the country, but we aren't satisfied," middle blocker Naya Gros said. "We took a set, but we can also take more."
With today's performance, Michigan State knows that it can hang with anyone in the country on their best nights. The Spartans are happy to know that before they take on Illinois next week.
But first, some rest after playing three matches in five days.
"Yes, I am looking forward to getting some rest," Gros said. "I'm excited to get my one day off, and then we'll be back at it on Tuesday."
Michigan State will continue their home stand against Illinois on Feb. 27-28.