Spartans drop to 4-9 in Big Ten play with 75-65 road loss to Purdue
Owen Oszust, General Assignment Reporter
February 16, 2021
The Michigan State Spartans headed into Tuesday night's game badly needing a win to keep their slim NCAA tournament hopes alive. The Spartans were coming off an 88-58 blowout loss at home to No. 11 Iowa on Saturday. Despite it being a seesaw contest for the entire night, the Spartans fell to Purdue 75-65 on the road.
With the loss, the Spartans drop to 10-9 on the season and 4-9 in Big Ten play. Aaron Henry led the Spartans in scoring with 15 points, five rebounds and four assists. Joey Hauser and Julius Marble also both scored in double-figures off of the bench.
Purdue, meanwhile, improves to 14-8 and 9-6 in the Big Ten with the win.
After scoring 26 points in the Boilermakers' 55-54 win over MSU on Jan. 8, Purdue forward Trevion Williams torched the Spartans again for 28 points on Tuesday. Guards Jaden Ivey and Eric Hunter Jr. combined for 26 points, six rebounds and four assists. 
Purdue shot 49% from the floor and only turned the ball over seven times in the entire game. Ball security helped the Boilermakers overcome a poor 16-24 shooting performance from the free-throw line
Despite the loss, a plus for the Spartans was their ability to give themselves second chance opportunities with 11 offensive rebounds. Overall, MSU outrebounded Purdue by a 36-28 margin.
"We had our chances man, and we couldn't make our free throws," head coach Tom Izzo said.
Both teams couldn't get much of anything going on offense early; Purdue started out with a quick 10-6 lead. Just like the first time the two teams met, the Spartans got into foul trouble quickly by committing four fouls in the opening minutes.
The Spartans then went on a three-minute scoring drought that was the result of going on a 1-for 10 shooting spell from the field. Williams started hot with eight points and made four of his first five shots. Purdue would continue to hold a slim 16-10 lead with six minutes left in the half.
Freshman forward Mady Sissoko converted on a big and-1 play to shrink the Boilermaker lead to 18-15.  Purdue center Zach Edey also collected his third personal foul with four minutes left in the half and had to take a seat for the rest of the half.
Hauser then canned a 3-pointer, which was followed up by another Sissoko bucket, giving Michigan State a momentary 23-22 lead with two minutes until halftime.
The Spartans would finish the first half making five of their final seven field goals, and the Boilermakers countered by making four of their last five shots. As such, Purdue would take a 30-27 lead to halftime after a very low-scoring first-half performance from both teams. Williams headed to the locker room with a game-leading 12 points.
To start the second half, Joshua Langford and Hunter Jr. exchanged threes; Purdue held a 39-36 lead four minutes into the half.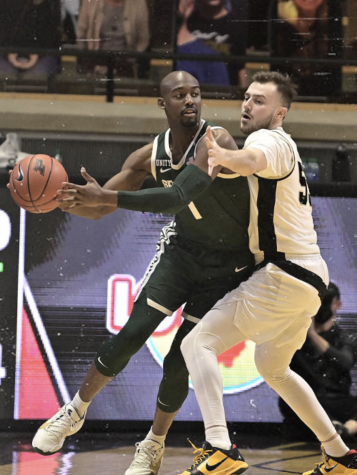 Ivey would help the Boilermakers hold their narrow lead with a powerful and-1 conversion on a running layup from the left side. Each team had scored 15 points in the half with just under 12 minutes left to go; Purdue still led 45-42.
Marble would then score 10 points in 10 minutes to narrow the Spartans deficit to two points. The Boilermakers immediately followed by going two minutes without a point.
"I thought Julius Marble did a great job down low tonight for us," Izzo said.
After the cold shooting spell, Purdue would have an unbelievable sequence that included a dunk, an Ivey block, and then a 3-pointer from Hunter Jr., which extended the lead to 57-50 with seven minutes left.
Despite some late scoring by Aaron Henry, the combination of Williams and foul trouble proved to be too much for the Spartans to overcome. Williams wen
Purdue, who only shot 25% from 3-point range, made enough key baskets late in the paint to seal their ninth conference win of the year.
"It's how we respond and just not on the court but off the court as well," said Henry
The Spartans will look to end their two-game skid when they head to Bloomington, Indiana on Saturday to play the Hoosiers. Tip-off is set for 12:00 p.m