Previewing Thursday's matchup between MSU and No. 7 Maryland
Owen Oszust, General Assignment Reporter
January 26, 2021
EAST LANSING – The Michigan State Spartans (9-2) will go on the road to the Xfinity Center to play No. 7 Maryland (11-2) at 4 p.m. on Thursday. The Spartans will look to win their second game in a row after beating Wisconsin 94-62 on Sunday. Maryland's 24-game win streak in the Big Ten was snapped with its 88-86 loss to No. 14 Ohio State on Monday. Here are some keys for the Spartans to focus on if they want to get revenge for their earlier loss to the Terrapins.
1. Execute for all four quarters
"We want them again," sophomore forward Julia Ayrault said.
This was one of the more memorable quotes Ayrault said during the post-game press conference after MSU's 93-87 loss to Maryland on Jan. 7. Ayrault was referencing the phrase that the Spartan players were echoing in the locker room and chanting after a game that they felt they should've won.
The main reason that  MSU didn't win their first matchup with Maryland was due to their brutal second-quarter performance on the offensive end of the floor.
Heading into the second quarter, the Spartans were only down by three points and looked locked in. Ten minutes later, Michigan State dug themselves into a 15-point hole heading into the locker room. The Spartans would shoot only 38.5% from the field compared to the Terrapins' 57.1% in the first half. MSU also committed six turnovers and seven personal fouls in the second quarter alone. 
Even after the dismal second quarter, MSU managed to outscore Maryland 54-45 in the second half and only lost by six. Unfortunately for the Spartans, the damage had already been done. 
"Had we played a lot better in that second quarter, we definitely would've beaten Maryland," star guard Nia Clouden said.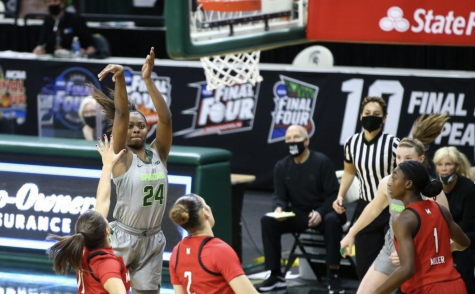 Clouden played terrific in the Spartans' first matchup against the Terrapins, dropping a career-high of 32 points and becoming the 29th player in school history to reach the 1,000 career point mark. Coach Suzy Merchant needs her to have a similar performance on Thursday in order to register the upset. 
2. Avoid getting into foul trouble at all costs
This is huge for the Spartans If they want to win their second time against Maryland. The most emphasized thing in the press conference after the Spartans' loss to Maryland was the need to stop getting in foul trouble. This is a massive factor that dictates whether the Spartans have to sit their best players for large chunks of time or not.
The last time the Terrapins and Spartans played, both Ayrault and Taiyier Parks got in early foul trouble. The duo would combine for a total of three minutes in the entire second quarter for the Spartans. Both these players are critical to the success of the MSU low-post offense.
In MSU's first game against Maryland, Ayrault hit four 3-pointers and totaled 17 points in the game. Parks contributed six points and eight rebounds in the narrow loss.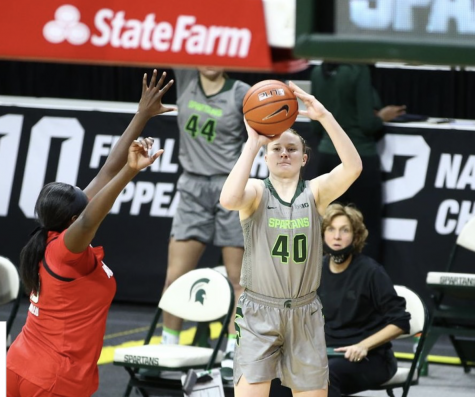 The Spartans did look a lot better at being careful with personal fouls in their 94-62 win over Wisconsin on Sunday, as they only had 13 total team fouls in total. Guard Alyza Winston was also the only player to register three personal fouls for MSU.
Staying out of foul trouble is extremely important in this game, but what may be the most important factor is listed below.
3. Play terrific defense on the perimeter and in the paint
On Jan. 7, the Spartans played mediocre on defense against an explosive and high-powered Maryland offense. It can't be stressed enough how much defensive execution matters in this game for MSU. To put into perspective how good the Terrapins were against MSU on the offensive end, all five starters scored in double digits, including a pair of 20-point performances from forward Chloe Bibby and guard Ashley Owusu.
Even in their two-point loss to Ohio State on Monday, Maryland had three players score 13 or more points. Owusu dropped 33 points and made 11 shots from the field to go along with 10 free-throw makes, nine assists and six rebounds. Guard Katie Benzan would chip in 22 points of her own, while making seven shots from behind the arc and collecting seven boards.
If Michigan State can't at least slow down players like Owusu, Benzan, or Bibby, it will be in for a long night. Owusu should see lots of double teams as she led Maryland in points, rebounds, and assists and was only four rebounds shy of a triple-double in the last game against MSU.
On the season, Owusu is averaging 18.9 points a game, a team-high. She also is collecting 6.5 rebounds a game on average. Guard Diamond Miller and Katie Benzan both average over 15 points a game as well, and the Terrapins have five players averaging double-figures this season and five players who average six or more rebounds a game.
In order for the Spartans to win this contest, they must play their best four quarters of basketball of the season. This game will come down to whether Michigan State can compete for all four quarters against the No. 7  Terrapins and slow down the lethal Terrapin scoring attack.
Prediction: Maryland 89, Michigan State 82 
The two weeks off from playing games helped get the Spartans some much-needed rest, but Maryland is such an offensive monster in the ways that they win, whether it be on the glass or from deep.
Also, the Terrapins will be highly motivated to get back on track after their first conference loss of the season on Monday to OSU. Despite another heroic performance from Clouden, Maryland simply has too many offensive weapons for the Spartans to try and slow down. This will be a close game, but one that the Spartans will not win.