Previewing Sunday's matchup between MSU and Wisconsin
EAST LANSING – The Michigan State women's basketball team has had to postpone their last three games against Illinois, No.11 Michigan and N0. 16 Indiana due to COVID-19 issues within the program. After a two-week hiatus, the Spartans will be back in action Sunday evening as they travel to Madison to take on the Wisconsin Badgers. Tipoff is set for 4 p.m.
MSU is currently 3-2 in Big Ten play and 8-2 overall, which is good enough for seventh in the conference. The Badgers are 0-9 in the Big Ten and 3-9 overall, having lost their last seven games. They are last in the Big Ten.
Their matchup on Sunday will be the first meeting between these two teams this season. The Spartans had lost their last two games before the postponements and are looking to get back on track after starting the season 8-0 and cracking the AP top 25.
In their last meeting on Jan. 12 of 2019, MSU defeated Wisconsin 69-52 behind 20 Nia Clouden points .
The Badgers are led by head coach Jonathon Tsipsis, who has struggled during his time in Madison. Since being hired in 2016, he has only managed to compile a 47-89 record to go along with a 12-66 record in Big Ten action. Wisconsin has not managed to win more than four conference games during a season in Tsipsis' tenure. 
On paper, Michigan State has been a much better team than Wisconsin this season. They boast the fourth-best assist-turnover ratio in the entire country at 1.62, while Wisconsin sits at No. 163 with a 0.80 assist-turnover ratio.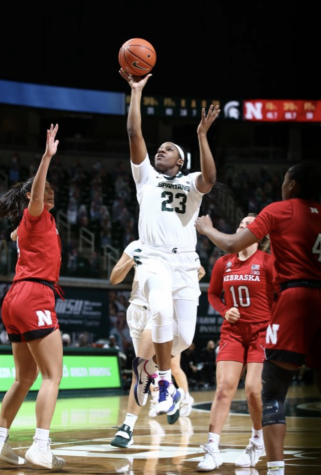 The Spartans are averaging a tick over 80 points per game on the season compared to Wisconsin's 65.5. The Spartans are only giving up 66 points per game to their opponents on average; the Badgers are surrendering 75 points a game.
Sophomore guard Sydney Hilliard leads the Badgers on offense; she is averaging 17.2 points per game and 4.8 assists Both numbers lead the team. Lewis also shoots nearly 46% from 3-point range, a team high. 
Forward Imani Lewis is the best frontcourt weapon for Wisconsin, as she averages 12.8 points per game and leads the team with 7.8 rebounds.  She led the Badgers in scoring in their last game against Purdue with 16 points and 12 boards. 
Clouden has followed up her second-team All-Big Ten season by averaging 19.9 points and 4.9 assists per contest. In a loss to Maryland in early January, she put up a career-high 32 points on 60% shooting. The 32-point outburst also pushed Clouden over the 1,000-point distinction for her career.
The Spartans lead the all-time series by a wide 27-6  margin.  They have also won 13 of the last 14 matchups, including seven in a row in East Lansing. 
With No. 11 Michigan and No. 16 Indiana looming, this is a must-win game for the Spartans. Wisconsin has lost 17 straight conference games dating back to last season, and MSU cannot be the team that the Badgers break that dubious streak against.  MSU also needs to get back in the win column after the two consecutive home losses to N0. 12 Maryland and Nebraska. A loss to the Badgers would greatly hurt the Spartans' NCAA Tournament resume, which up to this point in the season, doesn't have an ugly outlier on it.