Spartans vs. Wolverines series preview
The Michigan State Spartans (4-4-2) travel to Ann Arbor to face off against their rival, the Michigan Wolverines (5-5) who are currently ranked No. 9 in the nation. Friday's game, which takes place at 7 p.m. will be held in Yost Ice Arena, while Saturday's game at 4:30 p.m. will take place in Munn Ice Arena. 
Michigan State and Michigan are tied for fifth place in the Big Ten standings as both teams have eight points.
Last season when these fierce rivals faced off, the Spartans swept the first series and later in the year, the Wolverines retaliated with a sweep of their own. They also met at the end of the year in the Big Ten tournament in which Michigan won both games with a score of 0-3. The Spartans' sweep in the first series of last season marked the first time MSU had swept Michigan since November of 2009. 
Some Michigan skaters are going to be playing with an extra boost of confidence as Cam York, Brendon Brisson and Matthew Beniers rejoin the team after participating as members of Team USA in the recently-concluded world junior hockey tournament. York, the captain of USA, hoisted the trophy at the end of the game as USA bested Canada 2-0 to win the gold. 
Michigan also has large amounts of talent all over the ice as Kent Johnson, Owen Power and Beniers could all go as top-10 picks in the upcoming NHL Draft, so stopping them will not be easy. 
The Wolverines collectively have not played a series since Dec. 9 when they were swept by the undefeated powerhouse and No. 1 team in the nation, the Minnesota Golden Gophers.
However, the Spartans are fresh off a split against Penn State where, following a 23-shot, 1-0 loss, their offense scored the most goals in a game so far this season as they won the second game 5-1. Jagger Joshua tallied his first points of the season as he buried two goals.  
On Wednesday, Michigan State announced that junior goalie Drew DeRidder received the Big Ten's First Star of the Week as he totalled 64 saves on 66 shots, posting a .970 save percentage in the series against Penn State. He remains one of the top goalies in the Big Ten with a .943 save percentage and 1.86 goals allowed per game.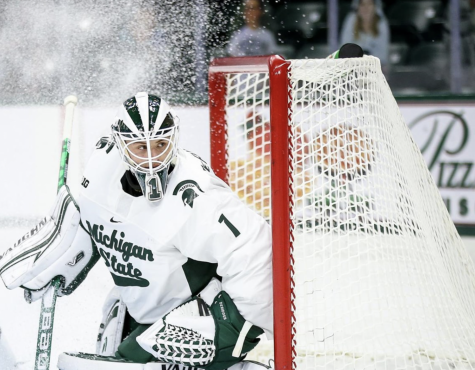 You can find Friday's duel on Big Ten Network Plus, and Saturday's game on Big Ten Network. 
Ryan Radosevich is a hockey beat reporter for WDBM Sports. Follow him on Twitter at @ryanradosevich.