MSU staves off Nebraska, collects first conference win of the season
EAST LANSING — Boy, did Michigan State need this one.
Fresh off of an 81-56 beatdown at the hands of No. 21 Minnesota, the Spartans desperately needed a win to avoid starting off 0-4 in Big Ten play for the first time in the Tom Izzo era. 
Courtesy of 27 Aaron Henry points, a career-high, MSU snapped a three-game skid and won its seventh game of the season 84-77. 
"I set a career-high for myself, that's fine and dandy, but I want to win," Henry said.
Joshua Langford chipped in with a season-high 15 points; Gabe Brown bounced back from a tough performance against Minnesota with 10 points and two made 3-pointers, as well as two steals. 
With the win, the Spartans improved to 1-3 in Big Ten play and 7-3 on the season while the Cornhuskers dropped to 0-4 and 4-7 overall.
"We got after some guys today because we are going to learn how to play harder, better, longer, stronger… defensively we still have a ways to go," head coach Tom Izzo said
As a result of their loss today, the Cornhuskers have now dropped seven games in a row to MSU. They have also lost 20 consecutive conference games, dating back to last season.
Both teams were able to get in an offensive rhythm early; Nebraska held an early 9-8 lead at the under-16 timeout courtesy of starting off 4-of-5 from the floor. 
A back-and-forth affair would ensue for the next few minutes as both teams managed to score with relative ease. MSU would struggle from 3-point land, but their success in the paint would help them jump out to a 29-23 lead in the waning minutes of the first half. 
A late scoring spurt by Aaron Henry would help the Spartans go into the locker room with a 40-33 lead. Henry led all scorers with 17 points on 6-of-10 shooting in the opening frame. He also knocked down two 3-pointers, an area where he has struggled mightily this season.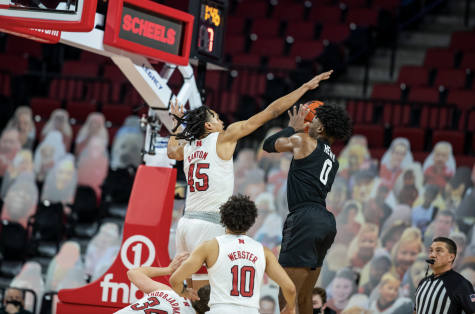 The Spartans shot 54.3% from the floor in the first half despite only going 3-for-11 from beyond the arc.
They also went 11-for-14 from the free-throw line as a result of multiple fouls on Nebraska forward Lat Mayen and guard Teddy Allen. 
Junior guard Trey McGowens had 15 points to lead the Cornhuskers in the scoring column. 
MSU would start the second half on a 7-0 run, courtesy of an A.J. Hoggard layup, a pair of Joey Hauser free throws and a Joshua Langford 3-pointer. The quick run would force Nebraska head coach Fred Hoiberg to burn a timeout.
After the timeout, MSU would extend its lead to 54-38, but Husker guard Teddy Allen, who came into tonight's contest averaging nearly 18 points a game, scored eight points within a three-minute period to push the Spartan lead down to 10. 
"We built a nice lead I felt coming out early in the second half… every team goes on runs, but are we going to sustain the run, are we going to punch back, are we going to fight back, those are the moments we have to grow," Henry said.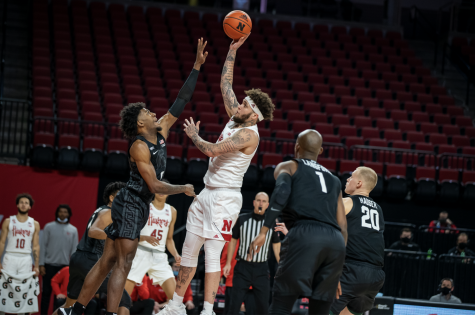 However, Henry would keep the Huskers at bay by racking up eight second-half points of his own.  
Despite 19 second-half points from Allen, MSU made enough key plays late to collect its first conference win of the year. Thomas Kithier had a pair of key offensive rebounds late that helped MSU drain the clock and force the Cornhuskers to foul. 
"Kithier has been my most solid and steady player," Izzo said. "He's the smartest guy because he's the veteran, and he knows how to guard things and play things."
Overall, the Spartans shot 51.8% from the floor on the game and forced 18 Nebraska turnovers. They also went 19-for-26 from the free-throw line; both Henry and Langford each had four made free-throws. 
The Huskers, meanwhile, shot 49.1% from the floor and 47.4% from deep, but their inability to slow down the Spartan offense and rebound with consistency ultimately doomed them. 
The Spartans will look for their second conference win when they welcome No. 14 Rutgers to the Breslin Center on Tuesday, Jan. 5. Tipoff is set for 9 p.m.