Notre Dame Series Recap: 3 B1G Things
EAST LANSING — The Michigan State Spartans traveled to South Bend, Indiana, to face the Notre Dame Fighting Irish on Dec. 19 and 20 to end the first phase of the 2020-21 Big Ten hockey season. 
The Spartans went into Compton Family Ice Arena fresh off two weeks of rest after their series against Wisconsin was postponed due to COVID-19 issues within the Badgers' program. 
MSU equaled last season's win total on the road against Notre Dame, going 1-0-1 and taking three out of a possible six points. Here are three big things from the Spartans' pre-holiday showdown with the Fighting Irish: 
Shots are a valuable statistic, at least if you are a Spartan
Heading into the weekend, the Spartans had enjoyed their recent success of putting pucks on net, amassing a season average of 36 shots per game, sitting them at No. 5 in the nation. Against Notre Dame, this would drastically change. 
The Spartans were held to just 19 shots in game one and only amassed 24 shots in game two. Not only is that drastically lower than their previous totals this season, but it also follows a recent trend as MSU went winless last season when accruing less than 20 shots on goal in a game.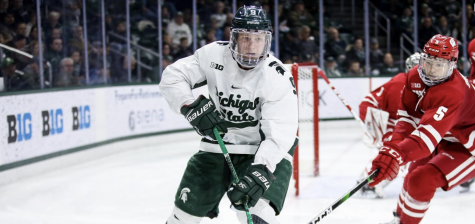 This season, the Spartans are winless when putting up less than 30 shots a game; they had not had a game where they had less than 20 shots on net until this series. 
To be fair, shot totals do not mean much when it is just one team. To put the Spartans shooting struggles into perspective we can look at the shot margin of the series, where the Fighting Irish generated 48 more shots on goal. 
The Fighting Irish certainly lived up to their namesake and did so for a full 60-plus minutes on both nights. Notre Dame generated offense throughout both games and put up 40-plus shots on MSU goalie Drew DeRidder both nights. 
To make matters worse, the Spartans, who had previously outshot their opponents 155-112 in the final two periods, were outplayed in the final two periods both nights and were outshot 31-9 in game one and 28-20 in game two (inflated by a 17 shot third period). 
MSU had not recorded fewer than 11 shots on goal in the third period in their previous five games heading into the series; they had outshot their opponents in the final frame in all five of those games. In game one, they were held to five shots on goal in the third period. 
DeRidder earns his starting position 
Even though there was a barrage of shots on the MSU net, there was one man keeping the Spartans alive in both games, goaltender Drew DeRidder. 
The junior netminder went into the series after a not-so-great performance against Minnesota, looking to keep his job as the starting goalie. 
DeRidder would not only shine against Notre Dame, but was later named the Big Ten First Star of the week for his performance against the Fighting Irish. This was the second time this season Deridder has received this honor.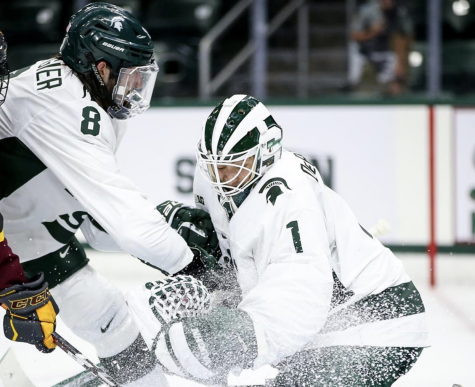 He stopped 46 out of 47 shots in the game one shootout loss and was huge in the Spartans' 4-3 overtime victory in game two, stopping 39 out of 42 shots. DeRidder was instrumental in earning the Spartans a point in game one where he "stood on his head" and gave up one goal on 31 shots in the final two periods and stopped all seven Notre Dame shots in overtime. 
DeRidder's 93.1% save percentage is good for second in the Big Ten and fifth in the nation. After impressively knocking aside 85 shots against Notre Dame, his save percentage increased to 94% and has solidified him as the Spartans' No.1 goalie. 
Anomalies?
A true series recap would not be complete without a few weird and interesting stat lines. Here are a few interesting storylines from the Notre Dame Series.
The Krygier brothers both found themselves in the scorekeepers' book, but not in a good way. Both Christian and Cole Krygier were penalized and given a game misconduct for an illegal check from behind in games one and two, respectively. Christian committed his infraction in the third period of game one, while Cole was ejected in the first period of game two.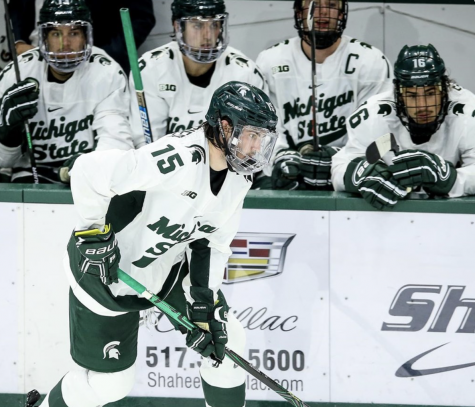 The Spartans would ultimately kill off both major penalties and went perfect against Notre Dame, killing off all eight Fighting Irish power plays. 
In another truly mind-boggling anomaly, the Spartans scored twice on six shots in game two against Notre Dame, taking a 2-1 lead into the third period. I found this interesting because of the inability of the Spartans to generate consistent offensive pressure against the Fighting Irish throughout the entire series. 
Not only were the Spartans outplayed in the neutral zone both nights, but it resulted in them being outshot badly in the series, including 30-6 in the first two periods of game two.
MSU, however, was able to capitalize on the six shots that they had on Notre Dame goaltender Ryan Bischel in those first two periods; they rode a 2-1 lead into the third.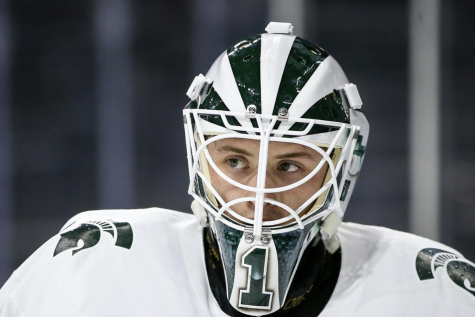 The Spartans are historically very good when leading after two periods, going 2-0-1 heading into the series and 10-2-2 last season. 
Lastly, the Spartans lost the faceoff battle on both nights. In a truly shocking display in the faceoff circle, the Spartans were unable to beat Irish forward and secret faceoff machine Jake Pivonka in the series. Pivonka was instrumental in ensuring Notre Dame's control of the pace of play on both nights and even accounted for 19 of the 31 Irish faceoff wins in game one. 
Pivonka and the rest of his teammates would pick up where they left off in game one by beating the Spartans in the faceoff circle once again, this time by a 37-32 margin. Notre Dame coach Jeff Jackson used Pivonka to neutralize the Spartans' previous success in the faceoff circle; Pivonka was sent out against MSU's main faceoff man, Tommy Apap. 
The Spartans (3-3-2, 2-3-1) will start the second half of their 2020-21 Big Ten hockey slate as they host the Penn State Nittany Lions (3-5, 1-5) at Munn Ice Arena on Jan. 3 and 4.