Bench energy, grit pushes MSU over NIU
EAST LANSING — The Spartans moved to 6-0 on the season by defeating Northern Illinois 82-70 on Sunday afternoon at the Breslin Center. The Spartans jumped out to a double-digit lead by closing the first quarter on a 21-4 run that was sparked by their energy and resilience. 
MSU has been very strong defensively all season long and added another performance on Sunday by forcing 18 turnovers and turning those into 16 points on the other end. The Spartans also got out in transition and scored 19 fast break points. 
Even with a slow start out of the gate, MSU's energy level never dropped, with the bench constantly on its feet and adding intensity to the environment, which is especially critical without fans in the arena. 
"I give a lot of credit to Claire (Hendrickson)," coach Suzy Merchant said. "Her knee is… she's done for her career, but she is really somebody that brings that energy every single day on the bench, although she can never put a uniform on and play anymore because of her injuries, but I just think she's really giving and caring and she just gets hyped on the baseline so I think it helps everybody else do the same."
Spartan guard Nia Clouden felt that the energy was not as high as it could have been, however.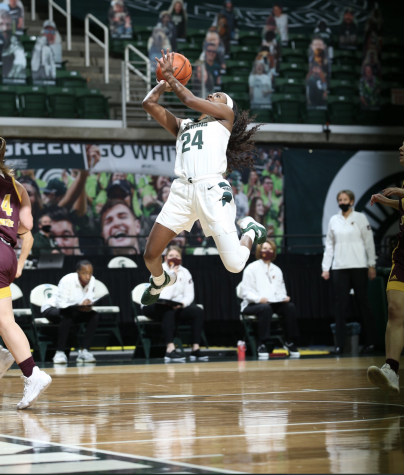 "Today, the energy was kind of low and I feel like you all could probably see that, but as a point guard it's just important to try and make sure everybody is on the same page with the energy and everybody is focused." 
"I think our starts have kind of been flat," MSU guard Tory Ozment said. "Obviously last game against Central Michigan, our start was very flat and then you kind of feed off that energy of how you start. So that carried us throughout the game. Our start was better this game, but it's still not how we came out against Iowa, so these are non-conference games, but I feel like we can't care about what the jersey says. Whoever we're playing, we've got to come out with great energy from the start." 
Clouden led the Spartans in scoring with 18 points, seven assists and six rebounds even though she was in foul trouble after picking up her fourth foul in the third quarter. Taiyier Parks put up a near double-double with nine points and 10 rebounds, and Ozment had 12 points and seven assists. 
MSU is off to its best start to a season since 2012-13 when the Spartans started 8-0. They look to extend their winning streak to seven games when they face Oakland on Tuesday at noon.
Zach Surdenik is a women's basketball beat reporter for WDBM Sports. Follow him on Twitter at @Zach_Surdenik.