Antjuan Simmons and Shakur Brown receive All-Big Ten honors
Manit Patel, General Assigment Reporter
December 16, 2020
EAST LANSING- After a grueling season anchoring the defense for the Spartans, linebacker Antjuan Simmons and defensive back Shakur Brown both received honors from both the Big Ten coaches as well as the media.  
Simmons was named to All-Big Ten third-team by the coaches and the All-Big Ten second-team by the media after he led the Spartans defense statistically with 75 tackles and nine tackles for loss.
Simmons, who is third in the conference in tackles, performed admirably in the Spartans' two upset wins over No. 14 Northwestern and Michigan, as he registered 11 tackles against the Wolverines as well as 13 tackles and a sack against the Wildcats.  
Simmons, a senior, has not announced whether he will return to MSU next year. The NCAA approved a blanket waiver earlier in the year that allowed for this season to not count against a player's eligibility.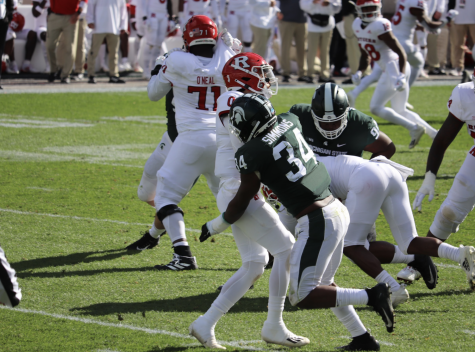 Brown, a junior, was named to the All-Big Ten first-team by the coaches and the All-Big Ten second-team by the media after a breakout season. 
With 25 tackles in seven games, Brown's standout stat was his team and conference-leading five interceptions. Brown's best performances came against Indiana, where he had six tackles and two interceptions, and in the upset victory over Northwestern, as he had two huge interceptions. 
Brown was tasked with guarding some of the best receivers in the Big Ten on a week-to-week basis; he announced that he would declare for the 2021 NFL Draft on Monday.