Examining which players stepped up in the Spartans' 86-82 victory over Iowa
Liam Jackson, Women's Basketball Beat Reporter
December 12, 2020
EAST LANSING – The Michigan State Spartans defeated the previously unbeaten Iowa Hawkeyes at the Breslin Center on Saturday by a score of 86-82. Coach Suzy Merchant made some changes in the starting lineup that proved to be a game changer for her team.  
Alyza Winston got the nod to start in the backcourt along with junior guard Nia Clouden. Winston did not disappoint, as she helped the Spartans get off to a blistering start by making her first two shot attempts. Both were threes and that set the tone for the rest of her night.
MSU got out to a 44-28 lead at the end of the first half behind Winston's 17 points on 6-of-9 shooting. She was fearless in her decision-making all night. Pulling up in transition for three with no hesitation, crossing over a defender to get to the elbow and lacing a jumper, and driving the baseline to collapse the defense and making good passes. 
"She was huge in that first half," Merchant said, "Huge."
Finishing with 25 points in 37 minutes, Winston was the player the Spartans turned to when they needed a bucket all game long. She was smart with the ball and did not force anything, although she could be seen begging for passes in the second half as she was still in a groove. 
Winston said that the difference in her newfound jump shot was "the confidence to take that shot and knowing that I can make it." 
Merchant said that in a practice earlier this week, she told Winston that she was the only player allowed to take shots in order to give her that confidence. 
Another impact player for the Spartans was the other new addition to the starting lineup, sophomore forward Julia Ayrault. Just like Winston, Ayrault made the most of her expanded playing time right out of the gate. 
The duo of Ayrault and Winston went on a 12-2 scoring run by themselves to start the game, making all four of their first 3-point attempts. This prompted a quick timeout by Iowa coach Lisa Bluder.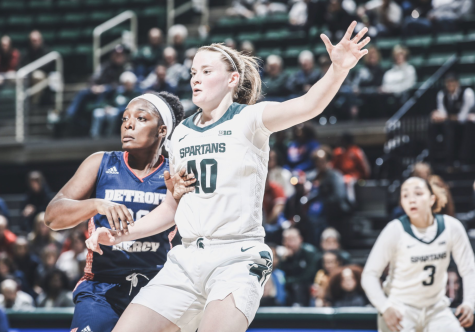 "That really gave us confidence going into the second quarter," Winston said of the hot start.
Ayrault finished the game with 19 points, nine rebounds, two blocks and a steal in 31 minutes. She had been averaging just less than 22 minutes per contest coming into the game, but she earned every single extra minute she was given.
 When Ayrault found out that she would be getting the start, she said it would be "a good opportunity to fill my role."
 On defense, Ayrault made her presence felt by disrupting entry passes and grabbing big rebounds to take away any Hawkeye second-chance points. She also was great starting the fast break for MSU with her outlet passes, including a long, overhead pass out to Winston. 
"I really liked Julia as a catalyst," Merchant said.
The Spartans look to remain undefeated as they welcome the Central Michigan Chippewas into the Breslin Center on Friday.
Liam Jackson is a women's basketball beat reporter for WDBM Sports. Follow him on Twitter at @Liamjackson1525.