Recapping Payton Thorne's first career start
EAST LANSING- Michigan State seems to have an answer at quarterback going forward after the strong performance by Payton Thorne in the tough loss against Penn State.
In his first career start, Thorne looked like he had been playing at the collegiate level for years. He threw for 325 yards and three touchdowns; he also completed 22 of his 39 passes while only throwing one interception. 
Thorne replaced Rocky Lombardi, who had started every game so far this year for the Spartans. Lombardi left during the second quarter last week against Ohio State with an injury and was not dressed for today's game. 
Thorne did most of his damage in the first half, going 11-for-13 with 202 yards and three touchdowns. The Penn State defense made the necessary halftime adjustments to slow down Thorne, as he was only 11-for-26 with 123 yards.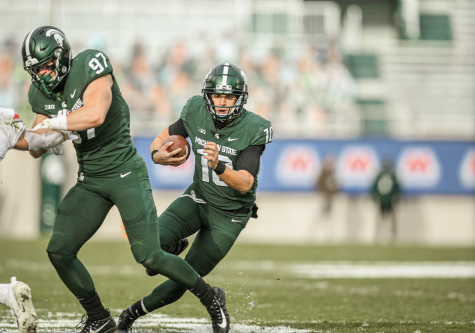 Thorne looked nervous early on but settled in quickly to lead MSU to an early lead. After throwing an interception on his first pass attempt, Thorne led MSU to three straight touchdown drives in the second quarter. 
"I thought that we were all in a pretty good rhythm. I really liked the plays we were running, and I liked how we were executing. Unfortunately, we didn't carry that over into the second half at all," Thorne said after the game. 
Thorne opened up the scoring for MSU on their third possession. After two strong runs by Jordon Simmons to open the drive, Thorne found Jalen Nailor for a 45-yard touchdown. 
Thorne's first career touchdown pass to Nailor was one of the best throws by an MSU quarterback all season. Thorne pulled the safety out of the middle of the field with his eyes and hit the streaking Nailor perfectly in stride as he was crossing the goal line. 
Nailor was Thorne's favorite target, as he had six catches for 100 yards and two touchdowns on nine targets.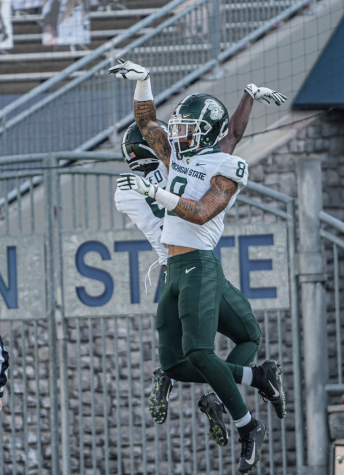 Thorne's best throw of the day, however, was his second touchdown pass. Thorne hit true freshman Tre'Von Morgan on a skinny post out of the slot on another play-action pass for a 21-yard score.
Thorne placed the ball perfectly above and between the two Nittany Lion defenders, where only the 6-foot-7 Morgan had a chance to get it. The catch by Morgan was equally impressive as he managed to hang on with two players draped all over him. 
"I thought Tre'Von had him beat deep, but I wasn't really sure," said Thorne. "I just tried to put it over his shoulder for him, a place where he can make the catch, and fortunately, he went and made a play."
Thorne looked calm and composed throughout the game, despite the constant pass rush from Penn State's defensive line. They had four sacks in the game, including three in the fourth quarter.
Even though he was not perfect and the MSU offense faded down the stretch, Thorne's performance was one of the lone bright spots for Michigan State in a disappointing loss.
The play calling featured a lot of pre-snap movement and play action, which got Thorne moving out of the pocket, where the threat of his running ability opened up the field.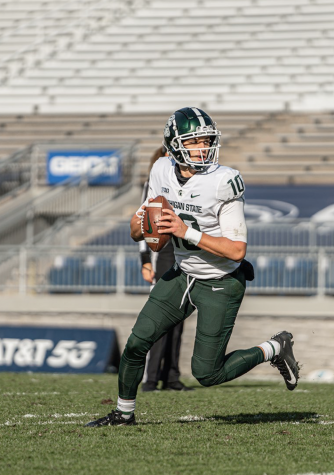 Thorne looked very comfortable throwing on the move, which helped open up the field for the offense. However, Thorne did not have the same impact with his legs like he did last week against Ohio State. 
Penn State's linebackers did a good job of forcing Thorne to the sidelines and making him throw the ball away instead of scrambling. Thorne had only two yards on the ground and had little room to extend plays with his feet. 
Mel Tucker did not give a definitive assessment of Thorne's game afterward saying he needs to watch the game tape before he can make a judgment. 
"I can tell you he was poised, he wasn't rattled, he was into the game," Tucker said about Thorne's first start. "Even when we started slow, he was there. That's good to see. He had a good look in his eye."
Michigan State might have another game next week during championship week. Tucker said he had not heard anything about next week, but he mentioned that he would "ask a lot of questions" over the next day or two to find out.
The rules set before the season states that teams would match up against the school that is in the same position, standings wise, albeit in the other division. That rule is subject to change because of COVID-19 outbreaks within the Big Ten.
The status of Lombardi is still in question for next week, so it looks like Payton Thorne could start once again. They will need more of his first-half performance from today to finish the season with a win.