Previewing Saturday's matchup between Michigan State and Penn State
EAST LANSING- Michigan State will cap off the 2020 regular season with a road game against the Penn State Nittany Lions for the Land Grant Trophy. The Spartans are looking to bring home the "ugliest trophy in college football" and move to 3-4 on the season.
Penn State has had a disappointing 2020 campaign so far, sitting at 2-5, but the Nittany Lions have managed to ride the ship somewhat as they have beaten Michigan and Rutgers by double-digits over the last two weeks. They started off the season 0-5, which set the record for the worst start in team history.
MSU still has uncertainty at quarterback; Payton Thorne played for a majority of the Ohio State game after Rocky Lombardi left with an injury in the second quarter.  
Overall, Thorne went 16-for-25 with 147 yards and one interception, in addition to a rushing score against the Buckeyes. Although Thorne has a lot of growing to do, his ability to make plays with his feet and throw on the run is encouraging for an offense that only averages 17 points and 95 rushing yards a game.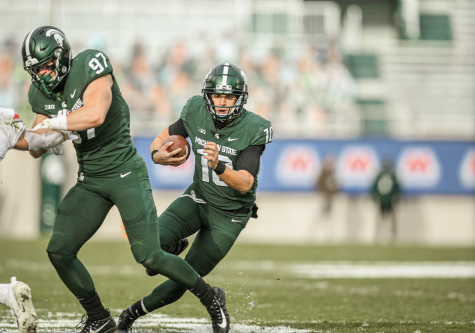 Mel Tucker did not give an indication as to who would start Saturday during his weekly media availability, but he did say that Lombardi was getting better as the week progressed. 
Whoever is starting at quarterback for MSU will likely be the deciding factor for the game this week, as they face a mediocre Penn State defense that is giving up nearly 30 points a game.  
The Nittany Lions are led by defensive end Shaka Toney who is No. 5 in the Big Ten with four sacks, All Big-Ten honorable mention safety Lamont Wade, and linebacker Ellis Brooks, who is No. 16 in the conference with 46 tackles.
Junior linebacker Jesse Luketa has had a solid season as well; he has collected 45 tackles on the season, good for the No. 18 overall mark in the conference.
On the other side of the ball, the matchup for the Spartans is much more favorable. Penn State's offense is predicated on the run with quarterback Sean Clifford and a stable of running backs. Clifford has struggled to throw with success this year, outside of passes to star receivers Jahan Dotson and Parker Washington, making their offense one-dimensional.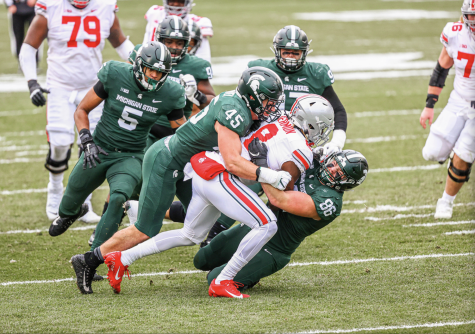 Clifford has thrown for 1,366 yards, 12 touchdowns and nine interceptions this season.  Dotson is No. 3 in the Big Ten with 587 receiving yards.  Washington has also had some success on the outside; he is No. 11 in the conference with 378 receiving yards.
Penn State averages 413 yards per game, with 172 of that coming on the ground. They average 24.7 points per game which is good for the No. 89 mark in the country.
The Nittany Lions have been decimated by injuries this season. On the offensive side of the ball, starting running back Journey Brown was forced to retire from football after it was revealed that he had hypertrophic cardiomyopathy; this condition places an individual at an increased risk for having a heart attack.  
Noah Cain, Brown's backup, suffered a lower-leg injury in the Nittany Lions' Week 1 loss to Indiana, which put him on the shelf for the rest of the season.
2019 second-team All-Big Ten tight end Pat Freiermuth also suffered a season-ending injury against Ohio State at the beginning of the season. Freiermuth made 43 catches for 507 yards last season, which was good for second on the team. 
My Prediction:
I expect this game to be a defensive struggle, much like the Northwestern game a few weeks ago for MSU. They will have to focus on the field position battle, which they have lost consistently this year, and building drives through the running game. 
However, the uncertainty at QB and lack of quality play from both quarterbacks for MSU has me leaning towards Penn State. They are hot and have figured out enough on offense to compliment their defense while MSU has not. However, I could see Sean Clifford throwing three interceptions to Shakur Brown and ruining this prediction as well.
Penn State 24
Michigan State 13