Previewing the MSU vs. Minnesota conference opener
EAST LANSING — The Michigan State Spartans (2-0) will open Big Ten play on the road against the Minnesota Golden Gophers (1-1) on Wednesday night (9:00 p.m.). There are several storylines to watch as the Spartans move into conference play, but here are a few that will make a difference in this one:
1. Janai Crooms' debut
The transfer guard from Ohio State received word over the weekend that the NCAA had granted her immediate eligibility for the Spartans. Crooms will add depth to the Spartans' backcourt through her scoring ability, but coach Suzy Merchant is more excited about her ability to set up other players. She will allow Nia Clouden and Alyza Winston to spend more time off-the-ball and let them focus on scoring rather than playmaking. Merchant said that it would be a process, however, as Crooms is coming off an injury.  
Crooms was second on the Buckeyes last season with 107 assists. She also started 10 games last season, in addition to averaging 6.8 points per game as well as 3.9 rebounds. Crooms also averaged 8.8 points per game as a freshman in 2018-19. 
2. Spreading the wealth
In the win over Detroit Mercy on Dec. 2, MSU had six players that scored in double-digits, including four starters. If the Spartans can spread the ball around and continue to get production from all over the roster, they should have success on Wednesday night. The Gopher defense is giving up an average of nearly 84 points a game, so Nia Clouden, Moira Joiner, Tory Ozment and others should have a chance to rack up some points.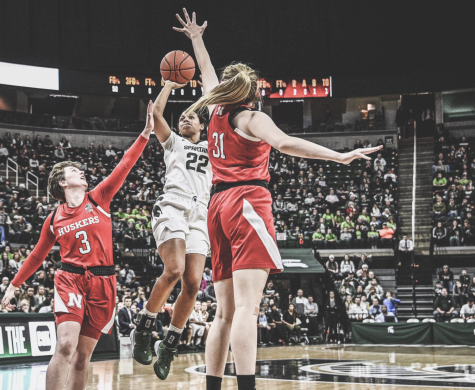 3. A hungry Gopher bunch
The Golden Gophers took an ugly loss in their last game, losing to Drake, 99-66. Minnesota has the talent to hang with teams in the Big Ten; they led by guard Jasmine Powell, who is averaging 21.5 points per game and Kadiatou Sissoko, who is averaging 18.5 points per game. The Gophers lost their last six conference games dating back to last season, including a 66-54 loss to MSU, so they desperately need a conference win to snap their ugly skid. MSU is the better team on paper, but that won't matter if the Golden Gophers execute better. 
4. Finding a way to win
The Spartans are going to have some really difficult games this season; teams like Michigan, Iowa, Indiana, Rutgers and Ohio State are all NCAA tournament-caliber teams. Minnesota, on the other hand, is not. The Gophers are coming off a disappointing 2019-20 season that saw it go 5-13 in Big Ten play and 16-15 overall.
Minnesota is still trying to find its footing and identity under third-year coach Lindsay Whalen.  Right now, the Gophers are still trying to figure out how to win consistently. Squeaking out a win against Eastern Illinois by four and getting blown out by Drake speaks to how much growing this team still needs to do.
Simply put, this is a home game the Spartans cannot afford to lose. The Gophers are not one of the better teams in the conference, and with matchups against Iowa and Ohio State looming, this should be one of the easier conference games of the season for MSU.
5. Rebounding
Although the Gophers struggle in a lot of areas, rebounding isn't one of them. Minnesota averages nearly 43 rebounds a game; it is led by Syrance transfer Kadi Sissoko, who is averaging nearly nine rebounds a game. Jasmine Powell and Klarke Sconiers also average over six boards a game. The Spartans were outrebounded by St. Francis (Pa.) in their opening game of the year before outrebounding Detroit Mercy by a 47-28 margin last Wednesday.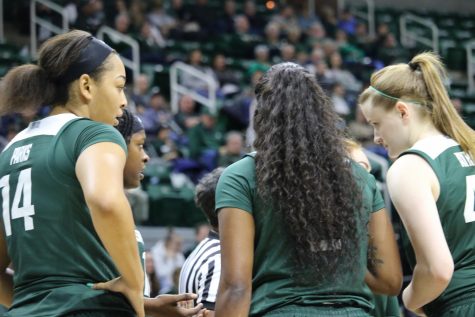 Taiyier Parks, Kendall Bostic, Ozment, and Mardekia Cook will need to find a way to limit the number of possessions that the Golden Gophers get in order to win this one.
Prediction: Michigan State 78, Minnesota 65
This game will be close for a while, but the Spartans' ability to knock down the deep shot as well as play inside will give them the advantage. The combination of Nia Clouden, Moira Joiner, Janai Crooms and other contributors should prove to be enough against a Gopher squad that only is averaging 69 points a game.  Look for the Spartans to pull away late and come home with their first Big Ten win of the season against a rebuilding Minnesota program.