Transfer Joey Hauser has breakout game in Spartans' 79-61 victory
EAST LANSING— A substandard performance from the No. 8-ranked Michigan State men's basketball team against Detroit Mercy last Friday night would have ideally given the Spartans a wake-up call when they faced another unranked opponent in Western Michigan University on Sunday night. This wasn't the case in the first half, despite a 79-61 win by the Spartans.
It wasn't until shots started falling and costly turnovers began to be limited when Michigan State eventually went on its second-half run. Much of the scoring was credited to redshirt junior forward and starting transfer Joey Hauser who lit up the net with six 3-pointers. He finished the evening with a career-high 24 points.
MSU found itself down for much of the first half. Missed shots and turnovers held the Spartans back as they faced a 5-point deficit with just over 12 minutes to go in the half. 
Even after a slight comeback that included one of sophomore guard Rocket Watts' two 3-pointers, the Spartans only held a 4-point halftime lead. Watts completed his performance with 10 points and six assists. 
Coach Tom Izzo was proud of the sophomore's play.
"I thought Rocket Watts played outstanding," Izzo said. "He had seven shots in the first half, which led us. And I thought he was so unselfish with the ball—he did a hell of a job to get Hauser involved."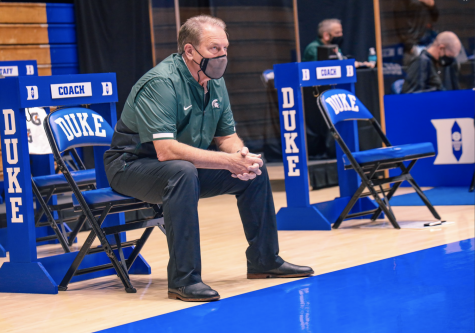 MSU came out hot in the second half with two made baskets from junior forward Thomas Kithier, a 3-pointer from Joey Hauser and two dunks by junior forward Marcus Bingham Jr. Just when the Spartans started to look like how a top-10 ranked team at home should, they allowed the Broncos to cut the deficit back down to four points. The team turned the ball over five times in nine minutes during WMU's run.
As the Spartans entered the game's final stretch, the competition became the "Hauser show." He hit one 3-pointer to stretch his team's lead to eight points and then drained another one to give MSU a commanding 68-56 lead. 
Junior forward Aaron Henry was one of those who contributed to finding Hauser behind the arc.
"It's always exciting to see one of the guys get going—especially a guy like him," Henry said. "He really shot the ball well tonight—what I was most proud of [were] the defensive possessions he had in the second half that really, you know, pushed our lead out and gave us a better chance of winning the game."
Standing undefeated at 5-0, the Spartans will head to John Paul Jones Arena to compete against No. 15-ranked Virginia on Wednesday night at 9:15 p.m.