MSU gets pummeled by No. 4 Ohio State 52-12
EAST LANSING — It didn't matter Saturday that Ohio State was down three offensive line starters and 17 scholarship players.
Michigan State struggled to contain OSU quarterback Justin Fields all day, and it showed as the Spartans were crushed by No. 4 OSU 52-12.  The Buckeyes, who ran for 325 yards in the game, embarrassed an MSU team that was coming off of an impressive 29-20 victory over No. 14 Northwestern.
"Outings like this are not acceptable," head coach Mel Tucker said. "I don't care who we are playing…When I turn on the film, I'm going to be sick seeing some of the things that we did."
Starting MSU quarterback Rocky Lombardi landed hard on his shoulder in the second quarter and would not return. In his limited playing time, Lombardi was 5-for-11 with 33 passing yards and an interception.
Payton Thorne, who relieved Lombardi, went 15-for-22 with 140 yards and an interception. He also ran for a touchdown, his first ever collegiate score.
"There really is no such thing as a measuring stick," Thorne said. "There is no measuring stick, it's either you won or you lost."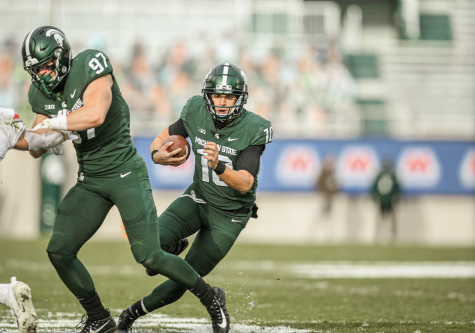 Fields went 17-for-24 with 199 passing yards and two passing touchdowns. He also ran for 104 yards and two rushing touchdowns. 
With the loss, the Spartans drop to 2-4 on the season, while the Buckeyes improve to 5-0 on the season.
After a Spartan three-and-out to start the game, OSU got on the board first courtesy of a two-yard rushing touchdown from Fields. The score was set up by a 21-yard Master Teague run as well as a personal foul on MSU defensive end Michael Fletcher that gave the Buckeyes a first down on third-and-7.
Fields would pick right up where he left off on the next drive, as he ran for 44 yards on the first play of the drive. A 28-yard touchdown throw to Garrett Wilson quickly made it 14-0 Buckeyes. 
The Spartan offense only managed one first down in the first quarter. As a result of their passing and running game struggles, as well as the inability to contain Fields on the ground, the Buckeyes held a 14-0 lead at the end of one.
Fields, who ran for 71 yards in the first quarter, engineered a 10-play, 75-yard touchdown drive at the beginning of the second quarter. A Trey Sermon 25-yard run, as well as a 24-yard completion from Fields to Wilson, set up the eventual 1-yard quarterback touchdown run by Fields. The Spartans found themselves down 21-0 with 10 minutes left in the half. 
The Buckeyes would add to their lead after Lombardi threw a pass in the end zone that was intercepted by Ohio State defensive tackle Haskell Garrett. The defensive score extended the OSU lead to 28-0. 
Lombardi would be knocked out of the game after a sack by defensive end Tyreke Smith. Payton Thorne would come in, and despite a few nice throws to move the ball across midfield, he fumbled the ball on a fourth-and-2 run, which ended any hopes of scoring before the half.
At the half, OSU held a comfortable 28-0 lead over MSU.
Despite making some nice throws on the run, Thorne wouldn't be able to get MSU over the hump in the third quarter. After converting three first downs, Thorne would be sacked, which forced the Spartans to punt the ball away for the seventh time. OSU running back Trey Sermon would subsequently spring for a 64-yard score, which pushed the OSU lead to 35-0. 
"This is one of those ones (games) where you just got to suck it up and really absorb it," linebacker Antjuan Simmons said. "If you're mad about how you played, be mad."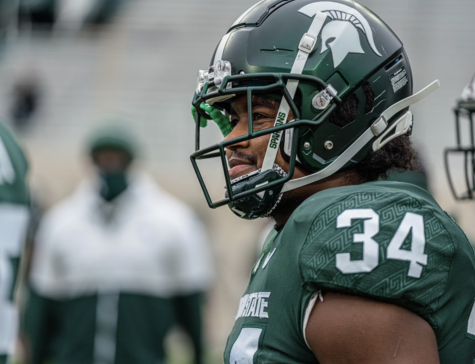 MSU would avoid the shutout as Thorne completed a 55-yard deep ball to Jayden Reed down the right sideline. Thorne would rush it in from 20 yards out to give the Spartans their first score of the game. The touchdown was the first of Thorne's career. 
A late 27-yard field goal by Blake Haubeil pushed OSU to a 38-7 lead at the end of three.
MSU would tack on three points in the fourth, courtesy of a 27-yard Matt Coghlin field goal, but Fields would respond with a 41-yard touchdown pass to Chris Olave, which put the cherry on top of an absolutely dominating performance. Olave finished the game with 10 receptions for 139 receiving yards and a touchdown. 
Backup quarterback CJ Stroud would also get in on the fun as he ran for a 48-yard score to extend the Buckeye lead to 42. 
"Things like this only fan the flames, "Tucker said. " We got to get better faster because I'm not about this whole long-term deal. We need to get something done right now."
OSU will look to clinch its fourth Big Ten East title in a row when the Buckeyes host Michigan (2-4) next week. The Wolverines were forced to cancel their previously scheduled game against Maryland this week due to issues regarding COVID-19.
The Spartans will look to finish out the regular season strong as they take on Penn State (2-5) in Happy Valley next weekend.