MSU owes win over Northwestern to Rocky Lombardi's mobility
EAST LANSING- Michigan State's offense finally had a breakthrough on Saturday against Northwestern, and Rocky Lombardi reclaimed a firm grasp on the starting quarterback position. Lombardi led the offense to 23 points, throwing for two touchdowns and setting a career-high in rushing yards in a single game. 
Coming into the season, there was an expectation that Rocky Lombardi would be able to add another dimension to the Michigan State offense with his legs. Prior to Saturday, however, Lombardi had yet to make a meaningful impact on the field with his mobility. 
That all changed on Saturday as Lombardi was able to attack Northwestern's defense on the ground along with Connor Heyward and Elijah Collins. Lombardi ran the ball 10 times for 65 yards and was able to extend plays consistently to keep Michigan State's drives alive.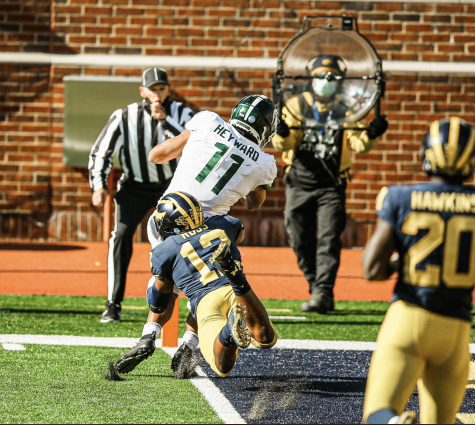 Lombardi gave credit to offensive coordinator Jay Johnson and the offensive line for putting him in  a position to be able to make plays on the ground, but Lombardi should get a lot of credit as well. Lombardi had three crucial runs on third down in the second half that went for first downs, including a 12-yard rush on the game-winning drive on a third-and-10 that put the team in field goal range. 
When asked about his rushing performance, Lombardi said, "Most of it was in the game plan, and I knew that I was going to have to run a little bit. The rest of it was impromptu, doing what I can to extend plays and to try and extend drives."
Lombardi was only able to complete 11-of-27 (40.7%) passes with two touchdowns and an interception, but he was able to manufacture drives along with strong support from the running game. 
The biggest knock on Lombardi this season has been his inconsistency and knack for turning the ball over, but Lombardi was able to overcome those problems in the biggest game of the year. He did not force the issue against a great Northwestern secondary and took what the defense gave him, or tucked it and ran. 
"We've been struggling with our run game for a long time, and to get a game where we are running all over the field, 207 yards gained rushing, that was awesome," Lombardi said. "It's a big confidence boost for our o-line and our running backs, and we had a great game blocking on the outside from receivers."
The offense was finally balanced between the run and the pass, which allowed Jay Johnson to have a bit more creativity to put playmakers like Connor Heyward and Elijah Collins in space with the ball in their hands. 
Michigan State had by far its best game running the ball this season, totaling 195 yards between Lombardi and the running backs. The offensive line was able to get a consistent push throughout the game against the No. 4 defense in the land. In addition to the dominance on the ground, the offensive line did not surrender a sack.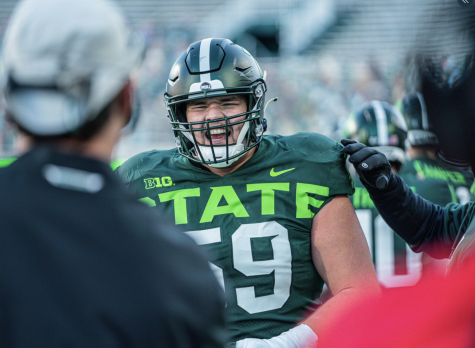 Offensive line coach Chris Kapilovic said that this was the best game the offensive line had all year and is excited about the unit after the last three weeks in practice.
"The week of preparation before Maryland was the best practice we've had all year," Kapilovic said. "I really wanted to play that game,"
Kapilovic added that the health along the offensive line has been a major key to the improvement from them as well. 
He noted that having both starting tackles, A.J. Arcuri and Kevin Jarvis, healthy has been crucial to the overall performance of the offensive line. 
The running attack will have to have another big performance this upcoming Saturday against No. 3 Ohio State, who only allow 98 yards on the ground per game on average. The front seven is loaded with NFL talent,  including the linebacking duo of Tuf Borland and Pete Werner, who have combined for 43 tackles in four games. 
Michigan State had 362 yards of total offense, and Rocky Lombardi accounted for 232 of those yards. He will need to have a similar offensive performance on Saturday if MSU wants to have a chance against Ohio State.It is uncertain whether or not the game will be able to be played, as Ohio State is dealing with positive COVID-19 tests with its players and coaching staff. 
Head coach Ryan Day has already been prevented from traveling to East Lansing due to COVID-19. The decision for the game will be made on Thursday, according to Ohio State health officials. 
Mel Tucker said that Michigan State would continue to prepare for Ohio State like any other week. They will continue to hold practice, including  "bloody Tuesday and Wednesday" practices, which are high-intensity, full-contact practices.