Antjuan Simmons and Matt Coughlin receive conference honors after strong individual performances
Manit Patel, General Assigment Reporter
November 30, 2020
EAST LANSING- The Spartans had many key players step up in their upset win over No. 8 Northwestern on Saturday, but two specific players garnered special recognition from the Big Ten. 
Senior linebacker Antjuan Simmons has stepped up this year. He recorded a game-high of 13 tackles against Northwestern to go with two tackles for loss and a crucial sack. For that gutsy performance, he was named the Big Ten Defensive Player of the Week. 
Simmons has continuously stepped up in key games, leading the defense to shut down teams such as Michigan and Northwestern. He registered 11 tackles against the Wolverines and has compiled double-digit tackles in every game this season except Indiana.
Simmons has compiled 53 tackles so far this season, which is good for the No. 6 overall mark in the Big Ten.
Simmons wasn't the only Spartan who garnered recognition from the conference. Senior kicker Matt Coghlin was named the Big Ten Special Teams Player of the Week after going 3-of-4 on field goals against the Wildcats. Two of Coughlin's kicks were a game-tying kick as well as the eventual game-winner from 48 yards out.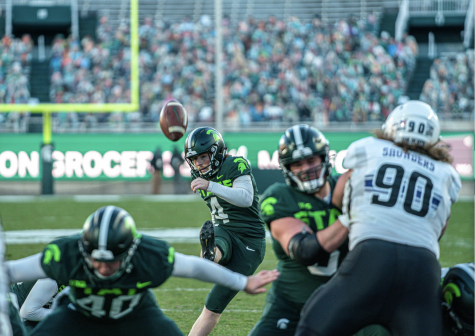 The 48-yarder was Coghlin's fourth game-winning kick in his career and his third time receiving the conference's special teams player of the week award. 
Michigan State is slated to square off against Ohio State in East Lansing this Saturday at noon.