Michigan State upsets No. 8 Northwestern 29-20
EAST LANSING-Mel Tucker's biggest message so far has been that he wants his team to play tough, complementary football. Tucker has repeatedly mentioned that he wants the Spartans to be sound in all three phases and play with a physically-imposing style of football on offense and defense. 
Today, we finally saw Tucker's dreams come to fruition for Michigan State.  Behind a strong defensive effort and a stout rushing attack, MSU knocked off No. 8 Northwestern 29-20 for their second ranked win of the year.
"Wins like today show what kind of football we are capable of playing when we are focused, when we are process-driven, and when we play complementary football and take care of the football." said Tucker. 
MSU forced two Peyton Ramsey interceptions in the game. Rocky Lombardi went 11-for-27 with 167 passing yards and two touchdowns along with one interception.
The Spartans came out swinging early, jumping out to a 17-0 lead thanks to outstanding play from both the defensive and offensive line. The dominance started on Michigan State's first defensive possession, with the defense getting a stop on fourth-and-1 deep in their own territory. 
"A pretty decent strength of our offense is taking deep shots. Coach saw the look and decided to take the shot and thankfully he (Nailor) ran faster than the corner did." said Lombardi.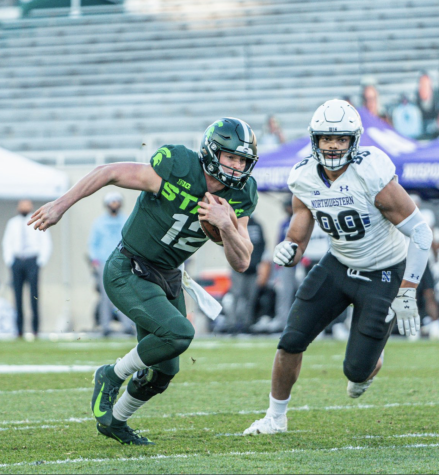 On the following possession, Rocky Lombardi aired it out and completed a 75-yard bomb to Jalen Nailor to open the scoring. For the first time this year, the offense matched  the output of the defense; this allowed the Spartans to jump on the Wildcats early. 
On the following possession, Shakur Brown picked off Peyton Ramsey on fourth down and returned it 56 yards inside the red zone, setting up Matt Coghlin's first field goal of the day. 
"Before the half, we started to feel like we could get some pressure with four, we were starting to get some push," said Tucker. "We knew that if we continued to have a coordinated pass rush and keep guys fresh and rotate guys in, we knew we would get some more pressure in the second half."
With Northwestern dominating the time of possession early in the second quarter, Michigan State embarked on its fourth drive of the game, which lasted six minutes, it resulted in a touchdown pass from Lombardi to Jayden Reed. 
Michigan State set the tone throughout the first half with a blazing rushing attack that has not been seen all season. The combination of Connor Heyward and Elijah Collins were able to break into the Northwestern secondary with ease, thanks in part to the consistent push generated by the MSU offensive line. The offense was able to give the defense a breather and extend the lead to three possessions over an undefeated Northwestern team. 
Heyward ran for 96 yards on 24 carries, while Collins and Lombardi combined for 99 rushing yards.
"It comes down that we were tired of losing. Our O-line improved drastically this week. I'm very thankful for those guys, they make it easy when I don't have to miss any tackles." said Lombardi. 
Northwestern did not go away quietly, however. They were ranked eighth in the College Football Playoff rankings and were determined to save their undefeated record. Northwestern was able to add two field goals at the end of the second quarter to cut the lead to 17-6 going into halftime. 
The Wildcats dominated out of the half, scoring on their first possession to cut Michigan State's lead to four. Michigan State was unable to answer throughout the third quarter, as Northwestern's defense was able to shut down MSU's rushing attack. 
Northwestern scored with 14 minutes left in the game to take a 20-17 lead. Michigan State had not been able to drive the ball since early in the second quarter, and even a 3-point lead felt daunting for an offense that had stalled out for over two quarters. On the third play of the possession, Lombardi threw an interception deep inside MSU territory, setting up Northwestern once again. 
However, the defense stepped up and made a monumental play. On the first play of the Northwestern possession,  the entire front seven of Michigan State converged on the ball and forced a fumble. The turnover bug came back to bite someone else besides MSU, a welcome change for Tucker and the Spartans. Michigan State was able to capitalize on the turnover and tie the game with another Coghlin field goal. 
Shakur Brown was once again the man who made a huge play for Michigan State; he was able to intercept another pass from Ramsey with just over six minutes left in the game, which gave Michigan State the ball at midfield with a chance to take the lead.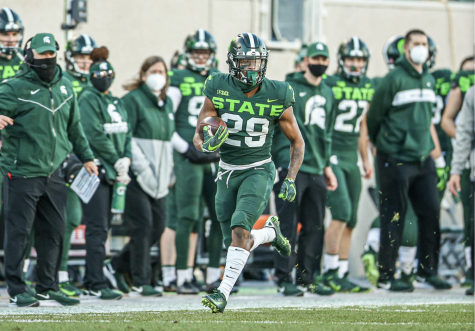 The offense did not move the ball far, but just enough to give Coghlin a chance, who banged home yet another field goal, this one from 48 yards. 
The defense played outstanding for the duration of the game and was able to consistently put the Spartans in a position to win, which they have done plenty of times this season. For the first time, however, the offense stepped up to the challenge and was able to capitalize on the opportunities given to them and play complementary football, Mel Tucker's dream. 
Whenever the Spartans needed a big play, someone was there and ready to make that play happen. This performance was a complete showing for both sides of the ball, and should give Mel Tucker hope that the message that he has been preaching to this team is finally starting to catch on.
"Wins like today show what kind of football we are capable of playing when we are focused, when we are process-driven, and when we play complementary football and take care of the football." said Tucker. 
Michigan State is currently slated to host No.4 Ohio State at home next weekend. The status of that game is uncertain as Ohio State is currently dealing with a COVID-19 outbreak. The Buckeyes cancelled this week's game against Illinois because of COVID-19.