Tillman ready to work after being drafted No. 35 by Grizzlies
Trent Balley, Men's Basketball Beat Reporter
November 19, 2020
EAST LANSING — When Michigan State big man Xavier Tillman declared back in the spring for the 2020 NBA Draft, some wondered whether or not he'd keep his name in the mix. After all the speculation, he did, and it was the right decision.
The Grand Rapids native heard his name called early in the second round of the draft on Wednesday night, getting selected by the Memphis Grizzlies (via Sacramento Kings) with the No. 35 overall pick.
"I was crazy excited," Tillman said. "Man, I actually got my name called. I'm in the NBA! It's unbelievable."
In Tillman's three seasons at MSU, he averaged 8.7 points and 6.6 rebounds per game on a very efficient 58.2% field goal percentage. However, it was in his sophomore and junior seasons that he was more of a double-double machine, averaging 11.9 points and 8.8 rebounds per game in those two seasons.
Tillman's breakthrough occurred in his sophomore season when minutes opened up as MSU starting forward Nick Ward dealt with a hand injury. Tillman stepped up in monstrous ways and ultimately won the 2019 Big Ten Sixth Man of the Year award as the Spartans made a run to the Final Four.
Perhaps more impressive than Tillman's offensive production was his defensive presence. In his sophomore season, he guarded future No. 1 overall draft pick Zion Williamson in the Elite Eight matchup with Duke, where the Spartans were victorious. 
In Tillman's junior season, he took home the Big Ten Defensive Player of the Year award. The end of that campaign saw Tillman stand tall against elite Big Ten talents such as Luka Garza of Iowa and Jalen Smith of Maryland as the Spartans won a share of the Big Ten regular season title. 
Tillman mentioned the Boston Celtics and Toronto Raptors as two landing spots that he was fairly confident in. After seeing them pass on him at the end of round one, Tillman — to nobody's surprise — remains highly motivated and ready to work.
"If they didn't think I was ready now, just wait and see what I'm going to be like in the season," Tillman said. "It definitely lit a fire under me. I don't know if it'll ever be burnt out until I'm done playing because I know my worth and I know how hard I worked to get to where I am. Not to discredit anybody, but just to say that I worked my butt off to get where I am."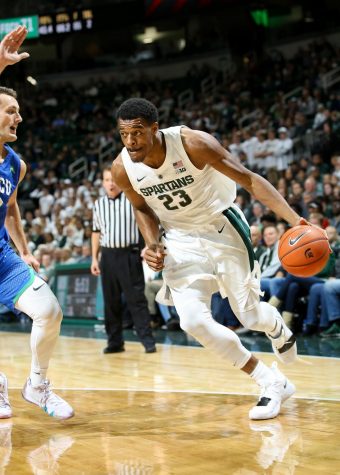 Nonetheless, Tillman had the Grizzlies on his radar all throughout the draft process, saying the organization "showed a lot of love and desire" to have him and his family in Memphis.
While falling five picks shy of guaranteed first-round money, Tillman looks forward to working hard to provide for his tightly-knit family of four. Adjusting to the NBA schedule won't be easy, however, as Tillman well knows.
"Just knowing that the away games and the trips will be a little bit longer," Tillman said, "I think that will be the hardest part to really adjust to, is the length of how long I'll be gone."
In Memphis, Tillman joins former MSU teammate and great friend Jaren Jackson Jr., who was the best man in Tillman's wedding. The bond the two share is something that Tillman is excited to make even stronger. Jackson was one of the first to call Tillman after his selection, a phone call that heard "a whole lot of screaming and yelling."
The two friends first met on a recruiting visit at MSU before playing AAU ball together their senior year of high school.
"That's where we really built our relationship," Tillman said, "through all the road trips and just playing together and forming a relationship that way. We both made it to Michigan State, obviously and we were both crazy excited to be able to play with each other again. And now to have it be a third time, it's kind of ridiculous now that I think about it."
The Grizzlies narrowly missed the 2020 NBA playoffs, finishing with a record of 34-39 after a loss in the play-in game to the Portland Trail Blazers in the Orlando "bubble." Tillman should be able to carve out a role in the rotation of a young team, led by Jackson and 2020 Rookie of the Year, Ja Morant.
Trent Balley is a men's basketball beat reporter and columnist for WDBM Sports. Follow him on Twitter at @TrentBalley.