Michigan State focuses on Michigan after Rutgers debacle
EAST LANSING — If the freshmen football players for Michigan State didn't understand the significance of the Michigan vs. MSU rivalry, they sure do now.
"Antjuan (Simmons) and I talked to the freshman yesterday about how important this rivalry is to us, to the state, to the program," said MSU quarterback Rocky Lombardi. "This is going to be something that everybody's going to be talking about for the next 365 days."
The task of going into the Big House and competing against a No.13 ranked Michigan team that thrashed a good Minnesota team on Saturday evening won't be easy. The Wolverines, who were tasked with replacing four starting offensive linemen from a season ago, ran for a whopping 256 yards against the Gophers' defensive line. Quarterback Joe Milton alleviated concerns about his accuracy as he went 15-for-22 for 225 yards and a touchdown.
Simply put, if the Wolverines can perform like they did last Saturday, the Spartans may be in for a long day. Oddsmakers and various betting agencies currently have Michigan as 24-point favorites for Saturday's contest. 
"24 points seems to be a little bit of a stretch for me, but I don't even really look at that stuff," said Lombardi. "For us… Coach Johnson harps on processing the play, so if we can take it one play at a time and execute each play the way we are supposed to, we will go out there and have a productive day."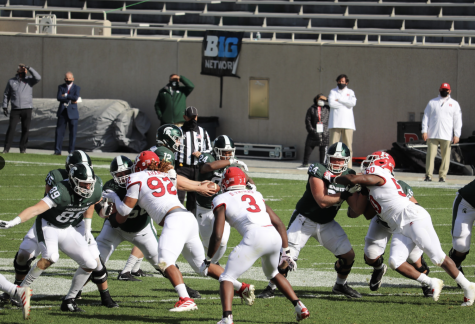 Just another game?
Although each game counts as one win or loss in the standings, the chance to bully Michigan isn't lost on the Spartans. To say that this week's matchup is "just another game" is fundamentally false.
"When you sign here you know that the Michigan game is a big one," said MSU linebacker Antjuan Simmons. "You just don't realize how big it is until you get on campus."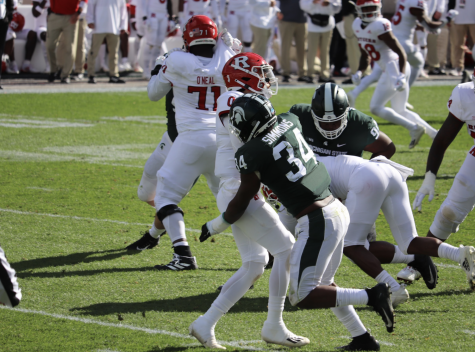 The Spartans, who won seven out of eight games vs. the Wolverines from 2008-2015, have lost three out of the last four matchups to the Wolverines. Last season, MSU was throttled by Michigan 44-10 in Ann Arbor. 
"They are them and we are us," said Simmons. "I'm not going to say too much, but they are who they are."
Even MSU coach Mel Tucker has immersed himself within all the rivalry has to offer. On three separate occasions during today's media availability session, he referred to Michigan as the "school down the road." He did not call the Wolverines by their name once.
While we may never know where Tucker acquired such a phrase, the former MSU graduate assistant said that Nick Saban helped expose Tucker to the emotions associated with the rivalry. Tucker served under Saban as a graduate assistant from 1997-98. Tucker's playing days with the Wisconsin Badgers also help put these rivalries into perspective.
"Playing at Wisconsin, you are aware of the rivalries in the Big Ten," said Tucker. "Being here as a graduate assistant in 1997 and 1998, I was really able to experience it firsthand and just feel the passion and the energy. There is not a day that goes by when you don't hear about this game from somebody."
Preparing as always
While emotions for Saturday's contest will be quite high, Tucker has preached to the team about staying smart and not committing stupid mistakes. The Spartans will need to take much better care of the ball and dominate both lines of scrimmage for four quarters than they did against Rutgers if they want to have a chance to knock off the Wolverines.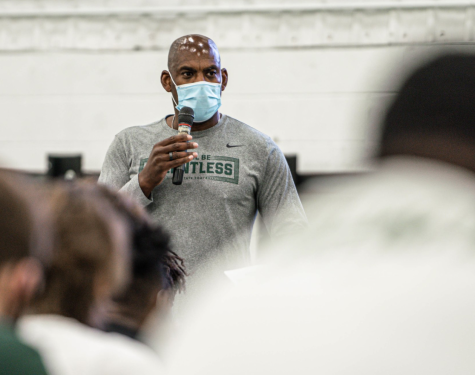 "It's important for me as a head coach and a leader to move on to the next game and turn the page," said Tucker. "We have a young football team that has (been) bought in and is eager. I believe that you make your biggest improvement from game one to game two."
For the Spartans' sake, they should hope that Tucker's belief in self-improvement is well-founded.