In new era of Spartan football, Mike Tressel and Harlon Barnett seek to create magic yet again
EAST LANSING- Despite the massive cultural shift that Michigan State football has undergone in the past eight months, there are still remnants of the Mark Dantonio era that have carried over into the Mel Tucker era of MSU football.
They are Mike Tressel and Harlon Barnett, the safeties and cornerbacks coaches for Michigan State.
 Tressel and Barnett worked together as co-defensive coordinators at Michigan State from 2015-2017 before Barnett left to be the defensive coordinator for Florida State. Under Tressel and Barnett, the Spartans produced a conference championship, a berth in the Cotton Bowl and two double-digit winning seasons. 
After a two-year break, the coaching duo is back together in East Lansing. Both coaches took a "demotion" from defensive coordinator, but Tressel said that it has been great to work with Barnett again.
"We have four guys that have been defensive coordinators before, so there is a lot of input between us about how to improve as a unit and within each position group," said Tressel. "I think it has been great motivation and added a sense of urgency to everyone on defense."
Tressel also mentioned that there has not been a shift in identity in the defensive backfield despite the new coaching regime. He said that there is motivation within the group to revive the "No Fly Zone" and "Spartan Dawgs" mentality that was a staple of Barnett's successful defensive backfields during the Dantonio era.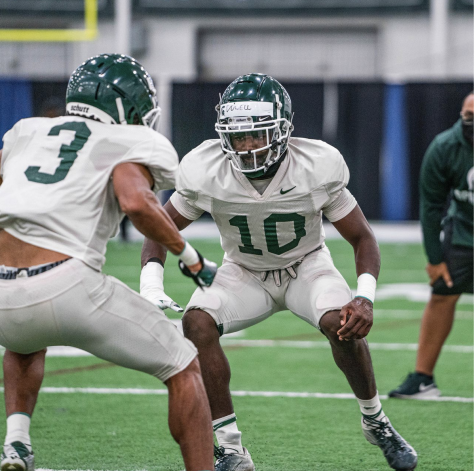 "They believe in the identity that we had (under Dantonio)," said Tressel. "I think the tradition is what we are trying to live up to, and I think there is belief within the room that they can be the next chapter, but I wouldn't say creating new identities."
Tressel said that the cornerbacks and safeties have been in constant contact as a group, which has led to him and Barnett working closely together again.
"It's definitely a team effort," said Tressel. "We are splitting time having meetings individually and having meetings as a group. It's like the offensive line; the communication has to be seamless. I am leaning on coach Barnett who's spent years and years and years coaching the secondary. He has helped me a bunch there as well as coach Tucker."
It has been a long time since Michigan State has seen a dominant defensive backfield, which was a staple early in the Mark Dantonio era; however, there is hope that the reunited duo of Tressel and Barnett can bring back the No Fly Zone to East Lansing. In the two years without Barnett, Michigan State has ranked No. 62 and No. 37 in the country in terms of passing defense, the two worst years of the Dantonio era. 
Tressel said he is optimistic about the group as a whole because of the returning experience in the defensive backfield and the amount of defensive minds on staff. For Michigan State to have a better year, the secondary will need to improve significantly as it is the oldest group on the defensive side of the ball.