In crowded offensive line room, Matt Allen is trying to seperate himself from the rest of the pack
EAST LANSING — For fifth-year Michigan State senior center Matt Allen, last season simply wasn't good enough.
"Me personally, I didn't do well enough just getting guys off the ball," said Allen. "I would always get in the correct position laterally, except then (my opponent) would be in the same spot just two yards down the line. Just as an offensive line, being able to take the whole D-line vertical, even if there isn't a hole open, the running back can still fall, and it'd be a four-yard gain."
By virtue of Jordan Reed opting out for the 2020 season, Allen has appeared in more games (30) than anyone else in the offensive line room sans Luke Campbell. Allen, who has started 16 games at center in his career, is one of four returning linemen who have at least 10 starts under their belt (Campbell, Kevin Jarvis and Matt Carrick). In order for Allen to start the season as the Spartans' No.1 center, he will have to fend off Blake Bueter and Nick Samac, both of whom started multiple games last season. 
"It feels like everybody is either biting on my heels or about to take my spot," said Allen.
Between Allen, Jarvis, Bueter, Carrick, Samac, Campbell, J.D. Duplain, AJ Arcuri and Devontae Dobbs, the Spartans have nine returning offensive lineman with some degree of starting experience. While depth is undoubtedly a good thing, finding five linemen to trot out on Oct. 24 is proving to be quite the challenge since the Spartans have an abundance of battle-tested linemen.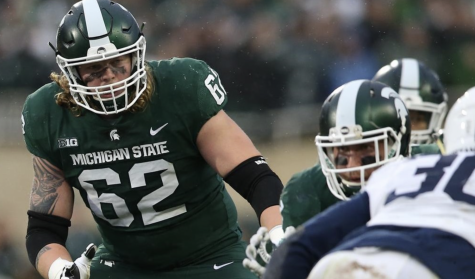 "We still have a month before the season starts," said Allen, "and especially with COVID and things like that, we are just really focusing on depth just so if somebody does go down or something does happen, the next man up is going to be ready to go."
Allen started the first eight games of 2019 before a lower-body injury sidelined him until the Pinstripe Bowl against Wake Forest. In Allen's absence, both Bueter and Samac performed admirably at the center position.  Jarvis, who switched from right guard to left tackle after Cole Chewins got hurt in the offseason, only played in three games before he was declared out for the rest of the season. Arcuri would take Jarvis' spot at left tackle, but even he would struggle throughout the season with injuries. Bueter and Campbell would also miss multiple games due to injury. As such, young depth players like Dobbs, Samac and Duplain were pressed into duty towards the end of last season. With everyone healthy, MSU now finds itself with a hodgepodge of lineman.
With the constant carousel on injuries, the Spartans struggled to find any kind of offensive consistency. The Spartans only ran for1 28 yards per game in 2019, which was good for the No. 103 overall mark in the country (out of 127 teams). When coach Mel Tucker was hired on Feb. 12, he brought with him a trusted and well-respected offensive line coach, Chris Kapilovic.
Kapilovic, the former offensive line coach and running game coordinator at both North Carolina and Colorado, has brought a no-nonsense approach to the offensive line room.  
"He's honestly a great coach, and I've seen a ton of improvement out of myself just through this camp," said Allen. "The thing that he does best is tell us the truth right away. If we do something bad, he is going to let us know what we did and why we did it. It's not like a punishment, but it's just so that we are all on the right page and we are all going on the right track to get us in the spot that we want to be."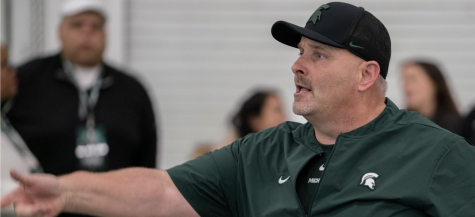 Under Kapilovic, Colorado ran for 150 yards per game in 2019, good for No. 70 overall in the country. This might not seem like much of an improvement, but it's worth noting that Colorado was more of a passing team under Jay Johnson than a ground-and-pound squad. Kapilovic was a huge reason why Elijah Hood was so successful at UNC from 2014-2016. In 2015, when Kapilovic was the co-offensive coordinator and offensive line coach, Hood ran for 1,463 yards and 17 touchdowns. In 2016, Kapilovic was promoted to offensive coordinator and from 2016-2018. The Tar Heels succeeded in having a versatile running attack between Hood (who graduated in 2016), Jordon Brown and Michael Carter (both of whom ran for over 500 yards in 2017) as well as Antonio Williams, Brown and Carter in 2018. 
According to Allen, MSU will conduct a couple of scrimmages before the season opener against Rutgers in order to simulate a game-like atmosphere. No one knows which five linemen will trot out with the first group during the scrimmages, but the answer will be clearer for the Spartans soon.