Four-star OL Geno VanDeMark commits to Michigan State
EAST LANSING- At the start of the day, only two Big Ten teams had failed to land at least one four-star recruit in the 2021 football recruiting cycle—Michigan State and Illinois. 
The Fighting Illini are now all alone.
110% COMMITTED TO MICHIGAN STATE UNIVERSITY!!! Extremely thankful for everyone who has helped me get here!! #GoGreen pic.twitter.com/XQEcxsC3cQ

— Geno VanDeMark (@GenoVanDeMark) August 22, 2020
Geno VanDeMark, a four-star guard out of Montvale, New Jersey, became the first four-star prospect to commit to Michigan State in the Mel Tucker era.  VanDeMark goes to the same high school—St. Joseph Regional— as fellow four-star and Spartan recruiting target Audric Estime. The Spartans recently made the top-six for Estime, who, along with VanDeMark, helped St. Joseph reach the semifinals in the NJSIAA, Non-Public, Group 4 division before being bounced by Don Bosco Prep at the end of last season.
VanDeMark is rated by 247Sports.com as the No.4 prospect in New Jersey and the No. 317 overall prospect in the nation. His composite rating, 0.8958, is three points higher than Spartan commit Ethan Boyd, who has the second-highest composite score (0.8639) in the class. All six crystal ball predictions had VanDeMark choosing MSU.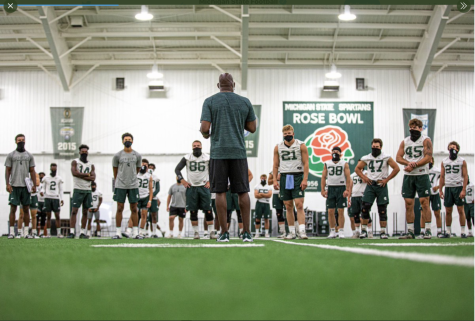 According to recruiting expert Brian Dohn, VanDeMark "has a good frame with the (necessary) power to play on the interior."  He also "fires off quickly and low when sinking his hips and "can scrape when getting to the second level."  All in all, the 6-foot-5, 295-pound guard is categorized as a powerful road-grader who should be able to succeed at the next level because of his ability to play with plus pad-level and his robust overall frame. 
Offensive line coach and running-game coordinator Chris Kapolovic was instrumental in getting VanDeMark to commit to Michigan State. The talented lineman held offers from one Pac-12 university (Arizona State), six Big-Ten schools (Rutgers, Maryland, MSU, Purdue, Minnesota and Nebraska), six ACC universities (Miami (FL), Georgia Tech, Louisville, Pittsburgh, Syracuse, Virginia and Virginia Tech), three Big-12 schools (Kansas, Oklahoma State and West Virginia) and two SEC institutions (Tennesee and Ole Miss). 
With VanDeMark in the fold, all eyes will turn to the impending decision of Audric Estime, who, like his teammate, has six crystal ball predictions on 247Sports that all have him choosing Michigan State.  If all goes according to plan, Mel Tucker could have his first two four-stars from the same high school in a matter of weeks.