Dandron: Despite recent decommit, new head coach Tucker still making strides as program begins to find its footing
EAST LANSING — Mel Tucker left the University of Colorado seemingly as suddenly as he arrived, spending only 12 games as a head coach out West in the PAC-12, before heading off to where his coaching path began: East Lansing.
It angered the UC-Boulder fans and maybe rightfully so. The guy who some may have thought could bring their up-and-down program back to the glory years of the late 1980s, and early 1990s under Bill McCartney turned around and left them out to dry in mid-February. 
He left for the same place where it all began. He was a graduate assistant under the best college football coach of all-time (Nick Saban) after his own football career was done. It feels full circle to someone who was quite unfamiliar with Tucker before he arrived in East Lansing. 
If I'm being honest with myself, I have no idea what to expect from the first-year head coach. What I DO know is things are changing. No, not just because there is a rampaging pandemic that has killed over 100,000 Americans. It's a culture around a program hampered by the fact it couldn't get with the times of what wins you college football games in today's landscape. 
Recruiting. 
That's where realistically, due to the current times and the fact that Tucker entered the job with zero recruits for the class of 2021, the most strides have been made in turning the Michigan State football program around. 
A program that, if only for a moment, caught lightning in a bottle and went 36-5 from 2013-2015. The way you win in college football is recruiting today, I might be behind the 8-ball, but I think it's obvious. 
Nearly every program ranked in the Top-10 of 247Sports' team recruiting rankings since 2000 has played for a BCS National Championship or in the College Football Playoff. 
One of the exceptions? Michigan State: who peaked in the rankings at No. 17 in 2016, a controversial class that followed the school's appearance in a blowout semifinal loss to Alabama.
Tucker has immediately acclimated himself to a fanbase that was hungry for more. It was so important for him to get off on the right foot. Will he ever win a national championship? I wouldn't put my money on it. But I still think this program can peak at a higher level – consistently – then it did under his predecessor. 
That isn't a shot at the program's all-time wins leader, rather it's a recognition of how you win in today's college football landscape. The schools with the best recruits win the most games. 
It's a simple concept, and programs like Ohio State, Georgia, Clemson, Alabama, and Oklahoma are the best perennial powers because of it. Immediately under Tucker, MSU has seen a shift in the type and level of recruits that the program is getting.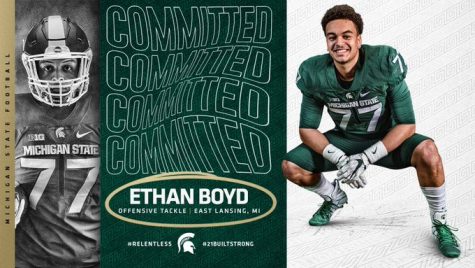 More size, length, and using social media in ways that I'm not sure Dantonio and the staff would have ever dreamed of is bringing a new and up-tempo vibe to a program that needed it.
You look at one example, East Lansing High School's Ethan Boyd: A 6-foot-7 tackle who has played on both sides of the line since his first year of high school ball. When he gets into a weight program at MSU, he could become an All-Big Ten performer. 
SRZ: Spartan Red Zone – 5/29/2020 – OK Boomer
The recruiting frenzy in late April and early May and the run he made at Vince Marrow from Kentucky shows the cigar-smoking, sun-hat wearing coach understands how to pull it off. His resume that includes NFL and major SEC program experience, is the evidence to back that up. 
Tyson Watson, who is similar in size to Boyd: a three-star 6-foot-6 strongside defensive end. None of the ten athletes that have committed to play for Tucker in the 2021 class are under 6-foot, according to 247Sports. 
Hampton Fay, a three-star quarterback out of Texas – a recruiting hotbed similar to the likes of Florida, Detroit, and Flint – is listed at 6-foot-5. Tucker has also been offering higher-star recruits, something that at the end of his tenure, Dantonio wouldn't even bother to do consistently. Tucker may not get every player he targets, but he's shown a commitment to try to swim in the deep recruiting water with the elite programs.
Recruiting that size and in those regions of the country is often where some of the best talents come from. It can go a long way or barely move the needle. 
But for now, MSU fans and writers like myself are taking this recruiting bump with a little more than a grain of salt. 
Joe Dandron is a columnist for Impact89FM's sports department. You can follow him on Twitter @JosephDandronMI or contact him at [email protected]