An Open Letter: 'Thanks for everything, Tom'
Sutton Magee, Women's Basketball Beat Reporter
March 20, 2020
I woke up Christmas morning of 2007 excited for the toys I was going to receive from my parents, Mark and Pilar. I'm sure I was given lots of cool stuff, but that isn't what I remember most from that day. The most impactful present I got was a small Patriots ornament with 2007 written on the bottom in big bold black Sharpie. It signified the beginning of my love for Tom Brady, and the New England Patriots quickly became something to bring my family together.
The Patriots were undefeated at the time and were being led by Brady, a sixth-round draft choice from the University of Michigan (his school choice is a bit questionable, but I'll let it slide just this once). Brady had already won three Super Bowls, coming against the St. Louis Rams, Carolina Panthers and Philadelphia Eagles.
I don't necessarily remember these games because I was still a toddler, but I can always go back and watch a young Brady outduel "The Greatest Show on Turf," Jake Delhomme and Steve Smith, or Donovan McNabb and the Eagles. These are memories I have to live second hand through stories. 
That 2007 season ended with New York Giants blue confetti floating through the air, and myself sitting on our couch at home crying, as much as you would expect from an eight-year-old whose world had just been shattered to a million pieces. The David Tyree catch burned me to my core, and even today at age 20 I resent watching it as much as the first time live. My dad was forced to console me and tell me everything would be ok, but I couldn't comprehend it at the time. I just knew it hurt. 
A few more seasons came and went, but one thing remained constant: I would put that Patriots ornament front and center on the Christmas tree for all the world to know we were and still are a Patriots household. Different families would come and go for Christmas parties throughout the years, alternating friend groups would come over, but the ornament remained. There's a famous saying that goes "if these walls could talk" but if Pat Patriot could speak after all those years sitting on that tree, let me tell you it would be something special.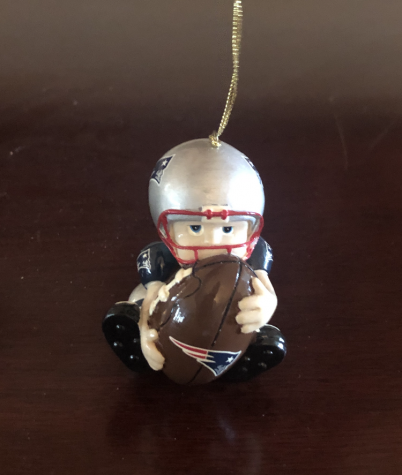 2012 ended in more Giants confetti and again myself crying on a couch with my dad consoling me. This time it was at a family friend's place, and led to one of the biggest commitments I have ever made. I would never again go to a Super Bowl party if the Patriots were playing in the big game, a pact I have tried to keep. This is not because I am superstitious or a homebody, but because I grew tired of the grief I would take from everyone else. I enjoyed being with just my family instead.
Our home in a Farmington subdivision became a safe haven for these games, a place where everyone could root without judgement and cheer without ceasing. I was also 0-2 in Super Bowls that I actually watched and that didn't particularly sit well with me. Something needed to change and the first example of this came on Feb. 1, 2015, as the words "intercepted at the goal line by Malcom Butler" rang through the living room speakers.
I remember the sense of disbelief I felt, the Seahawks were going to hand the ball off to Marshawn Lynch one more time and Bill Belichick's decision to not call a timeout was going to haunt me for the rest of time. The 10-point comeback we completed would be for nothing and another loss was within sight. Yes, I said we. In the end, there's a reason Belichick is a football coach and I am a fan. I jumped up and down, screamed, and saw Tom Brady doing the same thing on the television. I still to this day have never reacted to anything the way I did to that play.
The best part about the game was my parents and my two brothers, Tate and Noah, all watching it in our living room together. We jumped up and down, hugging, high fiving, and sprinting around our house like madmen. That is the memory I'll never forget, all because of Tom Brady.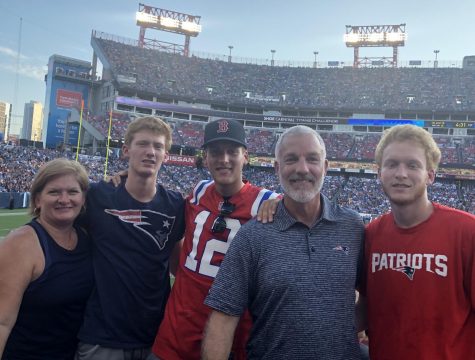 Walking the halls of Franklin High School with my throwback No. 12 jersey the next day is the level of "the world can't touch me" confidence I aspire to always have. For a day everyone knows who I am and the team my family represents. I always get the dirty looks, but who cares? We just won the Super Bowl! This team and Tom Brady mean everything to me. 
Seasons come and go, but Pat Patriot is still sitting front and center on the big tree in the living room. Like clockwork.
In 2017, the Patriots once again made the Super Bowl (seems like I'm saying that a lot), and this time it was against league MVP Matt Ryan and the Falcons. I wore my Brady jersey to church that morning, we had our flag hanging out front and my mom put together one of the best spreads I could've imagined. Potato skins, dips, wings, the whole nine yards. I ate everything with a nervous tension you could cut with a knife. The game started and as everyone remembers the Patriots were down 21-3 at halftime. I was sick to my stomach.
Now would be a great time to explain what happened during halftime. My mom pulled out one of the best-looking Patriots cakes I've ever seen. What came next was probably a mistake, but I was too ingrained in the score of the game. We refused to eat the cake. My mom was angry, but for different reasons. We weren't eating her cake.
Now, she probably won't tell you this to the day, but you could read her body language. She took all this time to make the day special for the guys, and we rejected it. If I haven't apologized yet, sorry Mom! Now, I assume everyone knows what came next: Mr. Thomas Edward Patrick Brady Jr. mounted a 25-point comeback, the biggest in NFL history. This is something that will never happen again, done by a player that is never down and out. 
The final overtime play was a toss sweep to the right side to James White and I have never popped up quicker to get a piece of cake in my life. It was Vanilla with cream cheese frosting, my favorite. Don't ask me how I remember that, I just do. It was another thing my mom did that went above and beyond because she cares about family. It means a lot to her. We sat there as a family and enjoyed the best dang cake I've ever tasted in my life. All because of Tom Brady and the Patriots.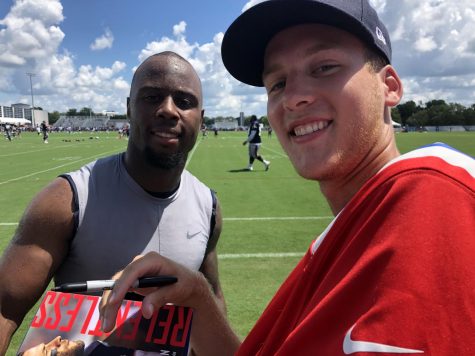 Another Monday morning of flaunting my Brady jersey at school and another holiday season of Pat Patriot looking over us. These are things I'll never forget.  
The next year was the Super Bowl vs. the Eagles on Feb. 4, 2018, one of the most fun games I've ever watched. Once again, just with my family in our living room.
Brady did his part with 505 yards, three touchdowns and no interceptions, but unfortunately, it wasn't enough. You know how I said earlier the day after winning the Super Bowl was an untouchable moment for me? The day after losing was one of the toughest. People destroyed me, making fun in every which way you could think of. It definitely didn't help that I still wore a Patriots shirt the day after, but we still had Tom Brady so winning another was never out of the question.
Life came and went, seasons came and went, but Tom Brady was still there. Schools changed, friends changed… but every fall, TB12 was out on the gridiron giving his all for the Patriots. 
The Super Bowl vs. the Los Angeles Rams in 2019 was during my first year of college at Michigan State, a whole nine hours away from home. I was going into uncharted territory. It would be the first Super Bowl I would watch without my family. I contemplated going home for the game, that is how much it meant to me. Unfortunately, due to class schedules I was unable to, and had to text in the family group chat throughout the game.
For many it was one of the most boring games, but not to us. This sixth Lombardi trophy meant everything. The feeling of winning it all never fades. I was surrounded by my friends, something that stressed me out and made me super uncomfortable. For the first time in my life I was sitting in a room with people aggressively cheering for the other team. I just wanted to be at home.
That final kneel down and the red and blue confetti is something I will never forget. My friends know how I feel about them, but they annoyed the heck out of me on that day. I know I was super annoying as well, but I am supremely confident you would be too if your team had just won its sixth Super Bowl. So please don't hold that against me.
This was the last Super Bowl Tom Brady would win in a Patriots uniform. It hurts to write.
The years Tom Brady took me through were some of the best of my life. He is my childhood. He is my hero. He will continue to be wherever he might go.
I've talked a lot about the Super Bowls but there's so many other memories in there. I haven't missed a Patriots Sunday since 2007. Now that I am in college, I am forced to text our family about the game while it's going on and call right after to speak our thoughts. It brings us together.
This season will be different. There will be no Tom Brady. I urge our next quarterback to just be themselves. There will never be another Tom. Ever.
So Tom, thank you. All the good and bad will be remembered forever.
This Christmas will feel a little bit different. The Patriots ornament will go up front and center, just like always, but Tom Brady will not be on my team. The ornament may just be a piece of glass, but it signifies something greater. It represents my fandom, my childhood. It represents my family's bond. It means everything to me.
There's a cliché saying that goes "don't cry because it's over, smile because it happened." I have done both.
 Thanks for everything, Tom. There will never be another.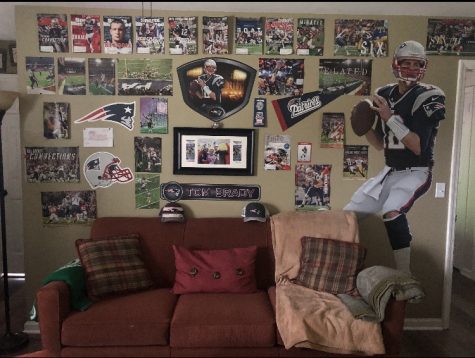 Here are some records Tom Brady holds:
Regular season wins by a starting quarterback (219)

Most passing yards, regular season and playoffs (85,959)

Most passing touchdowns, postseason included: (614)

Most touchdowns thrown to different receivers (77)

Game-winning drives, postseason included (58)

Division titles (17)

Playoff games started (41)

Playoff wins (30)

Playoff touchdown passes (73)

Playoff passing yards (11,388)

Super Bowl appearances (9)

Super Bowl wins (6)

Super Bowl MVPs (4)

Super Bowl touchdown passes (18)

Super Bowl passing yards (2,838)
Some of my favorite non-Super Bowl Games:
2009 vs. the Tennessee Titans: Tom Brady threw six touchdowns in the snow at Gillette Stadium to rout the Titans 59-0. I remember watching this game at my Aunt's house in Atlanta with everyone. Being from Tennessee, this game meant a lot.

2013 vs. the New Orleans Saints: Tom Brady throws a touchdown to Kembrell Tompkins with time expiring to win 30-27. I have vivid memories of being on fall break at the beach with my family.

2013 vs. the Denver Broncos: Down 24-0 at halftime, Tom Brady mounts a comeback in Gillette Stadium and wins 34-31 in overtime. This was Wes Welker's first return back to Foxboro, and Bill Belichick took the wind in overtime. I was with my family in New York City watching on a tiny TV in our rental near Korea Town.

2015 vs. the Baltimore Ravens: Patriots got down 14 points twice and came back twice. This game is famous for the Julian Edelman double pass and Belichick tricking John Harbaugh as Michael Humananaui ran free down the seam. This led to players having to "report eligible." 

2017 vs. the Pittsburgh Steelers: Some may remember this game as the "catch or no catch" game, but Ben Roethlisberger threw an interception to Duron Harmon in the fading seconds on the goal line.

2018 vs. the Jacksonville Jaguars: Tom Brady comes back against the best defense in the league. The Patriots won the game 24-20 in Gillette.

2019 vs. the Kansas City Chiefs: Tom Brady vs. Patrick Mahomes and one of the most explosive offensive schemes. The game went back and forth, eventually going into overtime. Tom converted three third-and-10's on his way to the game-winning touchdown by Rex Burkhead. I remember being at my friend's place and lying face down on the ground after winning because this was one of the most physically taxing games I had ever watched.
Sutton Magee is a beat reporter for Impact 89FM WDBM who primarily covers women's basketball. Follow him on Twitter at @suttonmagee12.