Upperclassmen blazing a trail as Spartans prepare for postseason
EAST LANSING — In the current day and age of freshman phenoms and "one and done" players in college basketball, a four-year senior leader is a commodity that blue bloods like Duke, Kentucky and Kansas haven't always had; a commodity that often leads to deep runs in late March and early April. 
For Michigan State, that commodity is more than just its senior point guard Cassius Winston. Kyle Ahrens and Xavier Tillman Sr. have been immensely valuable upperclassmen for the Spartans. 
"I think there's some truth to it that there is a reason why most of the teams that are winning late into March and early April are teams that have some veterans," coach Tom Izzo said after practice on Tuesday. 
Ahrens has been a consistent playmaker coming off the bench for Michigan State, but his value is truly found in his vocal leadership of a young Michigan State core. 
"Kyle Ahrens coming back was a big help," said Izzo. "He was out for so long, he was barely a part of it. Now, he's been so good here."
It was reported that Ahrens gave a speech to the team in the locker room at halftime of Michigan State's road game against Nebraska earlier this season, a game in which the Spartans led by only three at the half. He was upset with his team's lack of desire and hunger, and he let them know it. Since then, the Spartans have not lost a game en route to their third straight Big Ten outright championship.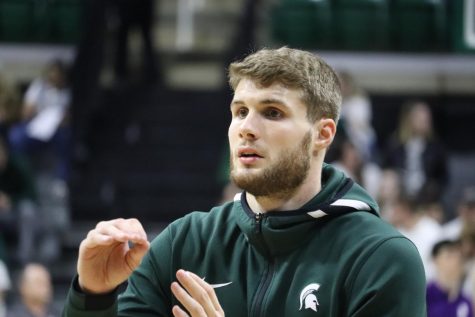 Now Michigan State packs up and heads to Indianapolis for a chance to defend its Big Ten Tournament title from last year.
The load of the Big Ten and NCAA tournaments can be a heavy one for players unfamiliar with that spotlight. Winston and Tillman have already played deep into March once before, and know what it takes to keep a focused mind amidst the publicity and turmoil of the college basketball postseason. 
"Make sure these guys are playing with confidence, playing hard, and you know, bringing the type of energy it takes to win these types of games," Winston said of his role in leading the younger guys on the team through the postseason. 
One player that has played this season under the wing of Winston, has been fellow Detroit native and freshman Rocket Watts. 
"Listening to (Winston), you know the little things he tells me during the offense or defense… to just take it in and embrace it," said Watts. 
Watts was recently selected to the All-Big Ten Freshman team after playing tremendously for Michigan State in the past month. 
"That's something that I wanted to achieve," said Watts. "Now I still got to work hard at my game, you know, stay humble and try to stay consistent."
Watts has developed into a much needed offensive weapon for Michigan State. As Izzo's squad struggled to find a consistent scorer behind Winston and Tillman, Watts has emerged as a key player in that role. As Watts has become a budding star at Michigan State, sophomore wing Aaron Henry has also come out of his shell to provide the Spartans with even more offensive prowess. 
"It's been a big difference, it gives us a chance to give those guys a rest a little bit, not have to rely on them," said Izzo. "As far as Cassius and Xavier goes, you know they can't double as much with those other guys." 
As Michigan State prepares for another run at an NCAA title, it will look towards its upperclassmen to lead the pack. 
"We're not old, but we're going to rely more on our old guys," said Izzo. 
Ahrens' halftime speech was sparked by his anger at his team's lack of hunger and desperation to win. Now, five wins and a Big Ten regular season title later, Michigan State's only option is winning. 
With a conference tournament win on the line in Indianapolis this weekend, Michigan State needs all the momentum it can get after its mid-season slump. If the Spartans win the Big Ten Tournament, they will likely enter the NCAA tournament as a No. 2 or 3 seed and one of the hottest teams in the country on what would be an eight-game win streak. But for now, Winston, Tillman and Ahrens are just focused on making sure the team gets better today. Because win or lose, they don't have many days left.
Brendan Schabath is a general assignment beat reporter for Impact 89FM WDBM. Follow him on Twitter at @Bschabath3.