Spartans drop Big Ten tournament opener to Purdue
INDIANAPOLIS – Michigan State women's basketball fell to the Purdue Boilermakers 72-63 in the first round of the 2020 Big Ten tournament Thursday afternoon. Senior point guard Taryn McCutcheon summed up the loss bluntly, yet perfectly.
"Sometimes you just don't make shots," McCutcheon said.
Michigan State had trouble early in the contest, as Purdue's leading scorer Ae'Rianna Harris was finding all kinds of success in the low post. At the half, Harris had eight points, six rebounds and six blocks. Michigan State struggled to get anything working against Harris, offensively or defensively.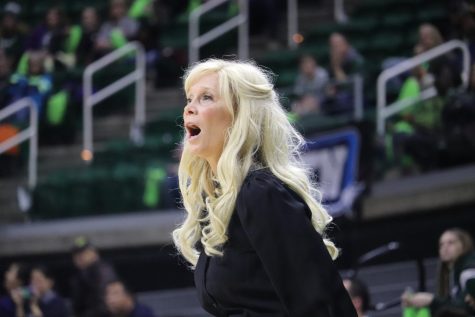 Suzy Merchant was forced to experiment with different ways to defend Harris due in large part to the fact that Kayla Belles injured her ankle in practice earlier this week. Belles' absence was felt the entire game on both sides of the ball for Michigan State. 
"Not having Kayla killed us, absolutely killed us," Merchant said. "I felt like we were really going to struggle in this game without her."  
The main struggle for Michigan State was shooting. The Spartans entered the game shooting 31.5% from behind the arc but struggled immensely in that area throughout the contest. Michigan State went just 1-for-8 from 3-point range in the second and third quarters which included a four minute and 26 second span in which the Spartans were held to 0-for-8 shooting from the field.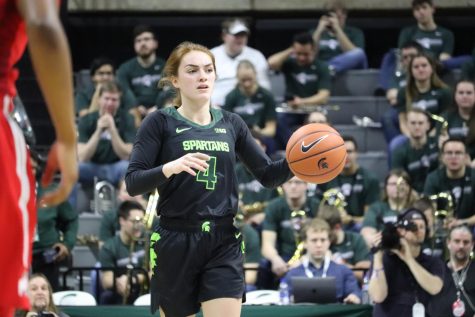 They would finish the first half at a measly 8-for-35 from the floor and were unable to get into any kind of rhythm offensively until it was already too late. 
The younger core of Michigan State's offense was forced to carry a large load Thursday and Merchant knew it was a problem. 
"I just think it's youth, I mean these kids just aren't consistent in the way they score the ball from a field goal percentage standpoint. They got thrown into a fire I'm not sure they were ready for," Merchant said.
Purdue's on-ball defense from Dominique Oden and Harris was simply brilliant for the Boilermakers. Harris finished the game with seven blocks and Oden contributed three steals. The two had a day offensively as well, both had 15 points and they combined for four assists.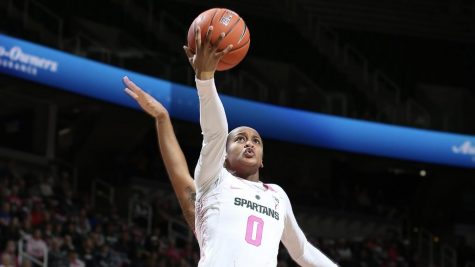 Another issue for Michigan State was an all too familiar foe in Karissa McLaughlin. She dominated the first half offensively for the Boilermakers, contributing 11 points on 3-of-7 shooting from downtown. 
One of those was a step-back jumper that made an eight-point Michigan State deficit 11. The next possession, McLaughlin found Cassidy Hardin open in the corner for another 3-pointer, and in the blink of an eye Michigan State was down by 14 with under a minute left in the half. McLaughlin was a crucial contributor to Purdue's 37-26 halftime lead.
McLaughlin had her way with Michigan State's defense, as she knocked down a flurry of step-back jumpers. She was the floor general, commanding defensive attention the entire game as she also dished out seven assists. Whenever she was on the floor, she could do no wrong. 
With just one turnover all day, it was a career performance for McLaughlin in a must-win game for Purdue.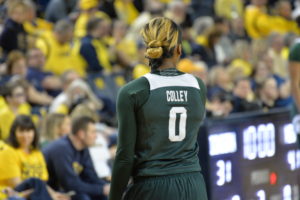 McLaughlin has given Michigan State trouble throughout this entire season. With the win today, she finishes the season averaging 17.3 points against the Spartans, including a 24-point performance in Michigan State's backyard back in January. 
Midway through the third quarter, down by 15, Michigan State miraculously found themselves with a chance to get back in the game. Just when it appeared the Boilermakers might run away with the lead, Harris was called for her third personal foul. 
Minutes later, Oden also picked up her third foul. The two defensive assets would sit the rest of the quarter for Purdue, but Michigan State still found no answers. The Spartans ended the third quarter still down 15 and their chances were slipping away.
The Spartans found something in the fourth quarter, however, and kicked things into gear. After a Purdue missed bucket, Julia Ayrault grabbed an offensive rebound and a put-back bucket to cut Purdue's lead to 11.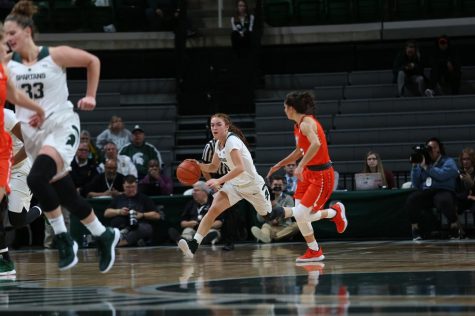 Seconds later, Taryn McCutcheon stole an errant Purdue pass and found Nia Hollie alone on the fast break to make Purdue's lead single digits. 
The Spartans would not go away quietly. They began to knock down shots and make plays defensively. After a couple steals and some stops on defense, Michigan State had cut Purdue's lead to as low as six points with under a minute to play. 
"I think we were pushing it in transition because we weren't really hitting shots in the quarter-court, and that's where we're best is in transition," McCutcheon said.
Shay Colley, who missed much of the season with a lower leg injury that she suffered back in Michigan State's third game of the season against Eastern Michigan, led the fourth quarter charge for the Spartans. She finished the game with 14 points, 11 of which came in the fourth quarter.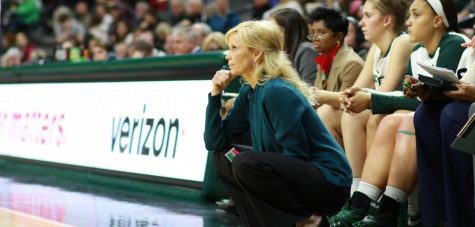 "It was nice to finally see what a veteran guard can do, and how they can put a team on their back," Merchant said.
However, the Spartans were outmatched by Purdue. Michigan State gave a valiant effort in the fourth quarter, but its long list of injuries combined with an off day of shooting didn't lead to a win. Especially not against a quality Purdue team that is fighting for its NCAA tournament life.  
It's only fitting that a last-minute injury to Belles played a key role in the loss for Michigan State. The Spartans struggled to field an entirely healthy roster the entire year and it was reflected on the court and in their record.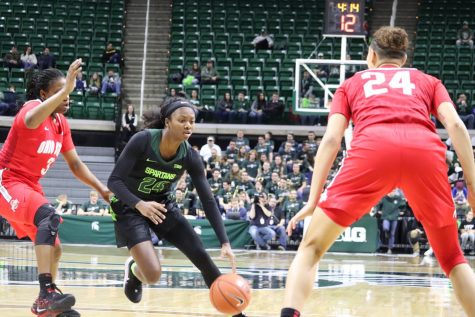 "I think this team 100% healthy is probably a top 17, top 18 team in the country," Merchant said.
That may very well be the case, but unfortunately for Michigan State, the injury bug got the best of them this season. 
The Spartans will await their fate until Sunday to determine if they will make the Women's National Invitation Tournament (WNIT) and continue playing into the postseason.
Follow Brendan Schabath on Twitter @Bschabath3.