Spartans kick off 2020 with annual First Pitch Dinner
EAST LANSING – Michigan State baseball unofficially kicked off its 2020 season on Saturday, celebrating the return of baseball with its 15th annual First Pitch Dinner in front of over 500 supporters at the Kellogg Center. 
The dinner featured player introductions and a silent auction. It was also headlined by a special presentation for baseball Alumnus of the Year Bill Wooley and keynote speech from Hall of Fame catcher Ivan "Pudge" Rodriguez.
"The support that the community has for us is tremendous," head coach Jake Boss said. "When we got here 12 years ago, this was a pretty small event and it was mainly just friends and family. We really wanted to open it up to the public. A lot of people work hard to make this happen.
"It's a great way for us to show off our guys. They're great kids and they work hard, I like putting them in front of people."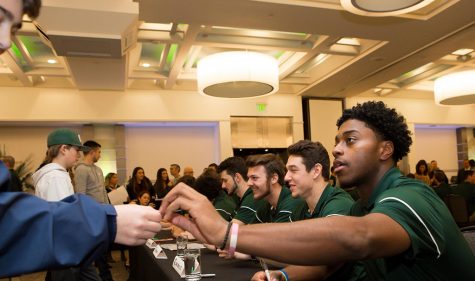 Michigan State will take the field for the first time in 2020 on Feb. 14 against Morehead State, but after over a week of formal practices, Saturday's event marks the true beginning of the season for junior catcher Adam Proctor.
"We've had practice for a week, but this event lets you know that the season is here and things are getting ready to go," the team captain said. "It's huge to see the support we have too."
From student manager to Alumnus of the Year
The Spartans honored Bill Wooley as their annual Alumnus of the Year to kick off the evening. Wooley was a member of the baseball program from 1964-67, starting his career on the freshman team before cracking the varsity team as a student manager and later becoming the starting shortstop as a senior. 
"When Jake (Boss) called me, I was ready to go into the doctor's office, so I went in another room to talk to him," Wooley said. "He asked me if I was coming to the First Pitch Dinner, and I told him I always come. And he said that was good, because I was going to be honored as the alumnus of the year. I was speechless."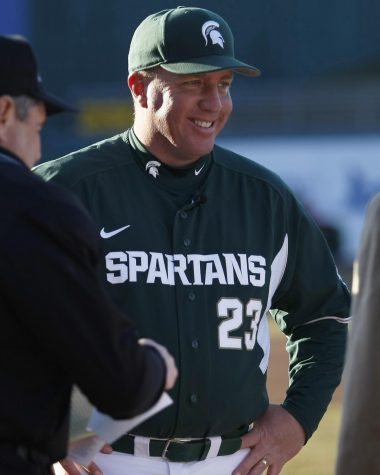 Wooley was a four-year letterwinner for the Spartans under legendary head coach Danny Litwhiler. He graduated with a degree in business and went on to work for Dupont Corporation and Johnson & Johnson before retiring in 2006.
"I've got a lot of faith in these coaches and this team," Wooley said. "These kids have never given up, they work hard and they do their best. I think there's good optimism going into this year. It's a battle, and you have to battle every day."
Pudge returns to Michigan
Hall of Fame catcher and former Detroit Tiger Ivan "Pudge" Rodriguez was the star of Saturday night in his return to the state of Michigan. His keynote speech touched upon his rise to stardom, 21-year major league career and a plethora of knowledge he learned along the way.
"It's always good to be back here near Detroit, and it's my first time here on campus," Rodriguez said. "It's a little cold out there today, not my type of weather, but it's nice to be back."
Rodriguez earned a World Series championship in 2003 with the Florida Marlins, making the Major League Baseball All-Star team 14 times and winning 13 Gold Gloves for his rock-solid defense behind the plate. 
"It's so cool to have him here, it's kind of surreal," Proctor said. "I was tempted to talk to him about some catching stuff, but I kept that to myself. Growing up, he was my favorite catcher."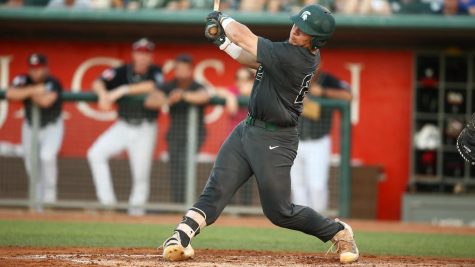 Rodriguez currently serves as a special assistant to the general manager in the Texas Rangers front office, also appearing on FOX Sports Southwest as an analyst for the team. 
"Staying strong and being disciplined is very important," Rodriguez said when asked about his message for the current Spartan players. "Everything is possible, and if you want to be a big leaguer, you have to work hard. If you have dreams, and you put them in your heart, you can make it."
"Chomping at the bit"
The Spartans have begun formal practices with just under two weeks remaining before the start of the regular season. Despite finishing the 2019 season with a 20-34 overall record, the team's energy is high headed into the new season.
"We're changing our mentality," Proctor said.. "We're not going to treat it like a job, we're just going to have fun, it's a game. We've been playing this game our whole lives and it's going to be over before we know it, so we might as well enjoy it while we can."
Boss said the Spartans have a number of players competing for positions all over the field, and that the competition has benefitted his team. Michigan State will play its first 18 games on the road before debuting at home on Mar. 18 against Toledo. 
"Every year at this time we're chomping at the bit," Boss said. "We're excited to go compete and represent Michigan State."
Contact Luke Sloan at [email protected] Follow him on Twitter @LukeSloan_7.