Stearns: unique challenge awaits Suzy Merchant
Nathan Stearns, Women's Basketball/Field Hockey Beat Reporter
January 30, 2020
EAST LANSING — Even the sturdiest of steel ships will eventually plummet to the bottom of the sea if enough dents are made in the hull. MSU was already hurting with Shay Colley and Victoria Gaines ruled out for the season. 
Things became exponentially worse Thursday night when it was revealed that redshirt junior forward Mardreika Cook will miss the rest of the season with a torn Achilles tendon.
"When Mardreika went down yesterday, I was like, are you kidding me?"  said coach Suzy Merchant. "She was just standing there and she stepped backwards to go forwards. She was giggling at first and then all of a sudden just started screaming. It was the same thing that Ariel Powers had." 
Sophomore forward Tory Ozment sustained a severe concussion after taking a hard charge in the latter stages of the fourth quarter. 
"Tory is one of the best charge-taking kids that I have," Merchant continued. "When that happened and she fell down and hit her head that hard, I knew it was going to be pretty significant, because she takes them all the time and pops right back up."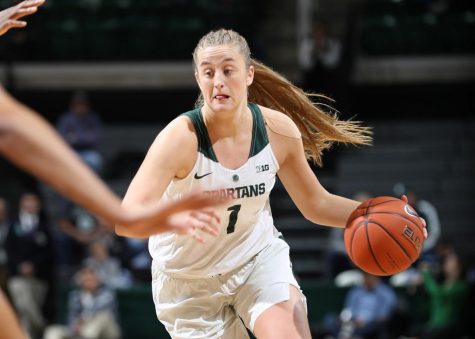 Through every unfortunate scenario that has plagued the Spartans this season, players such as Taryn McCutcheon, Nia Hollie, Kayla Belles and Moira Joiner have served as living embodiments of toughness, perseverance and determination.
Unfortunately for MSU, the inevitable fact is that with a tough home loss to Purdue, the Green and White's tournament hopes are all but extinguished.  
MSU must now head for a brutal two-game road stretch that will see the Spartans  visit No. 17 Maryland and No. 22 Northwestern.
No one would have thought two months ago that this would be the case, but here we are. Injuries have dismantled what was supposed to be a season for the ages.
It is reasonable to assume that if Colley and Gaines had been ruled out before the season, the expectations for this squad would have looked wildly different. After all, any team that loses two senior starters during the season would be hard pressed to match expectations that had been bestowed upon it in the offseason. 
For the Spartans, the time has come to look toward the future. That is not to say that all hope is lost, but rather that it is time for Merchant to embrace the talented young core that MSU has been gifted with.
Joiner has turned into a formidable force as the season has gone on. What was a talented, yet inexperienced recruit is now someone who is a building block for MSU going forward.  
The same can be said for Belles, who has gone from a distant reserve to the center of the future. Belles and Taiyier Parks figure to be key program staples going forward. 
With the exception of Colley, McCutcheon and Gaines, the Spartans will be returning 12 members from this season's squad. Two more seasons of Clouden and Joiner is enough of a reason for fans to feel optimistic going forward.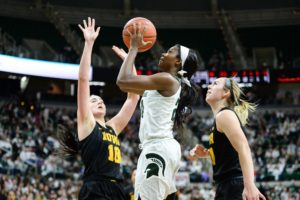 From a postseason perspective, Michigan State would need a miracle to launch itself into the NCAA tournament. Nothing short of a Big Ten Tournament title is likely to move the needle at this point of the season.  
The WNIT is a different story. According to Charlie Creme of ESPN.com, if the season were to end tomorrow, nine teams would make the big dance out of the Big Ten. 
This fact is significant because in order to qualify for an automatic bid to the WNIT, Michigan State would need to be the first team in the standings from the Big Ten who did not get an NCAA tournament invite. As of right now, the Spartans are right on that line.
While a berth to the WNIT may seem like little more than a consolation for MSU, the reality is that it serves as an opportunity for continued player development in a competitive environment, as well as a possible momentum builder going into next season.
For a reference point, Northwestern found itself in a very similar situation a season ago. 
The Wildcats finished 9-9 in the Big Ten and missed the big dance. Rather than feeling sorry for themselves, the Wildcats buckled down and advanced all the way to the WNIT title game.
In order for the Spartans to put themselves in a position to make the WNIT as an at large bid, Clouden will need to perform better than she has as of late. Over the last three games, Clouden is shooting only 26% from the floor.
"It's getting a little frustrating, because she is getting good looks," said Merchant. "She used to attack the rim and make shots and now she is always falling down and wanting a call."
Clouden herself admitted after the fact that her performances as of late have not been acceptable.
"I have to grow up as well, since I am only a sophomore," Clouded said. "We all need to grow up and just play."
The Wildcats carried that momentum from the end of last season into this season's campaign and are currently 8-2 in the Big Ten and No. 23 in the nation. 
Michigan State must be prepared for the immediate future, which may feature the absence of four key contributors. As unfortunate as it is, several young players such as Alyza Winston may be forced into duty more so out of necessity than anything else.
"We have five freshman and this is their first Big Ten season," said McCutcheon. "I don't think they understand how fast it goes. A lot of times I think freshmen think 'it's okay, I have three years left.'"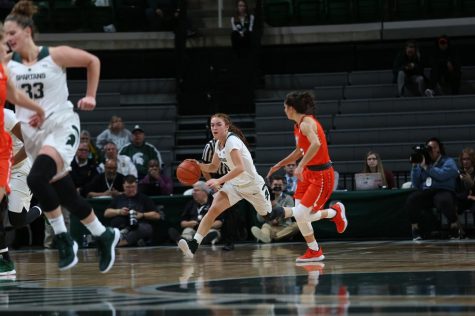 A unique challenge awaits Merchant. She must dictate between giving players such as McCutcheon their deserved time in the spotlight during their swan song season, while also keeping the future of the program in mind. 
"I want the best for them in the next four years," McCutcheon continued. "I think that we need to take advantage of the time we have now and play for people like Mardreika and Coco (Gaines)."
Where the Spartans choose to go from here is entirely up to them. They can sulk about not meeting expectations or they can appreciate the opportunities that still lie before them and finish the 2019-20 season with an abundance of momentum heading into next season.
Contact Nathan Stearns at [email protected] Follow him on Twitter at @NathanStearns11.